Interview with Ahmad Shah Karimi, founder and director of the Afghanistan Youth Empowerment and Peacebuilding Organization (AYEPO) (a URI Cooperation Circle in Kabul, Afghanistan), and Sally Mahé, Senior Consultant with URI.
Sally Mahé: Thank you very much for having this interview, Ahmad.  I'm grateful to speak with you. Sarah Oliver, the Global Youth Coordinator for URI, told me about the remarkable vitality in just one year that you have given to the organization you founded. Please tell me about the Afghanistan Youth Empowerment and Peacebulding Organization (AYEPO) and how it got started.
Ahmad Shah Karimi: Before AYEPO, I was involved in other organizations working on issues such as human rights, democratic values, art and culture, and the environment. It was meaningful work but I began to realize that the youth in Afghanistan were a valuable untapped resource for positive change. There has been war in Afghanistan for three or four decades. Youth have lived a life shaped and influenced by conflict and violence. I wanted to open the way to help them see life in unity, solidarity, and togetherness. I see the youth as "peace ambassadors" who could help heal communities in practical ways and in the process get healed themselves.
In general, young people in Afghanistan haven't gotten a lot of opportunities to get together to bridge the cultural and other differences and work for a peaceful and prosperous Afghanistan. AYEPO is about creating a platform where diverse young people learn about each other, how to work together, and how to mobilize around ideas for positive changes in their own communities. Above all, it is a place where everyone comes together for a larger vision. I want to invite youth to envision a peaceful Afghanistan – a peace that results from respecting each other and from the hard work they bring to the table. We believe this is possible.
AYEPO invites youth of different ethnicities and cultures to attend our programs. Some are nervous when they first come together. They don't know how they will relate with others who are unfamiliar and come from different places. When they come together, they talk about the challenges they face in their own communities, and they share stories and exchange ideas and find common ground. As a result, they begin to relax and enjoy each other's differences. Even though some have never met, they grow close by learning about each other. They build a community that respects differences. They grow together in a way that feels like a small family. In AYEPO, youth also receive training in leadership, soft skills, conflict resolution, mediation and peace-building activities. These are important skills and experiences for them because they feel more confident about themselves when they have the vocabulary to manage difficult situations and navigate conflicts/disputes peacefully.
What is it about you as a leader that contributes to the successes of AYEPO?
I know that each of us, from every part of the world, has something of value to bring to other cultures. We can see ourselves bigger than the society or the local identity that we are born into. Becoming a peacebuilder starts on the inside of us, with this sense of having a bigger identity. As we begin to recognize that we have an identity as a fellow human being, we want to cultivate good relationships with others in our own country and internationally.
I knew that if I started something big (like an organization), it would bring profound responsibility. Like a newborn baby, it would take all my care and commitment. I was ready to work hard and bring my passion to it in order to help it grow. I told people who shared the same vision and mission that it was not just about my passion, but about an idea and a possibility that needs all of us working together. I am very grateful to a small and dedicated group of youth, most of whom are girls and young women volunteer change-makers. AYEPO provides them space to give their talents and share their leadership.
I am honest and frank with the team. I reach out to them when I need help and make sure they get attention when they need support. We celebrate the successes together but we don't forget there is always something greater to do. We acknowledge our achievements but know we can go farther. When youth return to their own community after an AYEPO program, they go in teams with an assigned leader. They have confidence "to do their own art." I know they will take off and go with their own ideas.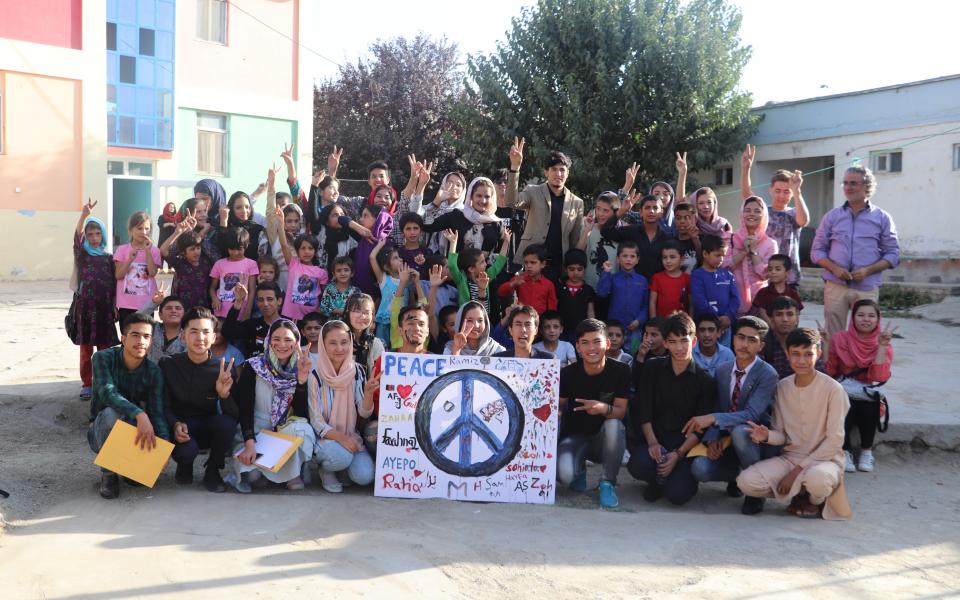 I would love to know more about your story. What experiences were important in your family upbringing?  Was there something memorable in your life experience that helps make you who you are today?
My father died when I was six years old. As I grew, I began to deeply feel this loss as I thought about "how it could have been." But my mother nursed my brothers and me in a way that we didn't feel we didn't have a father. She made many sacrifices and was always there for us.
She taught us the importance of education and instilled in us a belief in ourselves, a sense of commitment and principle of hard work, self-respect, and bringing benefit to others. Through her love and belief in me, I believed in myself and wanted to make my mom feel good. Her presence and wisdom also taught me to have confidence in what women can do. This carries over to AYEPO with its focus on women's empowerment. When I was home, my mother gave me little handkerchiefs she crafted to present to the female team of AYEPO in honor of all the good they do. She told me, "If you want something, go for it." Her words of wisdom have always stayed with me.
I'm wondering what inspires you to want to make a difference. What sparks your inner fire to want to help? What keeps you going?
With faith, I can see an idea becoming a living thing. When I had the idea for AYEPO, I called people together to help and we developed the program. I know that if you give something your best and really want it, that other people, and nature itself, come to help.
It's possible to see a bright future for Afghanistan that other people are not seeing and actually imagine it happening, no matter what! When you love an idea like this, you can't help but keep at it! The vision that inspires me is youth coming together from different parts of Afghanistan. Together, they discover what peace means to them and feel empowered to find ways to build peace in their communities.
I keep my eye on how far we have come, but also, how far we have to go. When we celebrate one accomplishment, at the same time, we let it go and strive for another thing. I know that I may not carry the possibilities into reality myself, but this kind of passion is catching. How wonderful that every human can catch this passion and join in efforts for peace and harmony!
Often when we strive to make changes in the world around us, we find ourselves changing too. In what ways have you seen yourself change by doing this work?
Leadership is also an insight job – what we become in the process. Before, when I attained something, I was very proud. I have become more humble, more human. It helps me a lot when I see myself working with everyone else to grow this organization. I know that AYEPO is not about one person but the team.
We have learned that saying "we don't know" leads to much deeper thinking. "Not knowing" sometimes it leads to experience more dimensions and see more possibilities than we did before. We know that change may take a long time, but more people are joining all the time. Together, we envision a society where everybody feels good about each other in heart and mind. We want to encourage people to treat "the other" as part of themselves.
What is ahead for AYEPO?
We are planning more peace conferences for youth from different corners of Afghanistan. We will continue to create a platform where the youth can find a way to coexist and help each other despite their differences. The youth will discuss questions like: What differences separate us? What are our conflicts? What can we do to make things better using our own abilities? As a result of attending these gatherings, there will be transformations among us, both as individuals and as a community. As we work together we become new persons. That's it!
What helps you stay on track - to be led from within and to lead listening to your inner voice?
Motivation that comes from the outside is short-lived. Storms from the outside cannot shake us if inspiration comes from within. What sustains my passion is to see my country as Afghans want it to be. Each day I move away from the terrible emotions of fear and helplessness and take hold of the positive reality of peace and harmony in Afghanistan and in the world.
What keeps me on track is seeing the youth expand who they are and how they want to help. When youth feel empowered, they change, they believe they can make a difference. When people see they are not limited to one place or one culture, they find a bigger identity and the world gets closer. When we feel ourselves as part of something bigger, we find belongingness. This helps us do the good we want to do.
I deeply appreciate this interview, Ahmad. Your passion for peace is powerful. May everyone involved in AYEPO fulfill their aspirations and live in peace.
---
Read the full "Inner Voice of Leadership" series.