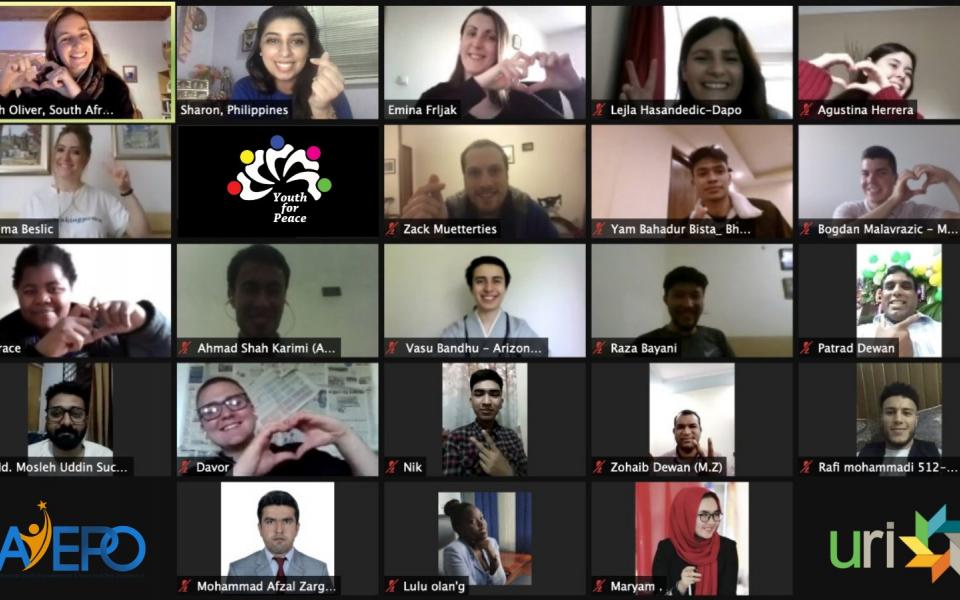 Youth for Peace (Bosnia & Herzegovina) and AYEPO (Afghanistan) joined forces to celebrate the International Day of Living Together in Peace (May 16th) with the global URI youth community. The event brought together inspiring speakers and compassionate youth from across the world to share heartwarming and transformative stories and experiences of peace.
Today we live in a world that is connected much more than before, in a world where our differences are more visible than ever, but also in a world where we can reach out to each other, communicate and learn from one another. But we also live in a world burdened with violence and wars. A world full of disrespect and misunderstandings and we simply don't communicate enough or know each other enough…
The diversity in the world should be celebrated. It should be a great reason to reach out to each other and to actually learn something new. 
That is why youth members of Youth for Peace and AYEPO decided to use the opportunity of The International Day of Living Together in Peace to organize an event called "Living Together in Peace - Stories of Hope and Transformation from Youth." 
In this world, which is torn apart by unspeakable violence, we decided to be a ray of hope and decided to provide space for young people to tell their stories of hope and transformation, to share with their peers from all over the world that living together is possible, that every transformation starts from us and with our decision to leave the comfort of our own communities and step into the unknown, even though the unknown can be scary sometimes.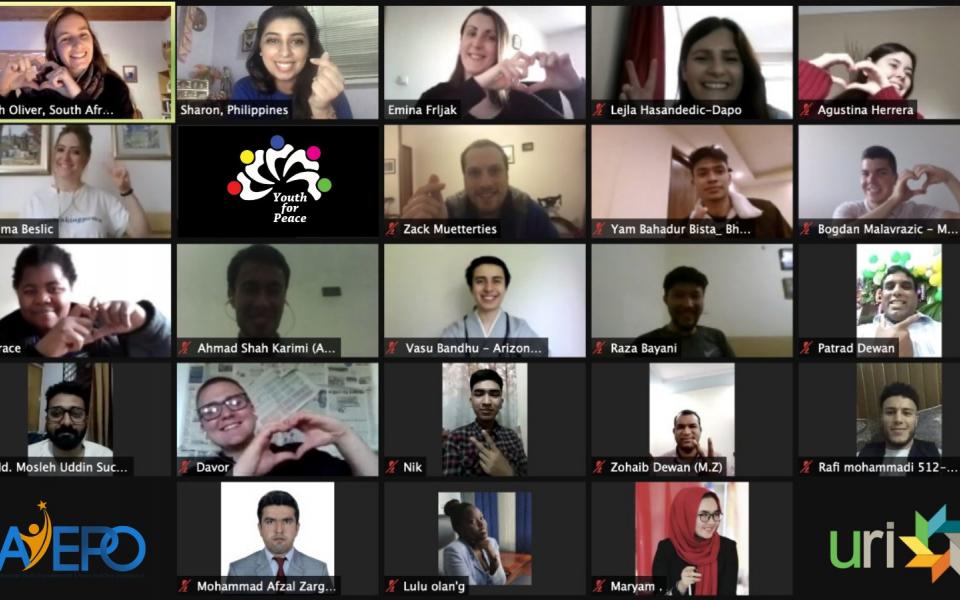 The event (which took place on May 16th 2021) brought together four speakers from Australia, Afghanistan, Bosnia and Herzegovina and Montenegro who shared their own personal stories of how they work within their communities or how they use their profession such as music to bring people together. Besides them, participants from Hungary, South Africa, BiH, Bhutan, Afghanistan, Pakistan, Turkey, Bangladesh, Malawi, Argentina, the Philippines, Malaysia and Mexico attended the event.  
The first speaker was Janielle Beh, who spoke about her journey of promoting peace through music and inspiring a new generation of musicians in Afghanistan. While reflecting on this she highlighted the significance of cultural diversity in our world to build peace. 
"Even though outside, there may still be issues around girls going to school, and prejudices between different tribes and ethnicities, but when you come into our school you see that we have students from different tribes and parts of Afghanistan, and you see them playing music together in an orchestra. This was something that was never heard of before"
Janielle ended with the encouraging message that wherever you are in the world you can be a peacemaker. 
Zack Muetterties, from Australia, then shared a personal story of transformation which stressed the importance of peace starting with the individual, in our homes, as that is the true foundation for everything else. 
"Out of all the amazing stories of transformation we long to see in our communities, if we can't do the things that we speak, in our own families with the people that are closest to us, we will not have anything to give to our communities beyond our households... I have been so encouraged because of what I've seen happen just in me, in learning to practice the ways of peace everyday, every moment in every area"
We then heard from Davor Cvijanović, who shared his experience as a member of Youth for Peace CC. He walked us through the story of how he got involved and what the experience of meeting people from different backgrounds and cultures has meant for him. He shared the following: 
"I don't count the experiences anymore, I just remember them when I meet the people with whom I created those experiences. People like Jovana, Emina, Bogdan, Marko, Zorana, Kristijan, Jusuf and so on, their number is unknown. But I remember their faces when I meet them in passing, even though that's about 200 new faces in my life annually. These people helped me get to know myself, my flaws and my virtues."
Lastly we heard from Bodgan Malavrazić who is from Montenegro. While reflecting on his story, Bogdan reminded us of having role models in our lives and to let them inspire us to change, which in turn changes the world around us. He shared, 
"But none of this would have been possible if I had not observed others and learned from others. So do find role models. Try to find as diverse as possible role models, people from various spheres of society and professions, people who are different from you. They can be schoolteachers, athletes, scientists, but the most important thing is that they inspire you, inspire you to become better and make society around you better."
After the speakers, participants were divided into breakout groups for further discussion and sharings. We explored the following questions: 
What does it mean to live together in peace in your own context? 
Envision and create together what a world would look like from our (youth) perspective when it comes to living together in peace?
Living together in peace and COVID 19 - did it bring us together or it took us apart even more? (vaccine nationalism)
The outcomes of the discussions were captured in a word cloud with beautiful and touching notes emerging from that!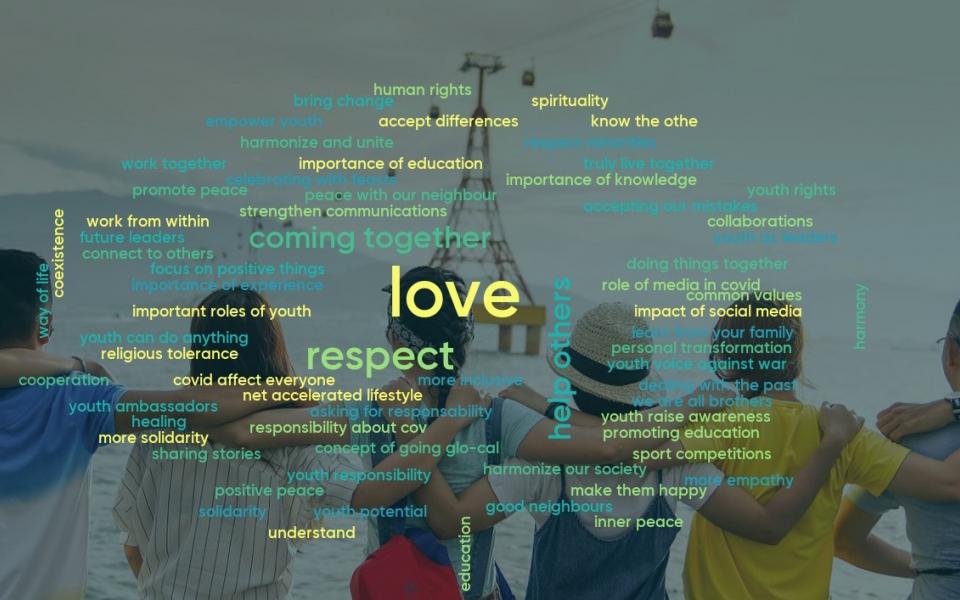 As key learnings from the session, participants wrote the following: 
"Peace belongs to all of us. All our stories are one story. Working together, building together, for a better future. #rethinkingpeace" 
"Peace is more than living in a world where there is no war. Peace is the way of living in which we love, and respect others regardless of  cultural, religious and political differences."  
In closing many expressed their gratitude for being able to connect with young people all over the world who want to work on global peace. Thank you to all the speakers, organisers and participants for being part of this special event! 
 
Written by: Ahmad Shah Karimi - AYEPO; Emina Frljak - Youth for Peace; Lejla Hasandedic - Youth for Peace, URI Europe; and Sarah Oliver - URI Global Programs 
Cooperation Circles Involved