URI at the Parliament of World's Religions: Grassroots Stories Converge in Chicago
This week, August 13 through 18, the Parliament of the World's Religions returns to the birthplace of the modern interfaith movement after 30 years away to celebrate 130 years of history in the city of Chicago. Parliament Convenings attract participants from more than 200 diverse religious, indigenous, and secular beliefs and more than 80 nations.

In this gathering of diverse cultures, faiths, and beliefs, members of the United Religions Initiative are preparing to attend the PoWR. URI has been actively involved in previous Parliaments, demonstrating its commitment to building bridges of understanding among different faith traditions and advancing initiatives for social harmony and ecological stewardship.

URI once again has a strong presence at the Parliament, bringing together over 75 representatives from over 20 countries and diverse backgrounds to engage in thought-provoking discussions, forge new partnerships, and reaffirm their dedication to creating a more inclusive and harmonious world. The Parliament of the World's Religions 2023 promises to be an extraordinary occasion of shared wisdom, compassionate exchange, and collective action for a better future.
Accelevents
To make the most of the Parliament of the World's Religions 2023, all participants must register on the Accelevents platform and download its app from their respective app stores. This user-friendly platform serves as the central hub for all event-related activities, giving easy access to schedules, workshops, discussions, and key sessions. By registering on Accelevents, attendees can personalize their itineraries, ensuring they don't miss any part of the diverse program. Additionally, the platform facilitates meaningful connections with fellow participants from around the world, encouraging interfaith dialogue, collaboration, and networking. To register, visit the official PoWR Accelevents link, and create an account or log in: https://www.accelevents.com/e/2023powr
Fill in essential details in the registration form, and after completing the process, you'll receive a confirmation email with further instructions, including how to download the app. If you are already registered for the PoWR in Chicago, make sure to use the same email address that was used to purchase your PoWR ticket. 
Embracing this technology-driven tool enhances the overall experience, connecting participants and contributing to global peace and understanding.
Maximizing the PoWR Experience
The PoWR is renowned for its diverse array of workshops, presentations, and discussions centered around themes of interfaith harmony and cooperation. By attending these pre-event gatherings, URI members will strengthen their network, receive valuable insights, and gain practical advice to maximize their PoWR experience.
URI Members' Presentations
URI's CCs will showcase their grassroots stories, highlighting the impactful work they do at the local level. This representation reinforces the importance of inclusivity and understanding in our shared journey towards global peace.
URI members will be involved in over 45 sessions.  Those sessions are organized by day here (and may be subject to change and substitutions in run up to the meeting's moving parts).

Program and Attendees Spreadsheet
Social Media
We look forward to seeing your experience at the Parliament and would appreciate your sharing them on social media. Along with the official hashtag #PoWR, please post often using the hashtags #URIPoWR and #URI. Thank you.
Hospitality Suite
We are thrilled to announce that URI will have a dedicated Hospitality Suite at the PoWR 2023! This physical space will serve as a warm and welcoming gathering point for our entire URI community. Located on Level 3 of McCormick Place, you can find us in the Exhibit Hall at Booths 535, 537, 634, and 636.
In the Hospitality Suite, you'll have the opportunity to meet with other CC members, engage in meaningful conversations with URI staff and Global Council Trustees, and debrief your day with fellow URI members. It's the perfect place to connect, share experiences, and strengthen our global network of interfaith partners.
Additionally, you'll find a schedule of sessions given each day, by members of URI.
Climate Action Village
Located in the Climate Village area of the resource room, the CV-11 booth will be staffed by Lauren Van Ham, passionate CC members, and dedicated volunteers. Attendees can explore and learn more about URI's Climate Action efforts through a tri-fold brochure available at the booth, showcasing the organization's commitment to environmental stewardship and interfaith collaboration in tackling climate challenges.
URI CCs Booths Highlighted
We are delighted to inform you that some of the URI Cooperation Circles (CCs) will have booths at the event. We encourage all participants to visit these booths to witness the spirit of collaboration and foster interfaith understanding.

Pato Banton's Spiritual Family's CC leaders, Pato Banton and Antoinette Rootsdawtah,will be at the Earth Yurt during the Parliament of the World's Religions. On August 14th and 15th, from 12 pm to 4 pm, they will be at Level 2 Hall E, bringing their infectious energy and uplifting spirit to this interfaith gathering.

On the 2nd floor, the Charter for Compassion invites you to explore compassion's transformative power, network with members, and learn more about the organization. In addition to following the activities at the hospitality suite of Charter for Compassion, make sure to check out their track and all the amazing sessions they are bringing to the PoWR.

On the 3rd floor, the Contemplative Life CC welcomes you with enriching experiences.The InterSpirituality Yurts (#1 to #4) offer spaces for open-mindedness, pro-social spirituality, beauty, sacred art, poetry, healing Mother Earth, and sacred silence for meditation and contemplation.

Kids of PoWR booth hosted by Spiritual Playdate on the 3rd floor, will have remarkable program created for children and those who work with children. Their mission is to uplift children aged 6-13 through fun and interactive activities that foster unity and hope.

Voices for a World Free of Nuclear Weapons booth will be set up on the 3rd floor in the Exhibit Hall. Come and say hello to Bishop Swing and other Voices members. At our booth, you can learn about the proactive steps that you can take to help reduce and eliminate the urgent risk of nuclear destruction.

Women's Village on the 2nd floor will offer activities throughout the event. Women's Village is sponsored by S.A.R.A.H. CC. Enter the Village to be activated and inspired to protect and to deepen our commitment to preserve human rights and dignity for all.
Looking forward to seeing soon
As URI's grassroots stories resonate in Chicago, we stand united in our mission to create a world, improved by daily interfaith cooperation, ending religiously motivated violence and creating cultures of peace, justice and healing with all we do together, one step at a time.
Let us celebrate our collective strength and make a resounding impact at the Parliament of the World's Religions.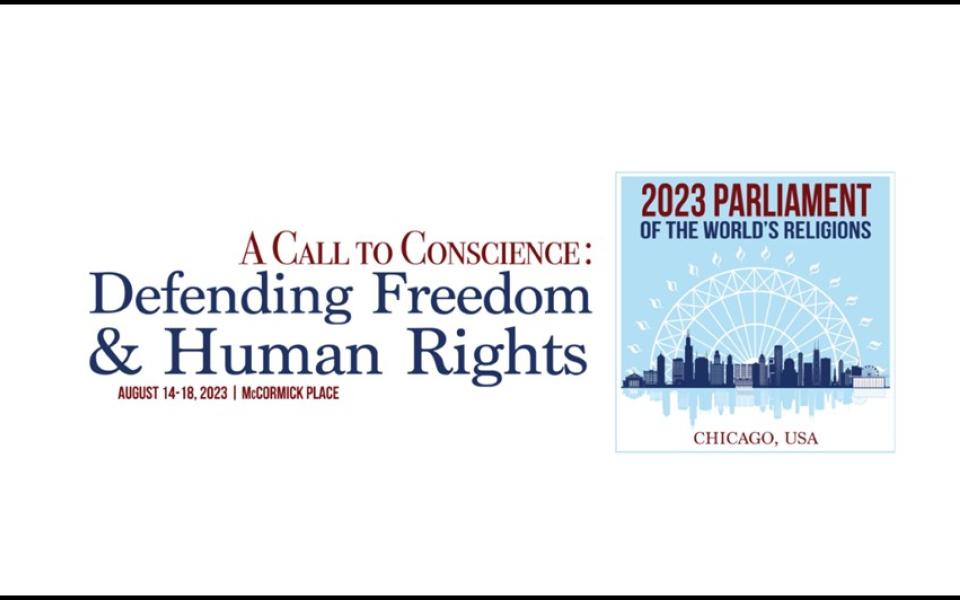 In August of 2023, the Parliament of the World's Religions returns to the birthplace of the modern interfaith movement after 30 years away to celebrate 130 years of history in the city of Chicago. Parliament Convenings attract participants from more than 200 diverse religious, indigenous, and secular beliefs and more than 80 nations.
Registrants enjoy access to all the plenary sessions, hundreds of breakout sessions, art & cultural exhibits, performances, a film festival, and countless opportunities to connect with individuals and organizations committed to justice, peace, and sustainability.
The 2023 Parliament of the World's Religions will be hosted in McCormick Place Lakeside Center from August 14-18, 2023
https://parliamentofreligions.org/parliament/2023-chicago/