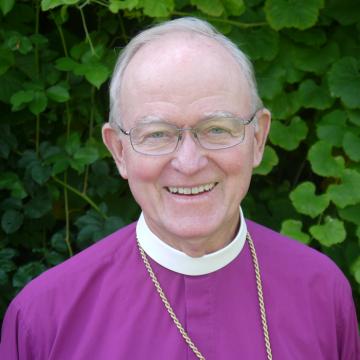 Founder and President Emeritus of URI; Former Episcopal Bishop of California
William E. Swing, 7th Bishop of the Episcopal Diocese of California (1980-2006), was born in Huntington, West Virginia. He graduated from Kenyon College and Virginia Theological Seminary, and holds six honorary degrees. Bishop Swing served as a priest in Wheeling, Weirton, and Chester, West Virginia. He also started a church at Waterford Park Race Track in Chester, pioneered homeless work in San Francisco, and played a critical role in saving St. Luke's Hospital. He served on the Board of the American Foundation for AIDS research for 20 years and has spoken throughout the world. He was instrumental in starting a capital development bank in Oakland. He is known as an outspoken leader about the standing of gays and lesbians in the church. He led the radical expansion of the Bishop's Ranch in Healdsburg, California. Bishop Swing is the Founder and President Emeritus of the United Religions Initiative. He is married to Mary Taylor Swing and has two children and three grandchildren.
Bishop Swing is an inspirational speaker and an author, most recently of A Bishop's Quest: Founding a United Religions and The Sacred and the Silly: A Bishop's Playful and Eventful Life. Both books are available on Amazon.com; the proceeds of book sales will benefit URI.