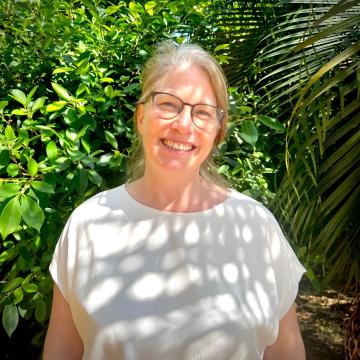 Director of Partnership and Violence Prevention
Karen Volker was born and raised in California before starting her international journey of diplomacy and violence prevention. She joined URI in January 2023 after a ten-year stint at Cure Violence Global (CVG), a community-based violence prevention nonprofit, and a 26-year career at the U.S. Department of State as a member of the U.S. Foreign Service. At CVG, Karen specialized in adapting the model to different social and cultural contexts and different types of violence.  While at the State Department, Karen spent over a decade overseeing the implementation of U.S. foreign assistance programming in a variety of regions undergoing transition (including Central & Eastern Europe, the former Soviet Union, the Balkans, and the Middle East).  Other areas of focus include countering violent extremism and multilateral diplomacy, especially vis-a-vis the European Union. Although Karen has devoted her professional life to promoting pluralism, defending human rights, and preventing violence, she has always found time to volunteer in her community and pursue her passion for holistic health and nutrition. Karen enjoys meeting and connecting people.

At URI, Karen focuses on expanding URI's partnerships and brings intentionality and effective practice to sharpen URI's mandate to reduce religiously motivated violence worldwide. Karen represents URI at the United Nations, seeking to strengthen and expand relationships with partners as well as influencing global policies to advance interfaith cooperation, prevent violence, and promote cultures of peace, justice, and healing. Karen lives in Maryland, has two grown children, and loves spending time outdoors. In 2019, she summited Mt. Kilimanjaro and now looks forward to tackling her next big challenge: growing and energizing the world's largest grassroots network of interfaith peacebuilders.