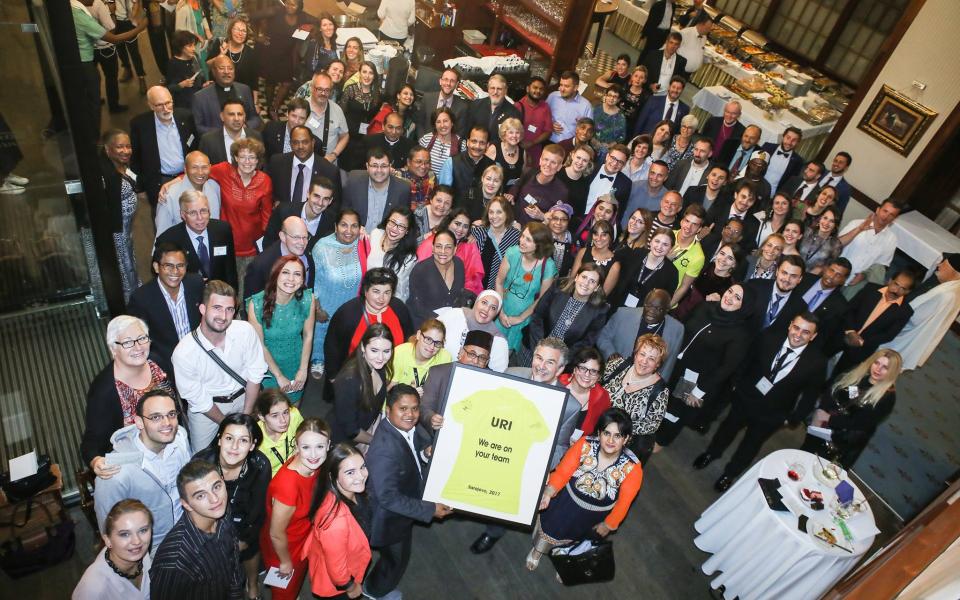 We work with hardworking, compassionate, and innovative peacebuilders from a wide array of backgrounds around the world. Check this page for opportunities to join our team.
---
Open Positions
Executive Director
URI is seeking a visionary, mission-driven, and results-oriented non-profit leader with a track record of driving innovation and success to join our team as our next Executive Director (ED). Reporting to the Global Council of Trustees (GC) (URI's Board of Directors), the ED will above all be devoted to, and be an exemplar of, the core values of the URI grassroots network as expressed in our Preamble, Purpose, and Principles. Combining inspirational interfaith commitment and vision, cross-cultural leadership ability, and sophisticated management skills within the context of a global grassroots network, the ED will advance the organization in terms of culture, capability, processes, and impact. While working closely with the organization's global team, the ED will inspire innovation and ensure that the organization is continually advancing its mission.
The base location for this role is flexible and will require travel to the organization's offices in San Francisco and to global sites as needed. This full-time permanent position is for immediate hire.
For a complete description click here.
To Apply
URI has retained Perrett Laver, a global executive search firm, which has partnered with a range of global non-profits and works exclusively with mission-driven clients.

Candidates are to submit an application by 7 January 2022 on the Perrett Laver website. 
---
About URI
URI is the largest grassroots, interfaith peacebuilding organization in the world. Its purpose is to promote enduring, daily interfaith cooperation, to end religiously motivated violence, and to create cultures of peace, justice, and healing for the Earth and all living beings. It is a distributed, decentralized organization that is dedicated to empowering a network of local volunteers in communities around the world, supported by a high-performing global staff.
Established in 2000, today URI implements its mission of enhancing the capacity of its almost 1,100 local member groups called Cooperation Circles in 110 countries through local and global initiatives. These Cooperation Circles address local issues that impact their communities through community projects focused on 14 action areas.

URI's global support office in San Francisco and 20 regional offices on six continents support its decentralized global network of grassroots groups – providing them with training, mentoring, coaching, communications systems, and connection to a global network.