In URI people closest to problems effectively reach out to meet the needs they see around them. URI encourages ordinary people to be bold leaders. URI calls forth people, all kinds of people, to build their capacity to lead. URI values hold that positive change does not only come from a few "big" leaders appointed to positions of authority, but that ordinary people by the thousands and millions are needed to step into leadership.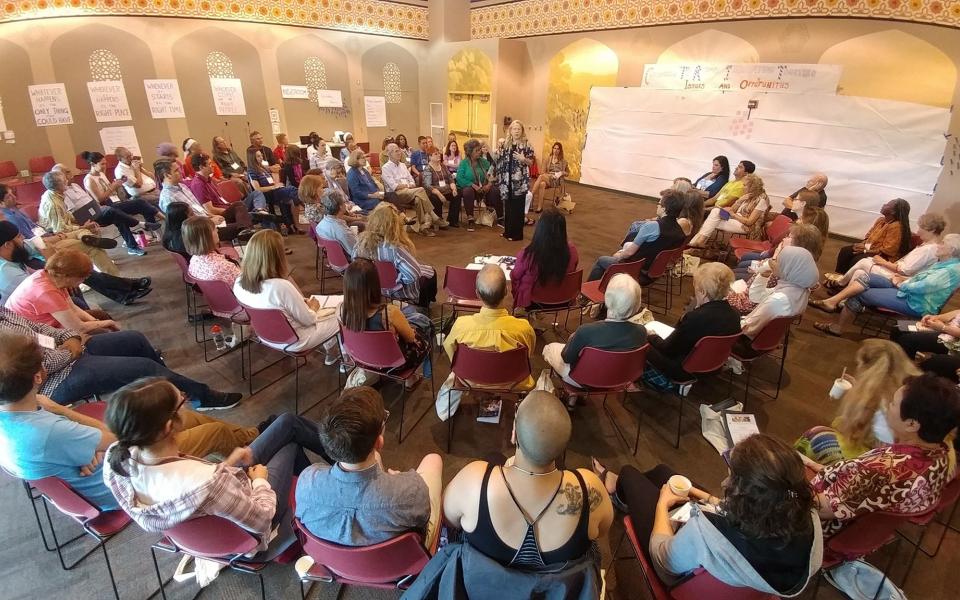 What's going on inside of URI leaders? What inspires ordinary people to be bold? What sustains them? This series, "Inner Voice of Leadership" seeks to listen to grassroots leaders, learn from them, and inspire more and more people to step into leadership. Interviews with grassroots activists will explore these questions. URI leaders come from diverse religions, spiritual expressions, and indigenous traditions. Our ways may differ, but within all of us flow deep streams of conviction, faith, inspiration, and resilience. We share a life-giving spirit that fuels our work and gives us meaning. Let's dive deeper and reflect on how we experience the source in us that inspires us to reach out and make a difference.
Every Voice Collection - By words and actions, people all over the world give voice to URI. In this "Every Voice" series, Sally Mahé shares inspirational quotes from members of the URI community.
Inner Voice of Leadership - Blog Series - Demonstrating the inner-passion of URI leaders.
In sparks and flashes, have you experienced being what you want the world to become? Read these inspiring stories from URI members as they have realized they are already in the midst of positive transformation.
Many people have positively impacted URI and have since passed. We celebrate their lives of dedication to URI here.