Part adventure story, part intriguing memoir, A Bishop's Quest is the chronicle of one man's work among many toward inter-religious cooperation.
A Bishop's Quest proposes several concepts to help make sense of religion's role in present-day conflict and offers balance to the one-sided argument that, at the heart of these conflicts, religion is to blame.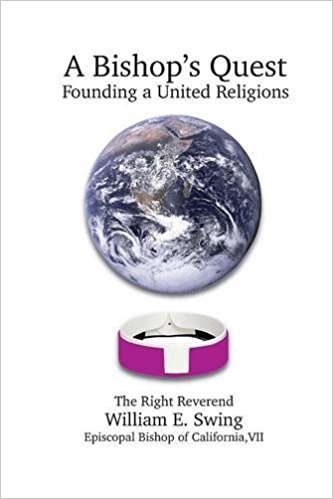 Bishop Swing's story offers a vivid account of working at the very top of the world's religious orders to build what became the United Religions Initiative, a bottom-up organizational model. His quest, including meetings with such religious figures as Pope John Paul II, Cardinal Jorge Mario Bergoglio (the current Pope Francis I), Mother Theresa, the Dalai Lama, the Shankaracharya of Kanchipuram, the Coptic Pope Shenouda III, and others, is a story of discovery, challenge, frustration, institutional entropy, and finally, breakthrough.

Topics covered in A Bishop's Quest include religiously-based conflict, both historical and current; current world leaders (religious and otherwise) seeking to resolve current conflict issues; popular efforts to improve global accord through focused cooperation; the value of religious freedom and interfaith education; the inclusive, decentralized and self-organizing enterprise that is achieving strong interfaith collaborations around the world.
Get your copy of A Bishop's Quest: Founding a United Religions