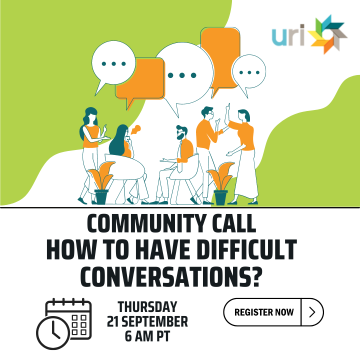 21 September 2023 - 6:00 am PDT
In celebration of the International Day of Peace, URI will organize a community call under the title "How to Have Difficult Conversations"
During this call, participants will have the opportunity to:
- Engage with members from the vibrant URI Community and share their experiences.
- Deepen their understanding of personal, communal, and cultural dynamics surrounding difficult conversations. Embrace the diversity within URI and our varied contexts.
- Learn and exchange key practices for effectively preparing for and participating in challenging discussions.
Together, we can transform how we engage in dialogues, promoting peace, justice, and healing.
Join us!