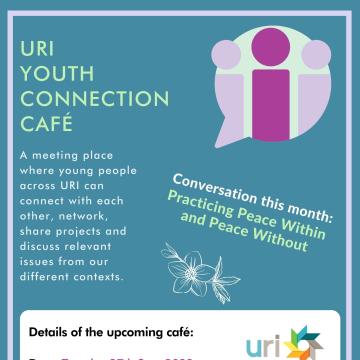 27 September - 7am PST/2pm GMT/7.30pm IST.
Join the upcoming URI Youth Connection Café for a session on "Practicing Peace Within and Peace Without". Led by Sally Zaghmout, from Beit Ashams for Self Development in Palestine, this session will introduce participants to simple practices of meditation and movement to help manage stressful emotions. 
As young peacebuilders our work can cause stress and anxiety as we face community challenges and conflicts in a direct way. It is common knowledge that we need to practice our own inner peace to be peacebuilders in the world, but how do we do this? And how can we support each other and the communities around us with these practices?