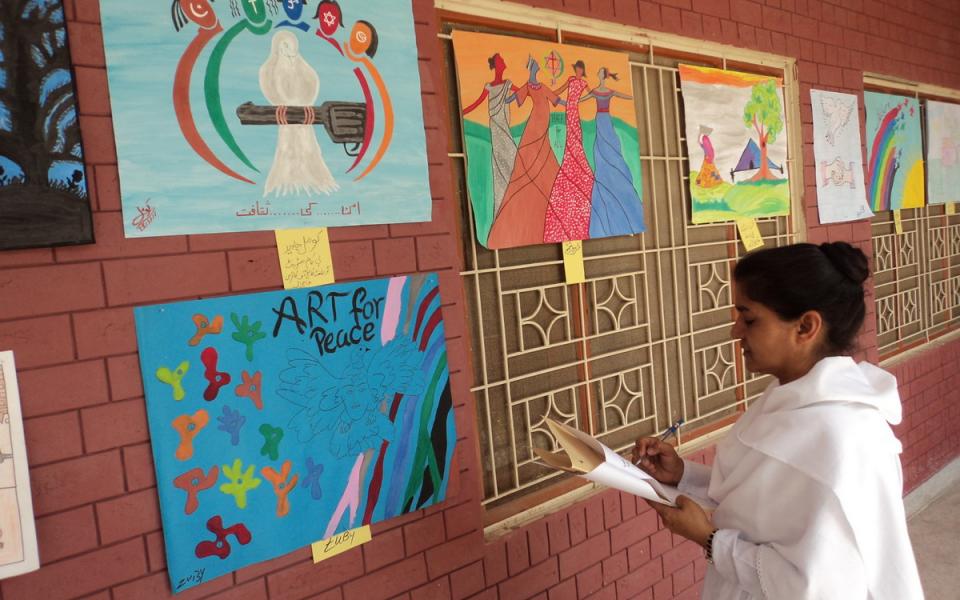 A culture of peace painting competition was organized among youth by BETHAK organization in collaboration with Christian Study Centre. A large number of Christian and Muslim students participated in the culture of peace painting competition. Mr. Francis Jacob director BETHAK said that a society that ignores its craze for Art and Craft becomes an easy prey to intolerance and chaos. Each colour is a symbol of life, said Mr. Francis Jacob and is an excellent source of creating harmony and peace in society.
Mr. Samuel Barkat, Mr. Sham ul Qamar khan, Ms. Huda Iqbal, Sr. Constanza Salamat, and Begam Edna Qayum Bhatti appreciated the efforts of young artists to paint out their inner feelings on culture of peace. In the end professor Muhammad Yusaf Sheikh of Govt. Post Graduate College Khanewal paid high tribute to BETHAK for its contribution to bring Christian and Muslim communities closer to one another through its positive activities on promotion of a culture of peace in Khanewal region. He further said that painting competition among youth not only develop their creative thinking but also become a source of getting closer to the youth of other communities. Mr. Shahzad Francis declared the result prepared by Mr. Sham ul Qamar Khan, Sr. Constanza OP and Ms. Huda Iqbal Principal of Bright Way Public School, Khanewal. First, second and third position holders were awarded trophies and ten consolation prized were distributed.
Click here to see pictures.