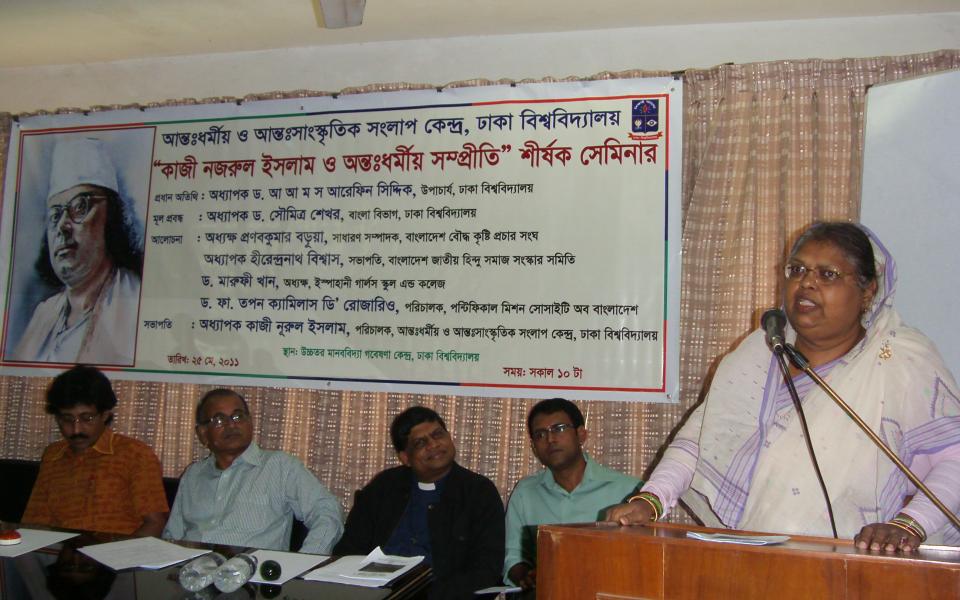 On the occasion of the 112th Birth Day of Kazi Nazrul Islam, the National Poet of Bangladesh, the Centre for Interreligious and Intercultural Dialogue of the Department of World Religions and Culture of Dhaka University held a seminar on "Kazi Nazrul Islam and Interfaith Harmony" on May 25, 2011.
 
Professor Saumitra Shekar of the Department of Bangla and an active member of Religions for Peace (RfP), Bangladesh presented the keynote paper. Principal Pranab Kumar Barua, Vice President of RfP-Bangladesh; the Secretary General of Bangladesh Buddhist Cultural Propagation Society; Professor Hirendra Nath Biswas, Vice President of RfP-Bangladesh; President of Bangladesh National Hindu Reformation Society; Dr. Marufi Khan, Principal Ispahani Girls' College, Dhaka; Professor Fr. Tapan Camilus De Rozario; the Vice President of RfP-Bangladesh; and the Director of the Pontifical Mission Society of Bangladesh took part in the discussion. Professor AAMS Arefin Siddique, Vice Chancellor, Dhaka University graced the occasion as the Chief Guest while Professor Kazi Nurul Islam, Chairman, Dept. of World Religions and Culture and the President of ACRP, Bangaldesh  presided over the program.

Professor Saumitra asserted that we do not find any individual in the history of human civilization who can be compared with Nazrul as far as the contribution of promoting interfaith understanding is concerned. The Chief Guest Professor AAMS Arifen Siddque expressed with great sadness that religion is being used, misused and abused by a section of people everywhere in the world. To get rid of these people and to promote interfaith understanding we must devote ourselves to the objective study of different religions of the world.  In his presidential address Professor Kazi Nurul Islam urged the United Nations to declare Kazi Nazrul Islam's birth day (May 25) as Universal Interfaith Harmony Day.