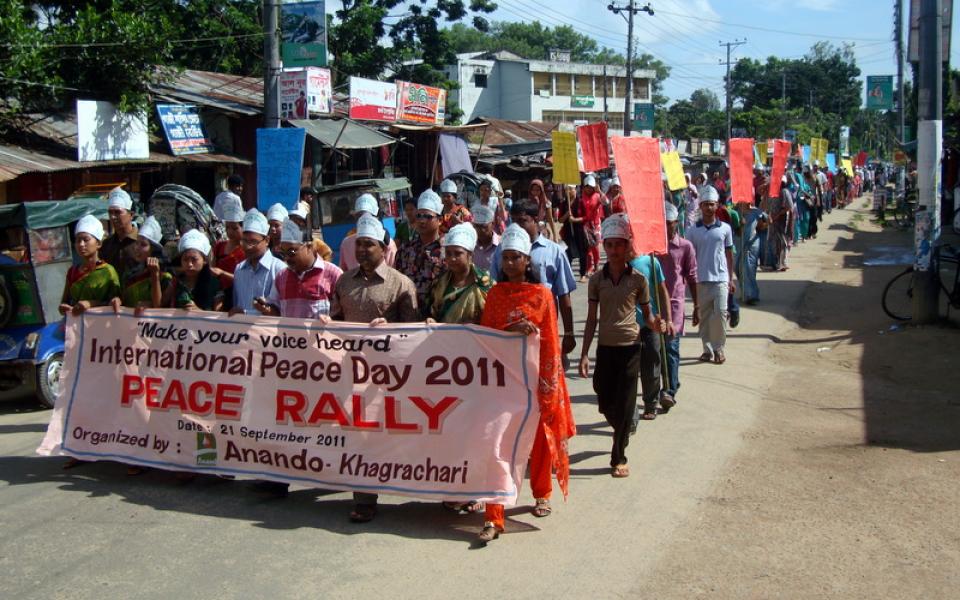 Anando CC along with Flower Exchange Initiative CC in CHT observed its 4th International Peace Day '11 on 21st September in Anando-Chittagong Hill Tracts (CHT) at Khagrachari campus focusing the main theme 'make our voice heard' as declared by UNESCO.
It is not so easy to observe this day here in CHT, as it is a special zone though it is now calm after signing a Peace Treaty with Govt. and the JSS in 1997. Now there is cold war between the resettled Bengalis from the plane and the main 13 indigenous ethnic communities there. So, it is needed special permission from local district authority to conduct any of such meeting etc. However, we obtained all those observing this day in befitting manner as follows:
The day started with peace rally from Anando campus at Balpia Adam to the Circuit House, Khagrachari district. In the rally, it participated more than 250 youths with various colorful posters, festoons and placards. It took 1.10 hrs to have a walk around the town with festive mood. At 10:00 morning it started the discussion meeting with 200 selected guests from different wakes of life. It is mentionable here that this is the area where the indigenous community fought in the banner of PCJSS- a local political wing against Bangladesh Govt. for regional autonomy or independence of CHT. This battle continued for more than 22 years. After 2 reconciliation attempts the 3rd reconciliation was signed on 2nd December 1997. However, which is also not as per accord. So, there is dissatisfaction again in CHT people. In such a moment the importance of IDP observance got a crucial significance.
The discussion meeting was commenced keeping Mr. Maniruzzaman Miah, Executive Director-Anando as the chair in a well decorated hall, while Mr. Sane Alam, The Chairmman of the Sub-district was present as the Chief Guest. Among others one guerilla leader and one Buddha monk was present in the dais.
Before formal deliberations the session was inaugurated by the Chief Guest enlighten a candle. After a welcome speech by the Regional Manager, Anando-KHG; the speakers from the dais started their deliberations. Among the speakers- Venn. Sumanalankar Mahathero, the Buddha monk cited examples from the life of Buddha and Jesus Christ and how they set their voice of love in the Trpitak and the Bible. He also cited examples of love from the bio-grapy of Prophet Muhammad. Mr. Emdad Moselm, the Vice Chair of Anando Board highlighted the history of International Peace Day explaining its main theme of this year. He also emphasized on peace and its application to daily life. Mr. Francis Halder critically focused on 3- components of peace i.e. Tolerance (love), social justice (truth) and willingness for reconciliation (forgiveness). He firmly discussed how peace is realized through reconciliation. As Project Coordinator-Anando, he finally linked various past reconciliation attempts from history and ended it with Anando's reconciliation through development at present in CHT. He categorically showed how the past leaders played their due role for reconciliation in the history and urged CHT and Govt. to repeat that well for the sake of humanity. The guerilla leader Mr. Khisha raised question why other NGO is silent in such a remarkable day for ensuring peace in CHT? The Chief Guest Mr. Alam highlighted the need of bond between hilly aboriginals and Bengalis. The chair of the session called others development partners to mark the day with due solemnity and urged others to take more of similar programs in CHT for its gradual stability.
The discussion meeting followed by a drama on Lost Son participated by 14 youth students from college and university. Actually, the drama- Lost Son followed the story of the Bible linking with main tune on reconciliation between lost son and parents. As it is a fruit bearing event in this locality; so, Anando decided to observe this day in coming years also.