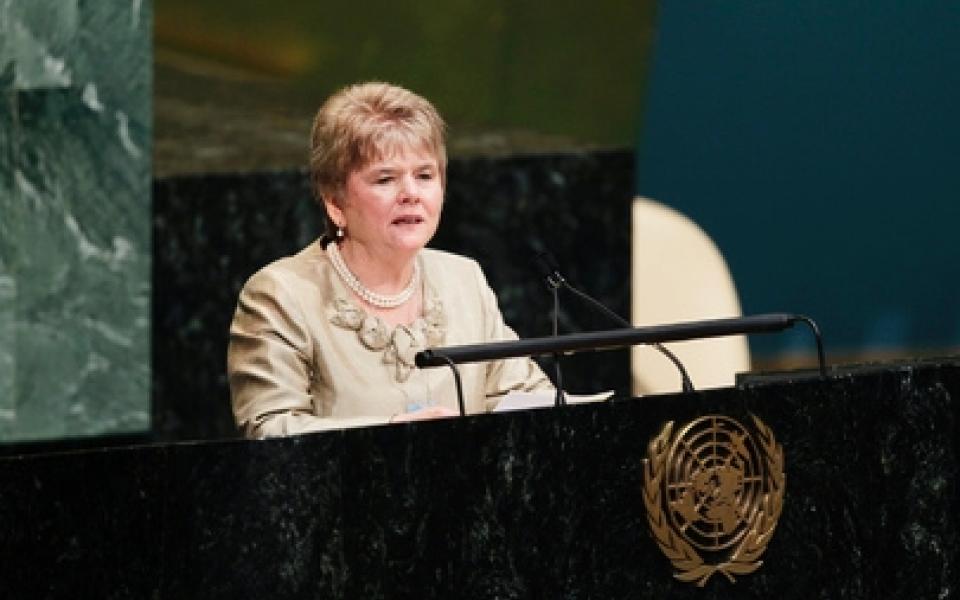 Monica Willard, URI's representative at the UN and President of the Committee of Religious NGOs, and organizer of this year's World Interfaith Harmony Week observances at the General Assembly in NY, filed this quick report today.  We will update this posting as soon as additional information is received.
From Monica:
Yesterday was a big day in my 21 years at the United Nations.  As President of the Committee of Religious NGOs, I was one of the primary organizers for the planning committee for World Interfaith Harmony Week 2012 at the UN.  We worked with the Office of the President of the General Assembly to create "Common Ground for the Common Good" that was held at the United Nations General Assembly.  I wanted to share this important day with you. Debra Bernstein, URI's acting Executive Director, also attended the UN event.
The tone of the celebration was set by Nassir Abdulaziz Al-Nasser, the Qatari diplomat who currently serves as president of the U.N. General Assembly:
"We recognize and celebrate the values that are shared across religious traditions," Mr. Al-Nasser told General Assembly delegates. "The common principles form a common ground that unites us in our rich diversity." 

A WEBCAST of World Interfaith Harmony Week Observance at the UN, February 7, 2012 can be watched at:
http://www.unmultimedia.org/tv/webcast/2012/02/common-ground-for-the-common-good-on-the-occasion-of-the-world-interfaith-harmony-week.html
Although the webcast is 3.15 hours long, you can hear Monica's presentation at 25.33 minutes. She follows the President of the General Assembly, the UN Deputy Secretary-General, and the Representative of the Pope to the UN.  URI's Reverend Deborah Moldow also worked on the planning committee.  Her section of the program is the beautiful Tree Watering Ceremony that brought people from 11 different religious traditions together to water a tree symbolic of the "Common Ground".   Reverand Moldow's section begins at 2 hours 51 minutes and 08 seconds.
I will have more to report from this wonderful event soon.
Monica Willard, President
Committee of Religious NGOs at the UN
www.RNGO.org
(top photo courtesy:UN Photo/Paulo Filgueiras