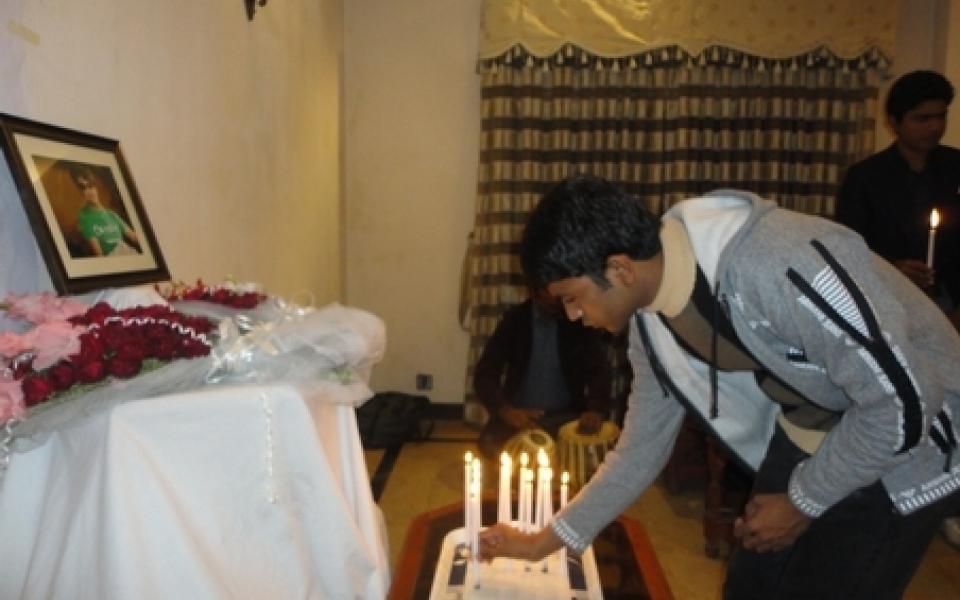 A Cooperation Circle founder and lifelong peace activist, Irfan was killed Jan.10 while helping the victims of a bomb attack in his hometown of Quetta, Pakistan.  The blast also killed his brother-in-law, and injured Irfan's brother, Muhammad Ali.  He was 38. 
More than 30 people, including the Rev. James Channan, OP, URI's Regional Coordinator for Pakistan, Global Council Trustee Zubair Ahmed Farooq and many of URI's Cooperation Circle coordinators in Lahore attended the Jan. 30 memorial service at the Peace Center in Lahore for the man Father James called "a devoted and visionary URI youth leader.
 "It was hard to believe that this young man, full of vision, ideas, commitment, dedication, enthusiasm and devotion is no more in our midst," Father James said.  "He had worked with the United Nations, Amnesty International and the International Committee of the Red Cross.  He worked with Lead Pakistan on the publication of a human rights report, and struggled for the restoration of the judiciary, Parliament and democracy against former President of Pakistan Gen. Pervez Musharraf.  He served as URI Youth Trainer in Pakistan from July 2012 until his last breath on the 10th of January.
 "The religion of Irfan was humanity," Father James said.
In keeping with Irfan's lifetime of interfaith work, the memorial service included readings from the Bible (by Brother Haroon Ilyas, O.P.) and the Bhagavad-Gita (by Dr. Munawar Chad) in addition to Dr. Mushtaq Mughal's reading from the Quran.  Sister Sabina Rifat also recited a poem in honor of the service and sacrifice Irfan rendered throughout his life, while students from the local Dominican school celebrated him in song.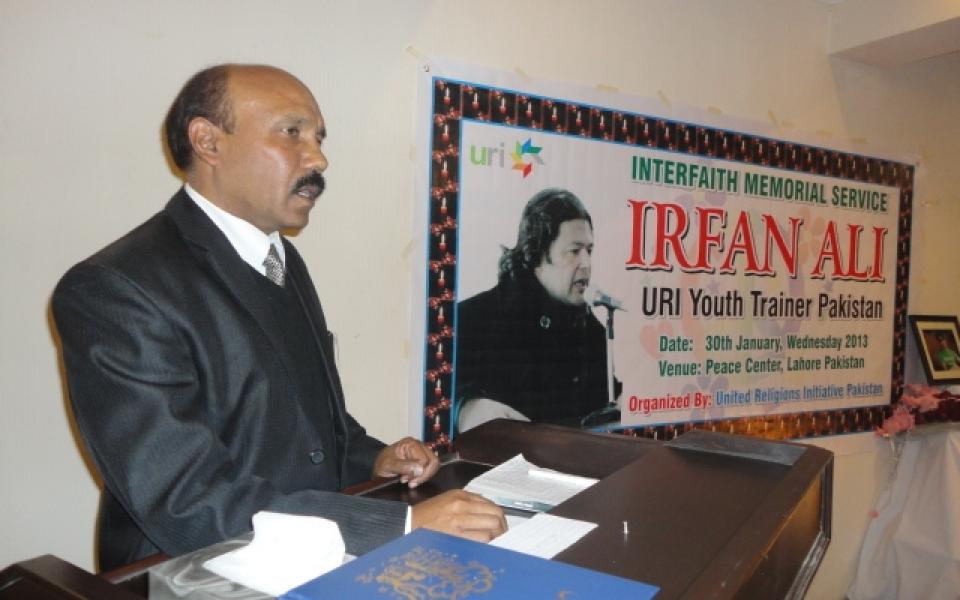 "He was an ambassador of peace," said Francis Xavier, coordinator of the Women and Children Development CC in Lahore.  "He spoke the language of love, freedom and justice.  He will always remain alive in our hearts.  Let us continue his mission."
In Africa, URI Continental Coordinator Mussie Hailu announced that Irfan Ali had been awarded the Golden Rule Medal by URI Africa in recognition of "the outstanding work he did to promote a culture of peace, interfaith harmony and understanding."
 "This Golden Rule Medal will help his family to understand the great, heroic work of their son and to know that Irfan's effort to build peace, trust, understanding and harmony among different religions goes beyond Pakistan," Ambassador Hailu said.
-------------------
Many other URI leaders and staff members throughout the world sent their condolences and remembrances of Irfan Ali to be read at his memorial service, including the reflections shared below:
I want to thank the Pakistan URI Regional Office in Lahore for organizing an Interfaith Prayer Service to memorialize Irfan Ali. It gives all of in the URI family an opportunity to focus our thoughts, prayers, grief, and determination around his heart-wrenching death. 
My special sympathy today goes to his family in their terrible loss, and to the URI family in Pakistan who stand tall for peace in the face of purveyors of terror.  You have lost a great leader and a wonderful hope for the future.  Only as we borrow his vision and courage can we even bear to press on.
This world has not heard the last of Irfan Ali.  His story and memory will abide in our global community and will yet continue to have an impact of peace in the needy and beautiful country of Pakistan.  My prayers are with you today as you commit Irfan's soul to the merciful arms of God.
In peace and respect,
The Right Rev. William E. Swing
Founder and President of the United Religions Initiative
-------------------
Greetings of love and peace on behalf of the global URI as you gather to celebrate the life and mourn the loss of our dear brother Irfan Ali.
Irfan's tragically shortened tenure as URI Youth Trainer in Pakistan was filled with the light of hope in a better tomorrow. He gave his life in this pursuit.
Irfan brought such deep vision, energy, commitment and courage to realizing URI's purpose in his deeply troubled homeland. Even as it is impossible to express the depth of grief we feel at the tragic loss of this bright life, it is important that we celebrate the light he shone.
The great American civil rights leader and martyr, the Rev. Martin Luther King, Jr, often stressed that our faith in positive change and our willingness to commit our lives for that change would allow us "to hew out of the mountain of despair, a stone of hope."
Irfan showed us what it meant to look at the mountain of despair and not be overwhelmed, but to work to bring out a stone of hope. Though his body is gone, may this spirit of his live on in each of us.
I pray that Irfan, his family and friends, the URI community in Pakistan and all the people of Pakistan be enfolded in God's gracious, healing light. May God keep you safe as you continue to shine the light of peace, justice and healing.
Love,
The Rev. Canon Charles P. Gibbs
Executive Director of the United Religions Initiative
 -------------------
The thing about Irfan Ali is that he was unstoppable. For those of us at URI who were blessed to meet Irfan, we still cannot fathom that this hero, peacebuilder, visionary is gone because he worked tirelessly for peace.
I think we all knew he was in harm's way in Quetta, Pakistan.  He wanted the world to know about the attacks on his beloved Hazara community.  And he was so committed to building peace and coexistence in a region torn apart by sectarian violence.
For myself, everywhere I turn there is something that reminds me of Irfan.  I am a lector in my parish and my reading a few days after Irfan was killed was the following from the Prophet Isaiah (42:6-7):
I, the LORD, have called you for the victory of justice,
I have grasped you by the hand;
I formed you, and set you
as a covenant of the people,
a light for the nations,
to open the eyes of the blind,
to bring out prisoners from confinement,
and from the dungeon, those who live in darkness.
Irfan Ali was called by his own sacred tradition to spread a message of peace and tolerance. He was a light for the nations, a light for Pakistan.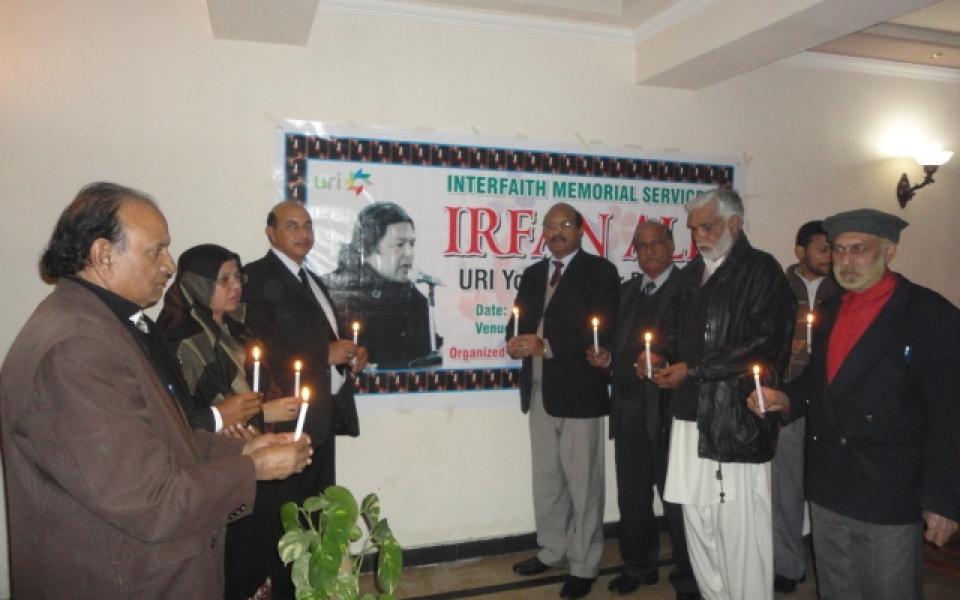 Irfan was a communicator.  How many times was I on Skype when he pinged me?  Too many times he told me of the dangers to his community, of the mass exodus of the Hazara Community, including members of his ROOTS Cooperation Circle, which first drew him into URI.  He tweeted, posted updates regularly on Facebook, spoke at a Ted-X talk only weeks before he died.  As we have now learned, journalists followed his whereabouts through his tweets.
Simply put, Irfan was known.
His message, as he shared with us at URI's Hub in San Francisco in an interview for our November newsletter, was this:
"There are things that peace demands. If we do not stand by each other, if we do not support each faith at a time of emergency or crisis, there is no sense of that peace or interfaith work."
Irfan was unstoppable…until religiously motivated violence did stop him on Thursday, 10 January 2013.
May we turn our sorrow into more action… Let's carry Irfan's precious spirit with us and be unstoppable in ending religiously motivated violence and building cultures of peace, justice and healing.
Peace, remember peace is how we make it,
  Here within your reach 
If you're big enough to take it.
       (It Don't Come Easy, Ringo Starr)
Debra Bernstein
URI Global Associate Executive Director
 -------------------
A Salam Aleikum: May the peace of God be with you.
I have a photo of Irfan Ali on the wall of my office at URI's San Francisco headquarters, showing him with a beaming smile at the center of 30 young adults in a leadership training workshop.  We got to know each other using Skype chats and while working together preparing for his URI teaching program. We often closed those chats conveying good wishes using "emoticon Skype symbols"...a little man bowing, a dancing star, bouquets of flowers, smiles or sunshine faces.  These light-hearted symbols conveyed in an unspoken way our shared inspiration and certainty that God is great, and that Good will prevail. 
In the face of escalating violence and heartbreaking injustices, Irfan simply renewed his commitment to educate young adults to the greatness of their country, a commitment rooted in establishing human rights and respect, dignity and justice for all people. Irfan was a brave, competent, purposeful man with the heart of a true peacemaker. 
Irfan died helping others so that they might live. To honor him and our memory of knowing him, let us become better people ourselves -- standing up for justice and respectful dialogue rather than petty grievances, violence and hatred. 
May Almighty God hold Irfan in eternal Light and Love.  May Almighty God and dear Mother Mary come close to comfort  Irfan's family and all of us who are so sad to have lost a good friend, teacher, and superb leader.  
God bless each of you who work so hard for peace and justice in Pakistan. 
With deep respect and love,
Sally Mahe
URI Director of Regional Development
-------------------
Irfan Ali was a very good, energetic and faithful staff member of URI Pakistan.  He always keep in touch with me, sending and sharing information and reports on his programs. We lost a loyal peace activist. Whenever he visited Peshawar or Quetta, I advised him to please take care of himself and be safe.  
Irfan Ali only stayed with us for a short time, but he left remarkable memories with his great work of peacebuilding. When this incident happened, I was in Karachi.  I was informed about what had happened early the next morning.  Thereafter, we received a lot of calls for condolences: on the whole, I was in a great shock. 
Irfan Ali will be remembered in URI history forever.  May his soul rest in Peace!
Yuel Bhatti
Executive Secretary, URI Pakistan
-------------------
Irfan Ali was an inspirational leader and showed immense commitment and courage at all times.
Let us pray that his soul may rest in peace.
In prayer for peace and healing,
Kiran Bali, MBE, JP
URI Global Council Chair
Note: This story has been edited from its original version to reflect Irfan Ali's correct age