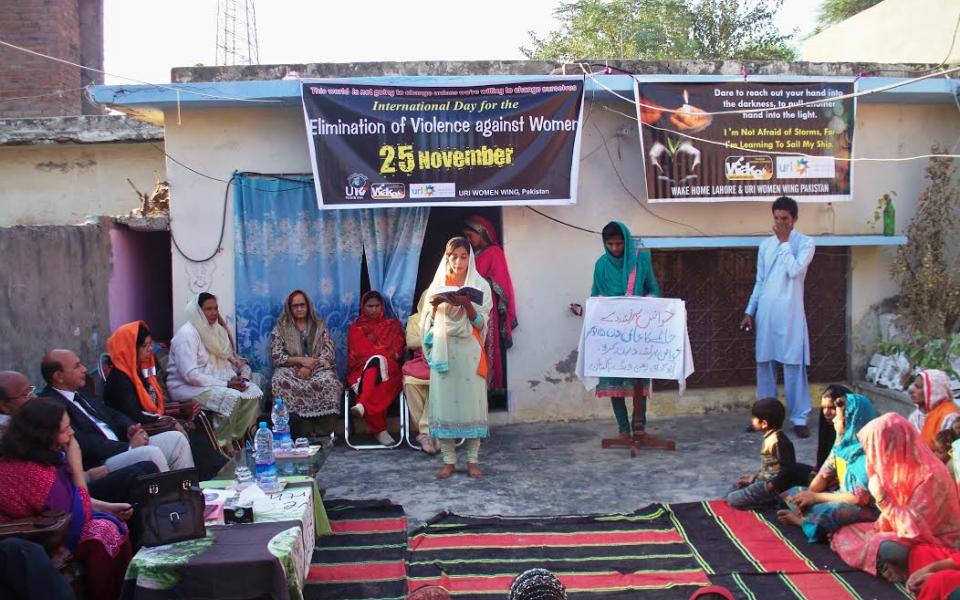 The Women's and Kids' Education (WAKE) CC held an awareness event for the International Day for the Elimination of Violence Against Women in the Yohannabad area of Lahore, Pakistan in late November.
Roughly 70 women and girls from both Christian and Muslim faiths, many whom are victims of domestic violence and/or sexual harassment, attended the public event. The banner above the speaker's podium read: "I am not afraid of storms, for I am learning to sail my ship."
"WAKE women make this their slogan," said Sabina Rifat, WAKE organizer. "Here in Pakistan, thousands of my sisters and little girls are in the sea without knowing anything about swimming."
In order for women in attendance to know their legal rights, three local attorneys were on hand to give presentations on the protections granted to them under the law. The women and girls were encouraged to share their stories in an open forum and to allow lawyers to answer questions. Social workers, youth coordinators, and others were also there to provide an open forum for women to share their everyday experiences. But some women, according to Sabina, were too shy to share the harsh realities of their lives.

"I told them that this is not their fault; if they have been abused, they can still lead their life with dignity and ask help from law or from us," she said. "It was a great joy for them to hear that."
The group from the WAKE vocational center wore orange stoles to signify that they condemn any kind of violence against women.
To further honor the UN-sanctioned day, WAKE members read this year's message by UN Secretary General Ban Ki-moon:
"Violence against women and girls directly affects individuals while harming our common humanity. In response to this global challenge, I launched my UNiTE to End Violence against Women campaign in 2008. Since then, partners around the world have joined our drive to protect the human rights of women and girls to live free from violence.
"I welcome the chorus of voices calling for an end to the violence that affects an estimated one in three women in her lifetime. I applaud leaders who are helping to enact and enforce laws and change mindsets. And I pay tribute to all those heroes around the world who help victims to heal and to become agents of change.
"Last month, on United Nations Day, I had the privilege of meeting again with one such hero: Dr. Denis Mukwege, the founder of the Panzi hospital in the Democratic Republic of the Congo where women go after experiencing terrible atrocities. Dr. Mukwege has said, 'Many times we are reduced to tears. Everything is so damaged. But we get to work. We operate. We fix what we can, and that is a lot.' He is inspired by the courage of the women he treats, including the many who go on to help others.
"Although Dr. Mukwege is dealing with violence against women in the context of armed conflict, his spirit to confront and fix this problem should apply to all of our efforts to help women facing violence in homes, schools and other civilian settings throughout the world, in every country, every society.
"Traditionally, this Day marks the start of 16 days of activism. From November 25th until December 10th – Human Rights Day – we make a special effort to organize and combat violence against women, an egregious human rights violation. This year, we are raising awareness by wearing the colour orange to symbolize our commitment to this cause.
"One way to make a difference is to support the United Nations Trust Fund to End Violence against Women, which helps respond to human rights violations and needs from physical safety to economic security. While the demand for its grants has more than doubled in recent years, the amount it has been able to distribute has diminished by 60 per cent. I appeal to all partners to help meet this vast unmet demand for resources to further advance efforts to prevent and end violence against women and girls. 
"This International Day to End Violence against Women is an opportunity for all people to recommit to preventing and halting all forms of violence against women and girls."
In 1999, the United Nations General Assembly designated Nov. 25th as the International Day for the Elimination of Violence against Women, inviting governments, international organizations, and NGOs to organize activities designed to raise public awareness of the problem on that day. Women's rights activists have marked it as a day against violence since 1981. This date came from the brutal 1960 assasination of the three Mirabal sisters, political activists in the Dominican Republic, on orders of Dominican ruler Rafael Trujillo (1930-1961).
Yohannabad is a large slum area of Lahore where most of the people live in extreme poverty and educational opportunities are very low.  WAKE and URI are trying to spread awareness and vocational training to illiterate women in the area. WAKE is looking forward to promoting basic education for young women and girls.