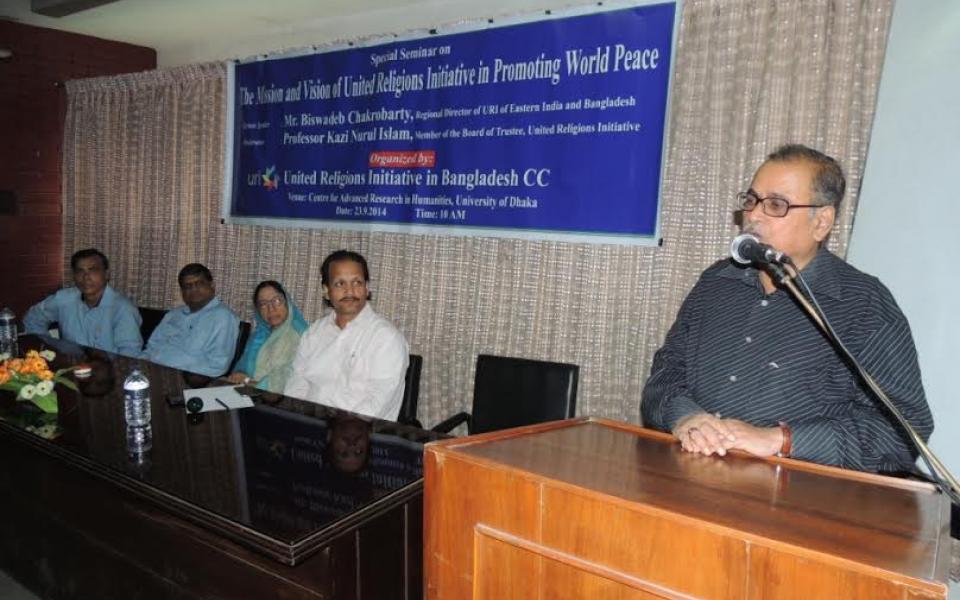 This year, several Cooperation Circles in URI India's East Zone held International Day of Peace (IDP) celebrations.
This auspicious event has become a platform to uphold the work and importance of sustainable peace at many different levels.
Ektaan Cooperation Circle celebrated on the 21st of September, International Day of Peace, in the morning. The day's events began with a grand painting competition at Dishergarh AC Institution, a renowned coeducational school in the region that was established more than 100 years ago. More than 200 students from various classes participated in this event.
Winning painters got a chance to attend a workshop in Shantiniketan in West Bengal for further development in order to create a new network and support the candidate for future training at Shantiniketan. This workshop was done with the help of Tagore Peace Circle, another Cooperation Circle working in Shantiniketan. 

At the end of the program, one documentary presentation and discussion with parents and local guests was held at the school campus to introduce United Religions Initiative (URI). Asia Regional Coordinator Biswadeb Chakraborty attended.
Manbazar Chandra Memorial Cooperation Circle in the district of Purulia, West Bengal, organized the second event. There, participants organized a Peace Rally on the 21st of September. The main event concluded by distributing fruit at the nearest hospital. They also provided books & pens to needy children in a nearby centre. Social workers and members from government institutions were also invited to attend this event. 
The third event took place in Bangladesh on the 22nd and 23rd of September and began with a peace rally. That day, there was also be a URI board meeting of different Cooperation Circle members and Regional team leaders to discuss the future growth of URI Bangladesh. Our Asia Regional Trustee Dr. Kazi Nurul Islam presided over this event, with Mr. Biswadeb Chakraborty in attendance. URI Bangladesh hosted a dynamic discussion on promoting interfaith cooperation among a diverse youth group from Dhaka University, engaging in conversation by sharing early interfaith encounters. Students shared their views and daily experience of interfaith challenges as well as hopes for the future.
Our fourth event took place in Ranchi, Jharkhand with women's-focused organizations, more details to come. 

I take this opportunity to send best wishes to you all that hosted various events, as we stand for the same purpose, may we grow stronger and stronger. May peace prevail on Earth.

Kaushik Chatterjee, Secretary, Ektaan CC