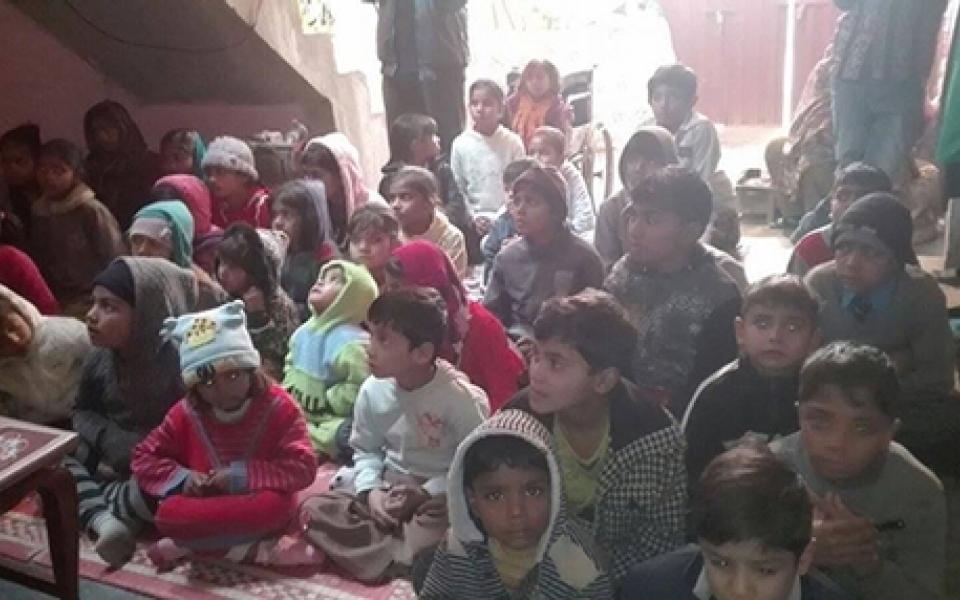 Dear URI Family and Friends, 
ABC4 For All School, running under the A Better Community For All Pakistan Cooperation Circle, opened to its huge success. It has been growing ever since. The school provides education to poor families and children who cannot afford to send their children to schools. Besides academic education, the management is promoting peace and harmony through celebrations of National Days, International Days, the International Day of Peace, Women's Day, World Interfaith Harmony Week, Children's Days, etc.
On Saturday, 28th Jan 16, we the Board members of ABC4ALL have visited the school and appreciated the courage of the staff who took this project to the next level.
The students are very intelligent, although they are underprivileged with limited resources. We gathered there to muster up the student and staff's courage against the chaos of terrorism that was spread around after the attack in Bacha Khan University Charsadah, Peshawar.
Mr. Yuel Bhatti, Mrs. Elishba Yuel Bhatti, Ms. Sehar Akram, Mr. Isfar Bajwa, Mrs. Sumera Isfar, Mr. Zeeshan Asim, Principal, and other staff members condemned the terrorist attack at Bacha Khan University, Charsadah, and conveyed condolences and prayers to the families of the deceased and prayers for the recovery of injured. Students were encouraged to continue their presence at school every day, despite the terrorism fears, with holding ply cards. Yuel Bhatti also expressed gratitude to the URI family who send their prayers for solidarity with us. Thanks to all who send the prayers.
Children presented short prayers and prayer songs, and participated in the intensive talk enthusiastically. ABC4all School is more likely to develop academically and socially if they are happy and secure in their school environment.
As the city is under the cold waves of winter, warm clothes and sweets were distributed among the students as a token of love and encouragement. The poor students were gifted by the Board members with warm caps, socks and edibles. The students felt happy and there were smiles on their faces.
Mr. Yuel Bhatti, Director of the School, appreciated the efforts of staff for organizing a wonderful program, and said, "I know the needs of the school and hopefully we will provide with collaborations of Board members. As such we don't have any donor for free education." 
1-7 February 2016 is World Interfaith Harmony Week. We will celebrate at the school by holding Free Eye Camp on 5th February for the Muslim and Christian Community. The way we will create religious harmony and build interfaith bridges for peace.
The Board members and Principal extend warm gratitude to Mr. Yuel Bhatti, Director of the School, who is doing his best to provide education in the remote area to the underprivileged students who don't have the means for education and creating peace and inter-religious harmony. May Almighty God help us for students' needs.
It is good news that yesterday the Bacha University reopened after the terrorist attack.
Report Complied by:
 Ms. Sumera Isfar, Program Officer
 Ms. Yuel Bhatti, Director of ABC For All School
 Ms. Sehar Akram, Communication Desk