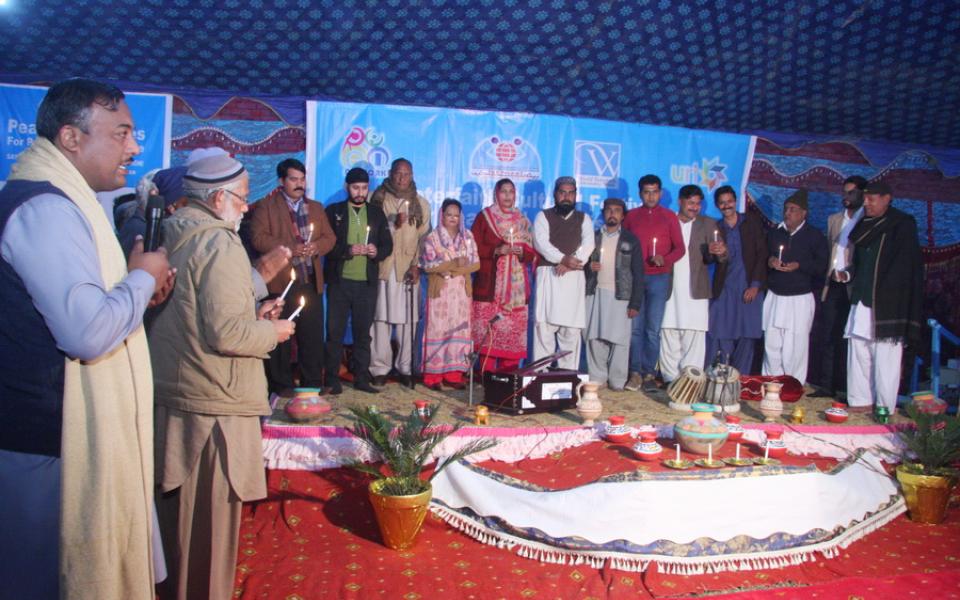 KHANEWAL - The BETHAK-organization in collaboration with REAT-network celebrated the World Interfaith Cultural Week to promote communication and trust among the believers of different religious for peace. A large number of people from Christian, Muslim, Sikh, and Hindu communities participated in the cultural festival here the other day.
Programme started with the recitation of holy books of different religions and representatives from all the faiths were called on stage and a candlelight vigil was also held for peace and harmony in the society. On the occasion, Francis Jacob, Mulana Afzal Abbas, Shakuntala Devi, and Surender Pal Sigh spoke on different aspects of promotion of peace and harmony through interfaith dialogue, importance of diversity in religions, different cultures and ethnic groups and acceptance of each individual as a unique person.
Shahzad Francis of BETHAK organization explained the objectives of Interfaith Cultural Festival and different forms of interfaith dialogue taking place in the country among people of different faiths. He further explained that the interfaith dialogue was a meeting of heart and mind among followers of different religion and working together in harmony for a common cause of peaceful coexistence.
During the celebration peace award were given to Mulana Afzal Abbas, Fr. Emmanuel Sharif, Shakuntala Devi, Mahindar Pal Sigh, Imtiaz Ali Asad, Amir Hussaini, Mir Babar Ali, Cecil paul, Sadia Akram, Ch. Zafar Iqbal, Shams ul Qamar Khan, Syeds Kahkshan Abbas, Basit Shah, Parvez John, Sarfraz Clement, Masood Chohan, Usman Younas, Salamat Ali Sindhu, Sheraz Naseer, Karar Haider Shah, Rozina Parveen, Shahid Anjum, Saeed Shahid, Asher Shakeel, Akhtar hussain, Nighat Yaqoob, Saleem Samuel, Rana Tariq Mahmood, Nadeem Najid, on their comment and dedication for promotion of peace and harmony among the communities in Khanewal region. Meanwhile, local singers and artists including Ustad Hafeez Naqash, Ustad Yousaf Sohan, Qayyum Sohotra, Mumraz Nazeer, Abid Ali and Shakuntala Devi entertained the audience with peace songs, Gazals and folk songs.