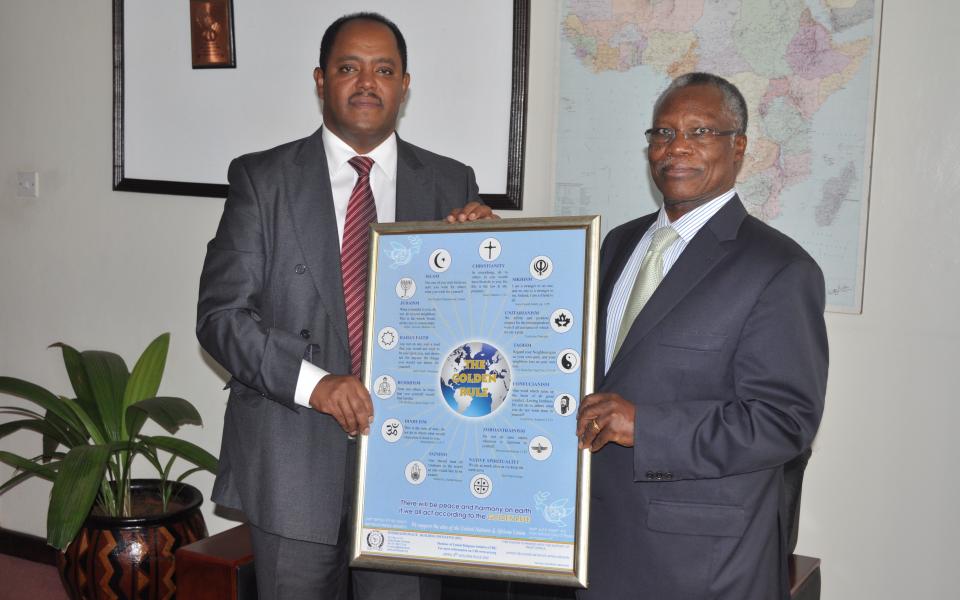 United Religions Initiative-Africa appointed the renowned world ecumenical and peace maker the Hon. Rev. Dr. Samuel Kobia as Goodwill Ambassador of the Golden Rule.
Hon. Rev. Dr. Samuel Kobia is the immediate former General Secretary of the World Council of churches. Since 2011, he is serving as a Commissioner of Judicial Service Commission of Kenya, which is tasked with responsibility to transform the Judiciary of Kenya, to ensure the independence of the judiciary and to recruit and give direction over the performance of judges and magistrates.  As the Ecumenical Special Envoy for South Sudan and Sudan since 2010, Dr. Kobia provides high level diplomacy and advocacy for the two Sudans on behalf of All Africa Conference of Churches and World Council of Churches. He is currently deeply involved in coordinating ecumenical peace initiatives for peace, reconciliation and healing for South Sudan. He is, since 2007, the Chancellor of St. Paul's University Limuru, Kenya. Currently he has been appointed as a Senior Presidential Advisor to the President of Kenya on Cohesion, Peace and Conflict Resolution.
The Golden Rule, which says, "Treat others the way you want to be treated" summarizes the basic teaching of compassion,  non-violence, respect, honoring the dignity of all living beings, social justice, equal rights, inter-religious & inter-cultural harmony and peaceful co-existence. It is the best guide we have to help peoples of the world to live together in mutual respect and harmony. It is a preventive mechanism to discrimination, violence, crime, war and the violation of human rights.
It is to be recalled that Golden Rule Day and appointment of Goodwill Ambassador of Golden Rule was initiated in 2007 in Addis Ababa, Ethiopia by URI-Africa and Interfaith Peace-building Initiative (IPI), a URI Cooperation Circle based in Ethiopia, on the occasion of proclaiming April 5th as Golden Rule Day. Since then over 158 organizations in 123 countries have joined IPI and URI Africa in proclaiming the Golden Rule day and promoting its teaching. The first Goodwill Ambassador of Golden Rule was Mr. Haile Gebresselasse, a renowned world athlete from Ethiopia.
Since 2007, every year URI-Africa appoints an individual or organizations who are a living example of the teaching of the Golden Rule as Goodwill Ambassadors of the Golden Rule.
URI Africa also took the initiative on the establishment of Golden Rule International to promote the teaching of the Golden Rule throughout the world by encouraging citizens of the world to form Golden Rule Chapters in their respective countries, as the Golden Rule is a principle all humanity shares in common. If we all practice, it can help us to live peacefully in this globalized world.
As citizens of the world let all of us be the embodiment of the teaching of the Golden Rule.
May Peace Prevail on Earth.