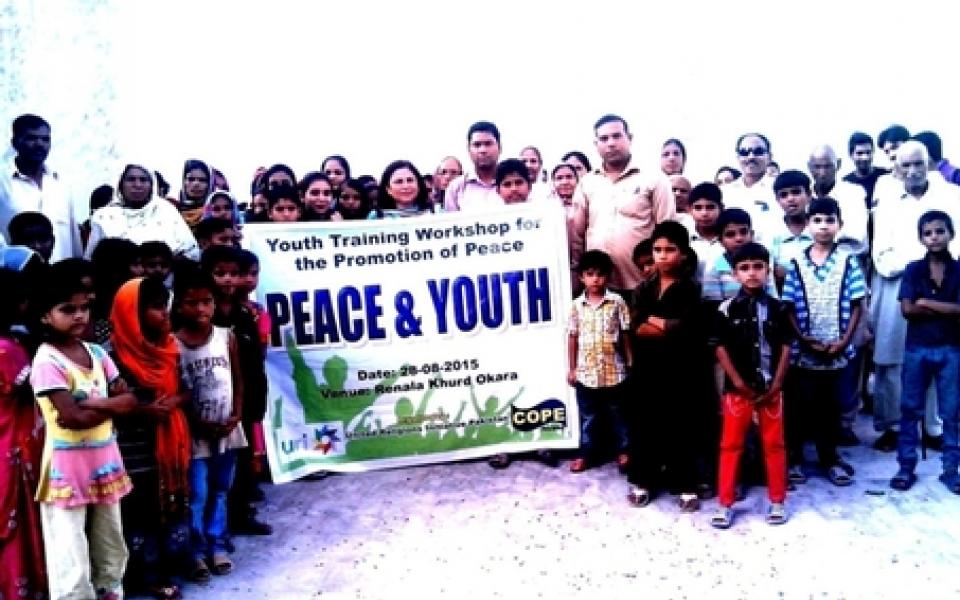 Peace & Youth
Youth Training Workshop for the Promotion of Peace
"If we are to reach real peace in the world, we shall have to begin with the children"
Date:    27/8/2015
Venue: Renala Khurd Okara                                                           
URI Youth Trainer: Ms.Tasneem Syed                                             
Organized by: URI Pakistan & COPE Pakistan
Peace is a wide concept that deals with the deepest roots of our being human and with the world at large. Since the earliest time of human history, peace has been conceived, practiced, contextualized and defined holistically and multi dimensionally.  A simple clear and easy to understand way to thinking about peace was recently set.
The objective of this training is to work on promoting peace in Renala Khurd through youth and children. It encourages youth and children to see peace not only as relevant and urgent in our studying, but how we relate to each other at home, at school, in our communities and the care for our mother, the earth, among other issues.
The goal is to encourage and enable youth to take responsibility for the profound impact, both negative and positive their action and decisions, however small they might seem to be, can have in all of those places. This training hopes to challenge youth and parents to link learning, responsibility and action as one whole, aimed at promoting peace.
Peace has always been the biggest idea of human beings and throughout human history we see human struggling to bring peace into their societies. Even today we see hundreds of institutions and movements working to promote peace in society. For this purpose providing a healthy and peaceful environment to society youth has always been considered important because in the absence of it their skills and abilities cannot flourish.
Topics for sharing: 
Living Peace and Harmony
Peace Begins With You: End Violence
Environment in Peace Building
The venue for this program was Anwar Shaheed Colony Renala Khurd Okara. Parish Priest Fr. James Siraj Din and Assistant Priest Fr. Nadeem John Shakir were also present in this workshop.  So many young males and females were present with their parents and the number of the total participants was 60.
Mr. Asher Nazir, Coordinator for COPE Pakistan, welcomed all the young people, children, parents, youth trainer of URI Pakistan Ms. Tasneem Syed, and priests. With it he introduced Ms.Tasneem Syed and gave a brief introduction of URI Pakistan. With it he congratulated Fr. James Channan OP to receive the "Global Ambassador of Peace Award" from Untied Nations affiliated NGOs. Mr. Asher Nazir talked on the objectives of this training. He said that we have learned to fly in the air like birds and swim in the seas like fish but we have not learned the simple art of living together as brothers and sisters. In Pakistan you are well aware of the situation going around us. We have seen war, killing among different faiths, hatred within families, bomb blasting as every day we are hearing and watching. How much blood is shedding; how much killing is going on. Do you think in this situation man can live peacefully and in harmony?
As Albert Einstein said, "Peace cannot be kept by force. It can only be achieved by understanding."
In the beginning of this training, children presented a peace song, and this was a very beautiful and meaningful song.
Mr. Ehtesham Joseph gave a speech on peace and interfaith harmony.  In this speech he said that we want to go out in streets and parks without having fear of bombings and suicide attacks.
They do not like to live under protection of guns; rather, they want to play games. Here we need to pray for peace. But we have to see how I may be an ambassador of peace: When I love my fellows. When I have the spirit of forgiveness for those who have done wrong to me. When I accept others as they are. And all this l have to start first within myself, within my family, within society, and in the whole nation. Then I can be an ambassador of peace.
Fr. Nadeem John Shakir, assistant Priest of Renala Khurd Parish, said that we have lost so much. Where does this situation lead us? What is our destination? Are we expecting more loss? What are our strategies getting new weapons to make path for third war?
What king of legacy we are going to hand over to our next generation? Will they take in their hands books or bullets? Can they hope for peace and prosperity or will they perish?
God's last creation was man and woman in his own image. Each person on earth is precious in God's sight. All of us are descendants of the same parents, Adam and Eva. This includes people whom we dislike the most. It is includes our enemies. It is important to remember that no human life is outside of God's care. The general aim of this training is to develop awareness of diverse cultures and in doing so promote the development of positive attitudes in youth towards our ethnic diversity as one people.
Mother Teresa says, "If we have no Peace, it is because we have forgotten that we belong to each other."
Ms. Taseem Syed said that we live in a world where poverty, war, diseases, homeless are a stark reality. Often when we turn on our television we hear and see about violence, deaths, natural disasters, people shot in the streets. Violence due to race or politics. In our own schools, homes and communities there are issues of violence and injustice: domestic, ethnicity, poverty, hunger, etc. A teenager's sense of justice is strong. And young people want to know how they can make a difference in their world. But often young people don't know to do it, or where to begin. And too often, the adults in their lives do not provide them with healthy and strong examples of how to create fairness and justice in their world.
She gave a question for sharing to participants: when you face a big conflict as a community, then how do you resolve it? Here participants shared different stories, and one story was very important. That was a murder of Catholic Priest Father George Ibrahim, a Roman Catholic priest from Renala Khurd parish. He was killed on 5 July 2003. He was born in Khushpur Punjab on 10 July 1964. He received his religious training at Christ the King Seminary Karachi and was ordained a priest on 3 September 1993. Father George Ibrahim was shot dead by armed men who came into his parish Our Lady of Fatima in Renala Khurd Okara district in the Roman Catholic Diocese of Faisalabad. They said that the funeral service of Fr.George Ibrahim was attended by more than 3,000 people, by bishop Joseph Coutts of Faisalabad. Bishop said that to Christian community that we want justice and peace and we will resolve this matter legally and if we come on the road, then we have to face many problems. So the Christian community agreed with the bishop and we resoled this problem peacefully.
Concluding Remarks
Mr. Asher Nazir, CC Coordinator COPE Pakistan, thanked Fr. Nadeem John Shakir and Fr. James Siraj Din with all participants and gave special thanks to Ms. Tasneem Syed, Youth Trainer of URI Pakistan who traveled from Islamabad to Okara for this training and gave a meaningful training to youth for the promotion of Peace in Renala Khurd Okara. 
Prepared by:
Asher Nazir
URI CC Coordinator
COPE Pakistan (Community Organization for People Empowerment)