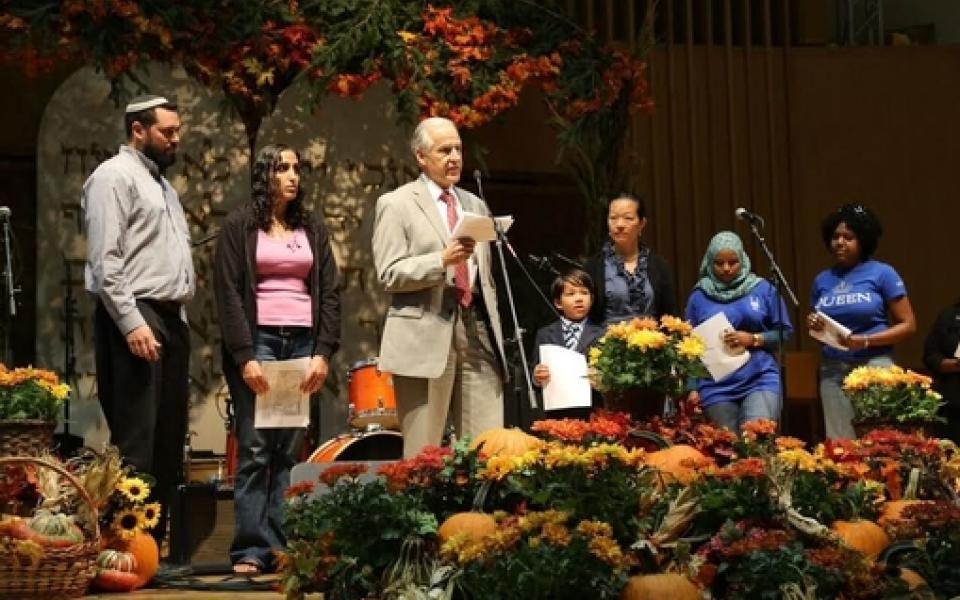 By Meghan Mulvenna
The 2015 Walk DC was a powerful example of people from various faiths coming together to learn about one another and walk in friendship. On Sunday, September 27, and in honor of International Day of Peace, ten various faith traditions hosted an open house to hundreds of walkers.
A service project, sponsored by the Society of St. Andrew, brought 40,000 pounds of potatoes from fields in Maine to soup kitchen of Washington, DC. And the Islamic Center of Washington graciously opened their doors and heart, by allowing us to live stream Pope Francis' final remarks in the US during the closing ceremonies of The Walk. 
On that day, just as I had been envisioning it for weeks, since we had received permission for the live streaming, it felt as though the world was coming together before my eyes. A crowd of people from various faiths watched Pope Francis' final mass in the US on a screen donated by the Church of Jesus Christ of Latter-day Saints (LDS) on the grounds of the Islamic Center of Washington. At the same time, Imam Khouj led prayers inside the conservative, visiting mosque of our nation's capital. Those brief moments in time offered a vision of possibility, where only love for God and acceptance existed.
The vibrations in the atmosphere were palpable. Men and women from all traditions, from Rabbis, to Buddhists, Catholics, Muslims and leaders from the LDS community, were in awe. I requested that our incredible volunteer technical lead turn down the sound of the Pope's address, and prepared the crowd for Imam Khouj's anticipated arrival.
When Imam Khouj descended the stairs of the mosque and walked toward me, I paused in front of him, placed my hand over my heart and said, "Thank you," as my eyes filled with tears. He gently nodded in return with a smile. He looked past me toward the crowd gathered and the live transmission of Pope Francis from Philadelphia, and asked, "Is everything okay?" I smiled and said, "Yes, I'm just so happy." He placed his hand on his heart, nodded and said, "May you always be happy. May God bless you always." We both walked toward the podium.
After several breaths and a formal introduction, I shared with the audience, "I have been deeply moved by Imam Khouj's generosity of heart, trust, and obvious commitment in serving humanity, to allow us to create here today what many around the world would consider to be impossible... Brothers and sisters, Dr. Imam Khouj." Again, he bowed toward me, placed his hand on his heart and we both drank in the moment of 'Namaste' and 'Thank you.'"
It is difficult to quantify the impact of the event. It was a remarkable experience to those who attended, and I trust seeds of friendship, understanding and hope were planted. I am most curious how The Walk will continue as an annual tradition, and how it can serve as an example for other events around the world.