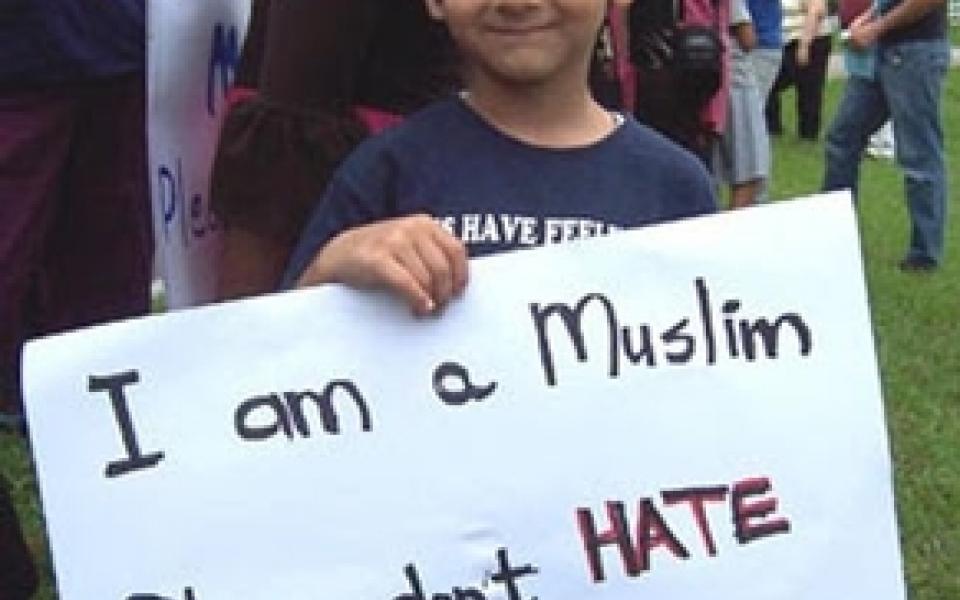 The Interfaith Council of Contra Costa County forthrightly, unequivocally, and clearly condemns the dangerous and inflammatory rhetoric of Mr. Donald J. Trump in regards to Islam and Muslims. We do so not to engage in political campaigns or endorse or not endorse any particular political candidate. We speak out in this instance to defend the rights of Muslims, especially in the United States, to practice their faith in peace and safety.We speak out to defend and uphold the basic human rights and dignity of all people.
Misinformation, inflammatory rhetoric, false and half statements about Muslims and Islam feed the fears of many to think and act against their better nature. Mr. Trump's statements are being condemned by responsible political and moral leaders across the board. Several points of clarification are necessary:
Trump's rhetoric concerning Muslims and Islam give the impression that Muslims constitute an ethnic group that must be put under surveillance. Muslims are people of any ethnic group, race, or Nation. There are no singular features by which someone "looks like a Muslim",
More and more Americans are tempted to believe that Islam is inherently violent. An accurate survey of history and proper education will emphasize the contrary. Out of context quotes from the Quran without regard to history or circumstance is simply irresponsible,
So called ISIS and terrorists groups like it are not true, proper, or acceptable expressions of Islam by the standards of Islam,
Muslims both locally and around the world have spoken and do speak out against acts of violence and terrorism. On San Bernardino and Paris, to mention two recent incidents, many Muslim leaders and people have stood in solidarity with their communities condemning terrorism in all its forms.
The rhetoric of Mr. Trump and those like him is playing right into the hands of terrorist groups and fomenting unwarranted oppression and misconduct against peace-loving Muslims right here in our own community as well as around the country.
Our country was founded on the constitutional rightsand protections against these oppressive acts of discrimination that include the First Amendment rights of freedom of religion and association, as well as the Fourteenth Amendment rights of equal protection, due process and probable cause all rooted in our Founding Fathers commitment to unity in diversity and protecting the liberties inherent in the Bill of Rights. Muslim Americans are an integral part of American society and, like all Americans, are entitled to those protections.
Our immediate concern is the well-being and safety of our Muslims brothers and sisters whose lives and rights are being threatened if the rhetoric of Mr. Trump and those like him is not condemned in the name of what is civil, humane, dignified, and responsible.
Politics aside, we call on all people of good will to see their faith traditions as part of the solution not the problem. Our comments today concern the ethical and moral implications of the current political climate. Left unchecked by people of good will, Mr. Trump's rhetoric will lead to the harm of innocent children, women, and men both now and in future generations.
The Governing Board,
The Interfaith Council of Contra Costa County
-----
The Interfaith Council of Contra Costa County Cooperation Circle is also beginning a "Love Your Muslim Neighbors" program. The ICCCC will be offering panels conversations with a variety of Muslims speaking about their own experiences to educate congregations and neighbors. They hope to help encourage every Masjid (house of prayer) to host Open Houses so neighbors and new friends can get to know their neighbors. Contact Rev. Will McGarvey at [email protected] if you would like to host such a panel conversation.  
They also highlight three upcoming events to meet Muslims and pray for San Bernadino, the community affected by a recent act of terrorism: 
Candlelight Prayer Vigil sponsored by the Livermore-Pleasanton Interfaith Clergy Association
December 9 from 7:00 to 7:30 p.m.
Lynnewood United Methodist Church
4444 Black Avenue, Pleasanton.
For more information, contact Rev. Heather Leslie Hammer of Lynnewood United Methodist Church, (925) 846-0221.
Ahmadiyya Mosque in Bay Point Prayer Vigil
Saturday, December 12th at 6:00 pm
Ahmadiyya Mosque
520 Pacifica Ave., Bay Point
An opportunity to come together and pray for the victims of San Bernadino and meet East Bay Muslims in their house of prayer. An Interfaith vigil to support friendship and fraternity. Join us to send your message of peace and prayer.
 Islamic Center of the East Bay Open House
Sunday, December 13th from 2:00 to 4:00 pm
314 W. 19th St., Antioch
An opportunity to visit with faith leaders and be in a house of prayer and share your thoughts and prayers for all of those places in the world in conflict. This is the Masjid that burned down and has risen from the ashes after a hate crime a few years ago.