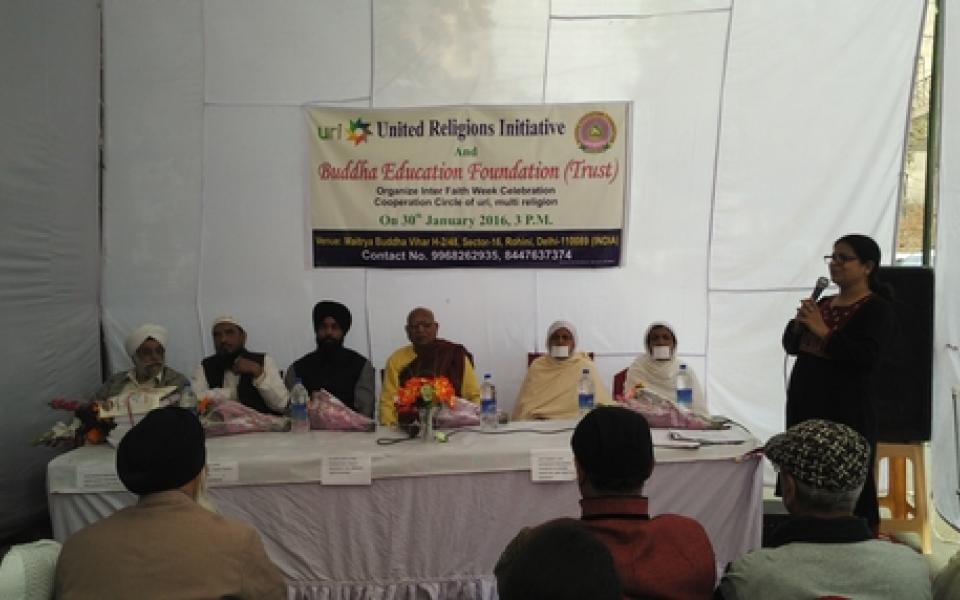 Politicization of religion is one of the most pressing issue of the present times. The roots of peace and harmony that lie in each and every culture, religion, and tradition of the world has not just got lost but now it has been manipulated as well.  Most importantly this manipulation has itself been introduced and propagated by human himself/ herself.
Hence, we, the new regional team of North zone India, at this crucial hour, thought of celebrating the World Interfaith Harmony week by going to the roots: roots of peace, harmony and togetherness that lie in each religion. With the co-operation and extensive efforts of Buddha Education Foundation (Trust) CC, Rohini , New Delhi, Dr. Sangh Mitra Baudh, we were able to organize an interfaith meeting of various religious leaders.
On 30th January, our CC member invited the local religious leaders of Buddhism( Ven. Bhikkhu Vishva Bandhu ji, Buddha Education Foundation (Trust) President), Jainism ( Dr. Shri Saritaji Maharaj, Swetamber Jain Sathanakvasi Sadhvi Upparvatni Sramni Surya), Sikhism ( Shri. Ajmohan Singh Kohli ji, Gurudwara Shri Guru Singh Sabha President), Hindu ( Shri Ram Kanwar Bansal ji, Aggarwal Samaj Seva Smiti ( Reg.) President) and Islam ( Alauddeen Malik ji, Darsh-e Islamia Intezamia Committee (R) Jama Masjid Rohini President) to share their thoughts on communal harmony and commonality between religions. The intriguing session highlighted the historical evolution of each religion, specific word of respect written in their holy books and the present-past interaction of cultures in India.
The talk was attended by people from various religions as well and the gathering culminated into a beautiful bouquet of diversity. Our North zone regional team would not just like to thank the peace community for celebrating such days which helps people to come together on a common platform but also our CC members, specifically those who are constantly striving to make this world a better place to live in. 
Regards,
Sadanand Biswas (Regional Coordinator) and Subhi Dhupar (Liason Officer)