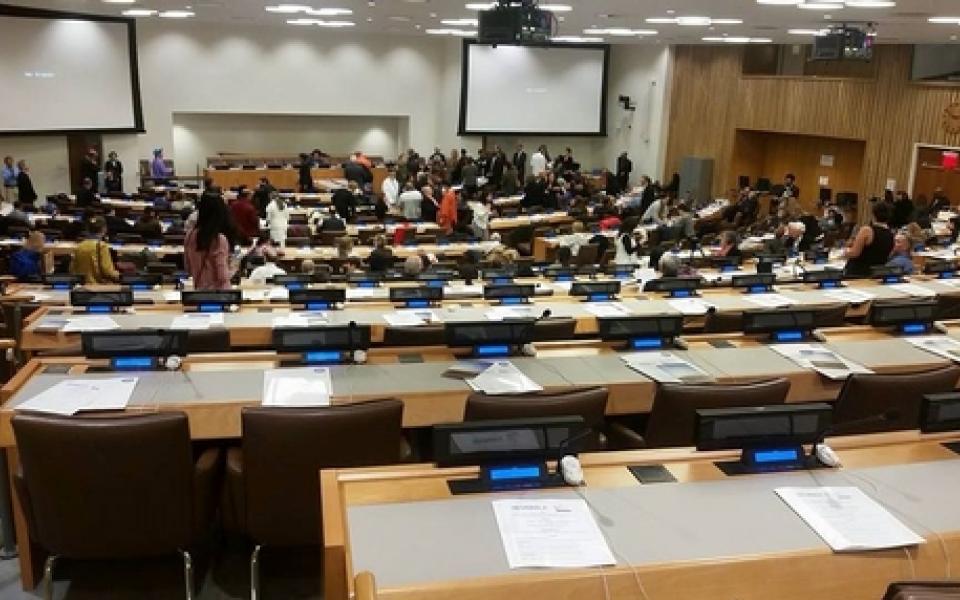 By Aspyn Adams
In the morning, I woke up fairly early to make sure I had all of my nicer clothes out so I could dress for the occasion. I made sure to wear my Iconic pentacle dangle earrings, and my necklace dedicated to Ishtar. I was never really cold in New York so I didn't see a need for a heavy jacket, so I just wore a lighter one but was sure to bring my umbrella. I also wore heels, which I was surely going to regret due to the tight feeling around my feet. Johnny couldn't decide which shirt matched best with his hat.
To read more about the religious significance of Johnny's hat, read his blog post here.
I grabbed some instant coffee before I met up with Monica Willard, URI's United Nations Representative, and everything was a go. Shayda, one of the other trip participants,  and I talked a lot on the way to the UN, mainly about future goals and interfaith. It often thought about how I got so deeply involved in interfaith in the way I did.
I remember back when  I never thought I'd be friends with the crazy obnoxious boy with the blue hat in my English class. But now, Johnny Martin and I are really good friends, and really look out for each other. I remember the day I joined our interfaith organization Sun Devils are Better Together (Sun Devils is our school's mascot) at Arizona State University. I was walking down a path, minding my own business, when people whom we call "Hate Preachers" called me a "crack whore" for having a piercing in my lip.
Stunned by this, I stopped for a second to listen to what he was saying to other people. All of it was truly horrible -- Islamaphobic, Homophobic, Misogynistic things. Then I heard an alternative message coming from the "blue hat guy" from my class. I went over to find him preaching a message of love, peace, tolerance, and knowledge through diversity. I joined his newly-founded organization and have been sucked into interfaith every since. My passion for it has boomed more than I ever thought it would. I reflected about most of this when we stopped by the UN interfaith chapel, which was utterly beautiful, and peaceful.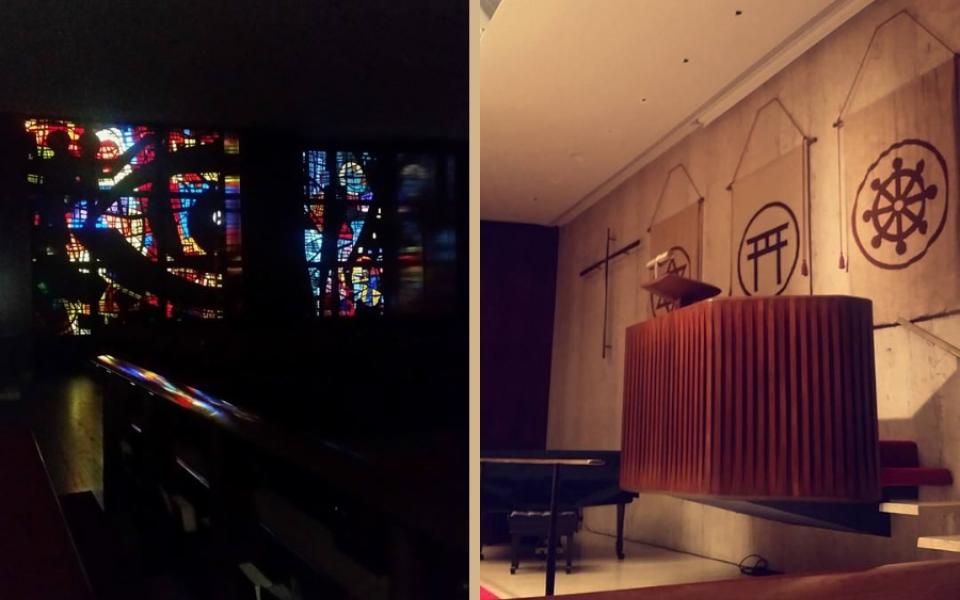 After the chapel visit, we headed inside the UN, Monica was the woman on the roll, a definite MVP for bringing everything together the way she did. It was all beautifully and professionally done. We made our way to the buffet, and I was definitely in love. The food looked amazing and there was so much to eat. We met a lot of people there involved in many different organizations -- and I wanted to join every one of them! 
I was so inspired by what has been accomplished and what is left to accomplish. I also got a huge plate of dessert to enjoy while I listened to people talk. Even though I'm a rather quiet person, I am very opinionated and defiantly not shy. I was happy that people listened to what I had to say, just as much as I listened to them. That for me was a breath of fresh air.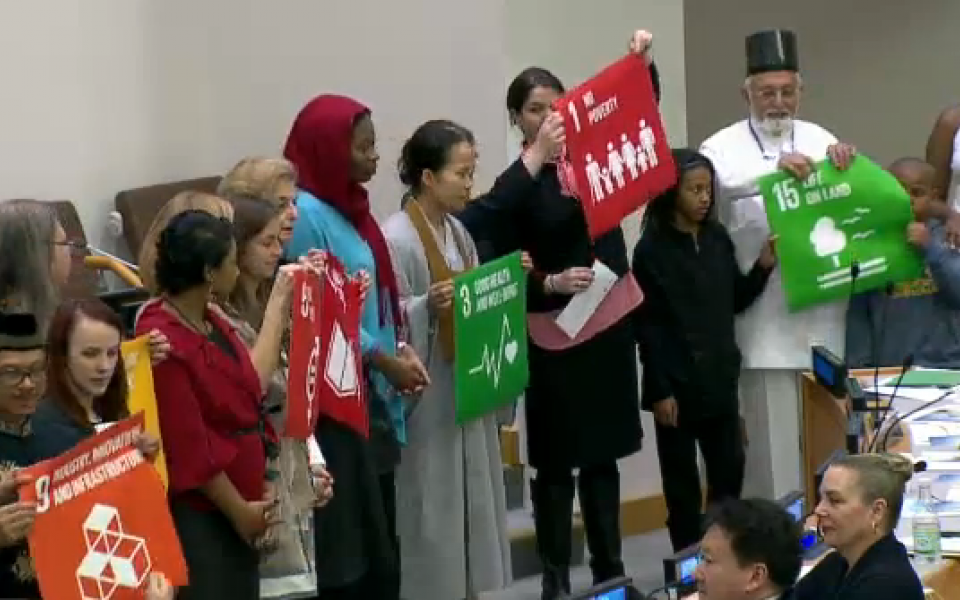 As we made our way into the conference room where the World Interfaith Harmony Week event was to be held, I was filled with so much joy that I didn't even think I could contain it. I was also happy to know I wasn't the only pagan represented in the conference and that, in fact, there were quite a few. The most powerful part to me was seeing the various spiritual leaders side by side with us, "the Youth," of the conference. It reminded me of something similar to passing on a baton. There were so many different ages and faiths were represented, and that made me very happy.
You can watch an archive of the program at this link.
Throughout the program, there were so many articulate speakers, from various organizations that also spoke to this idea of Interfaith. It was interesting hearing it from different perspectives based off programs they operated in. Azza Karam, who is the Senior Advisor on Culture at the United Nations Population Fund, was by far my favorite speaker. She talked about needing to redefine what a "religious leader" is.  I agree with this because, from society's standpoint, that definition has not quite upgraded to the 21st century. Speaking to the entire gathering, Johnny reminded everyone that youth are the present -- not just the future -- and asked the speakers what they were willing to do to give the youth a platform to get involved as interfaith leaders. The program was wonderful and cleared up a lot of things for me personally, especially as an Anthropology major who wants to get involved in the humanities through an interfaith lens.
Afterward, our group ate at a really nice restaurant and had deeper conversations about the day's event. I am realizing that there are defiantly a lot more organizations I would like to get involved with. The world becoming a better place starts now, it starts with us as human beings -- we truly are better together.
To read about Aspyn's first day in New York, read her other blog post here.