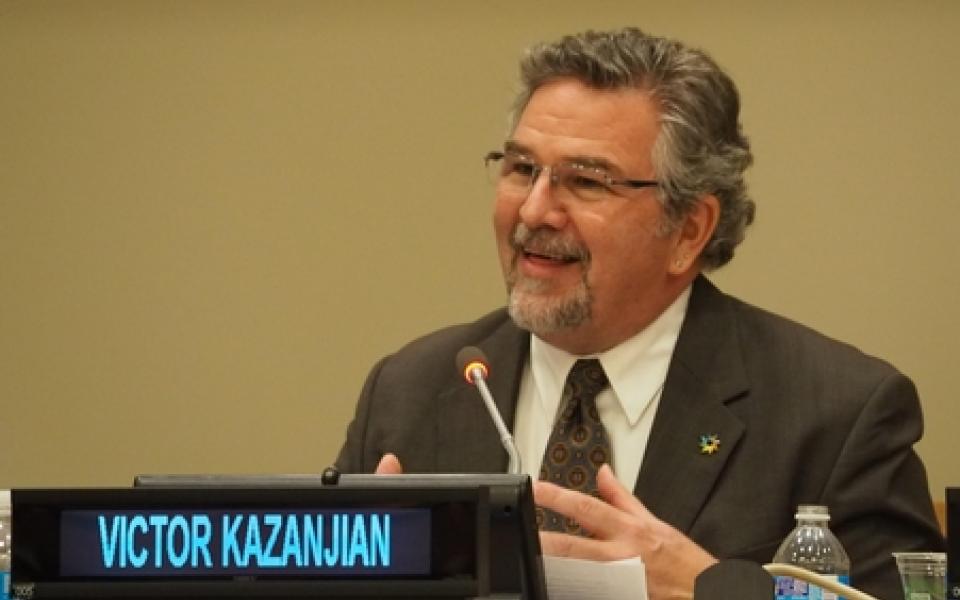 Promoting Peace and Reconciliation to Counter Violent Extremism
Focus on Faith Briefing of the United Nations Department of Public Information
Thursday, February 4, 2016 
Presentation by The Rev. Victor Kazanjian,
Executive Director of the United Religions Initiative
---
Watch the full video here. (Victor Kazanjian's talk begins at 52:00)
---
Greetings, friends and fellow peacebuilders. As we begin this briefing, I want you to imagine the millions of ordinary people around the world who work every day for peace, justice and healing in their communities. These are the leaders of the interfaith peacebuilding movement and they are the courageous ones whom we represent and to whom we dedicate our work.
In the 15 years since its founding, the United Religions Initiative has become the largest grassroots interfaith peacebuilding organization in the world. During this time, URI developed and piloted a new approach to building diverse and cohesive communities while engaging the causes of conflict and injustice that have plagued the global community. The impact of URI has been profound: the work of our now more than 760 grassroots groups, called Cooperation Circles, in 94 countries, plays a critical role in reducing violence and building cultures of peace, justice and healing.
URI Cooperation Circles actively engage in daily interfaith cooperation by rallying people of different faiths to address critical issues in their community, such as health, education, economic justice, caring for the environmental, women's empowerment, and youth leadership. People who would not otherwise interact are collaborating on solutions and establishing bonds as human beings, breaking down harmful religious and cultural barriers that fuel religiously motivated violence. 
Despite being more interconnected than at any point in human history, global events highlight a world ravaged by deep divisions among people of different religions and cultures. These divisions are rooted in historic grievances and are perpetuated by discrimination, prejudice, and fear of "the other", which collectively lead to social unrest, and ultimately violence and human suffering around the world. Military solutions have continued to fail in delivering sustainable solutions to interreligious conflicts and countering violent extremism. Time and time again interfaith organizations such as the United Religions Initiative and Religions for Peace have been held up as the kind of positive, non-military approach to dealing with the rising violence of religious extremism that we must support.
When people of different faiths and cultures work together on issues that improve their community, they foster conditions that reduce the potential for religiously motivated violence. This model has been highly effective for reducing violence and achieving long-lasting peace in the areas where URI operates. URI's work combines interreligious bridgebuilding with community-based actions that address the causes of conflict. This dual strategy is at the heart of URI's success.
At the same time that individual Cooperation Circles are creating impact in their communities, URI as a global network connects Cooperation Circles to one another across the world, creating unprecedented opportunities to share strategies and collaborate in interfaith peace building efforts. Through interfaith education, interreligious dialogue, community organizing, skill building and peace building training, URI is building a cohesive and connected grassroots movement committed to a world living in peace. In addition, URI's work with religious leaders and at the United Nations connects the voices of the grassroots with institutional leaders and policy makers.
So what does this work look like on the ground?
Where active violence is occurring, URI Cooperation Circles intervene by bringing together combatants into dialogue - using conflict resolution and peacebuilding strategies to stop the violence, build relationships and create the conditions for developing lasting peace.
In the Philippines, URI's groups built bridges between the government, military and rebel leaders, creating a foundation of relationship that has been essential to the creating of the Bangsamoro Peace Agreement and the still-fragile peace. 
In Pakistan, URI's more than 40 grassroots groups train young people of all religions in peacebulding, forging powerful partnerships among the same youth who are the targets of recruitment by the Taliban.
In Nigeria, URI Cooperation Circles work amidst extreme violence to create lasting connections among Muslims and Christians, providing a peaceful alternative to the violence of terrorism.
And in Yemen, an extraordinary group of young leaders is standing up in the middle of the horror of war to proclaim that non-violence is the only answer path to peace.
Where the legacy of violence and war have left deep scars on communities, URI Cooperation Circles are creating coalitions of people from different groups who are working together to restore relationships and rebuild communities and countries. 
In Sri Lanka, URI Cooperation Circle Sarvodaya works in 1,500 villages across the country organizing interfaith coalitions to continue the rebuilding of the country after years of war. 
In Bosnia/Herzegovina and Serbia, deeply rooted ethnic prejudices are being transformed by URI's work of interfaith bridgebuilding. 
Where conflict has not yet erupted into violence, but issues of poverty, injustice, human rights violations and deteriorating social conditions are creating an environment highly vulnerable to the rise of violent extremism, URI Cooperation Circles work to address issues such as economic development, education, health, women's empowerment, and youth leadership.
In India, Cambodia, Argentina, Colombia and across the world, URI interfaith groups are working to make the Sustainable Development Goals a reality community by community.
Where ignorance and prejudice erode civility and fragment communities, URI Cooperation Circles build bridges of interreligious and intercultural understanding, enabling diverse communities to establish cohesive relationships
In Canada, the United States, Australia, and New Zealand, interfaith understanding that dispels stereotypes through education and community-based action programs is the heart of URI's work. In Europe, URI Cooperation Circles have long worked for affirming diversity as an essential value for all communities; a task even more urgent in the midst of the refugee crisis.
The power of religious communities and interfaith organizations and their potential as key partners with the United Nations lies in the breadth of their reach and the courage of their conviction. Religious, spiritual and Indigenous communities span all continents, all cultures, all economic classes and all political ideologies. And for most people in these communities, peace and justice are what they desire most. These are powerful allies, powerful not because they control armies or wealth, but because they touch the hearts of human beings and evoke compassion and love, the unstoppable forces necessary to stop the forces of hate and violence.
May we support the work of our sisters and brothers working for peace at the grassroots. Sustainable peace comes from the grassroots. May we who work in areas of policy and international relations focus our support on our sister and brother peacebuilders in communities across the globe.
Peace, Shalom, Salaam, Shanti, May Peace Prevail on Earth.
---
Read Victor Kazanjian's UN presentation: "Interfaith Harmony: Implementing the Transformative Agenda of the Sustainable Development Goals" here.