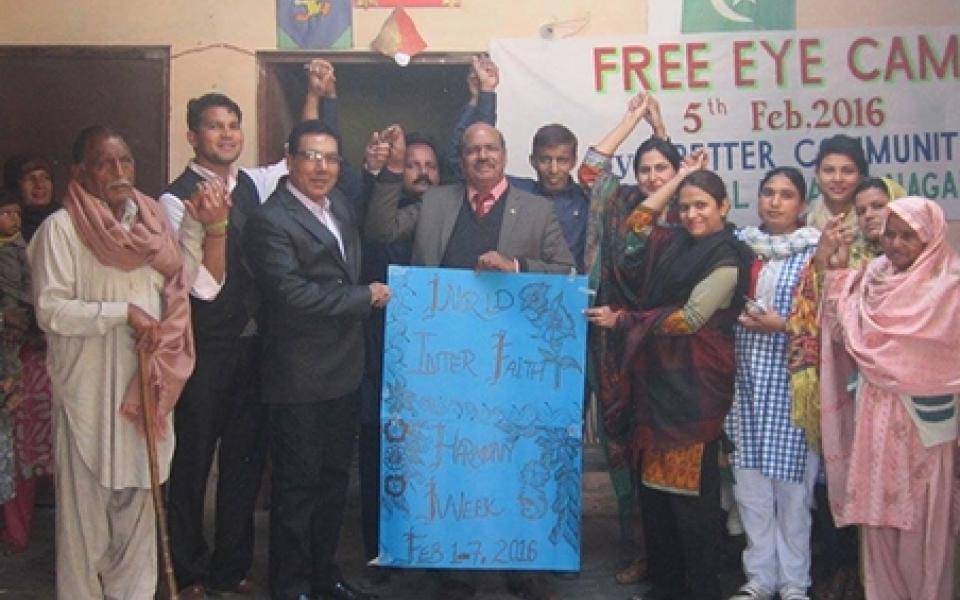 On 5th February, 2016, as a celebration of World Interfaith Harmony Week, A Better Community for all Pakistan organized Free Eye Camp at ABC4ALL School, Khaliq Nagar, Lahore, in a remote area. Around 90 Christian and Muslim males, females and children were examined. Their eyesight was checked and free medicine was given. We also recommended some people for eyesight operations at UCH for free, for people who were needy.
At the start, Mr. Yuel Bhatti said, "While we are holding Free Eye Camp, especially the theme of celebration of World Interfaith Harmony week is:  Love of God / Love of the Neighbour. This is theme of WIHW. Every year we celebrate." He also reflected on the UN Resolution about the WIHW, "Today our Humanitarian work of Free Eye Camp reflects the theme of World Interfaith Harmony Week."
All the community around there was very happy for the Humanitarian Relief work done by the ABC4ALL and in collaboration with Local Health Care Center. Mr. Zeeshan Asim, Principal of the School, along with Mr.Y uel Bhatti, the Director, arranged the event well. Board members Ms. Sehar Akram, Summera Afsar, Miss Sehrish Miss Anum and Mr. Afsar Bajwa coordinated it very well. We extend our gratitude to the Board members, school staff, and especially. Dr. Pervaiz Siraj, who made this camp possible.
Ms. Sehar Akram and Summera Asfar got family history data of all patients. We came to the conclusion that, in this remote area, there is a great need of making the community aware of the benefits of having small families according to their means. We will organize family planning awareness to cut down the poverty rate, as income and source are very low to feed big families - around 8 to 9 members and some with even higher numbers. 
Enjoy the full photo album at the Facebook Page of ABC4ALL here.