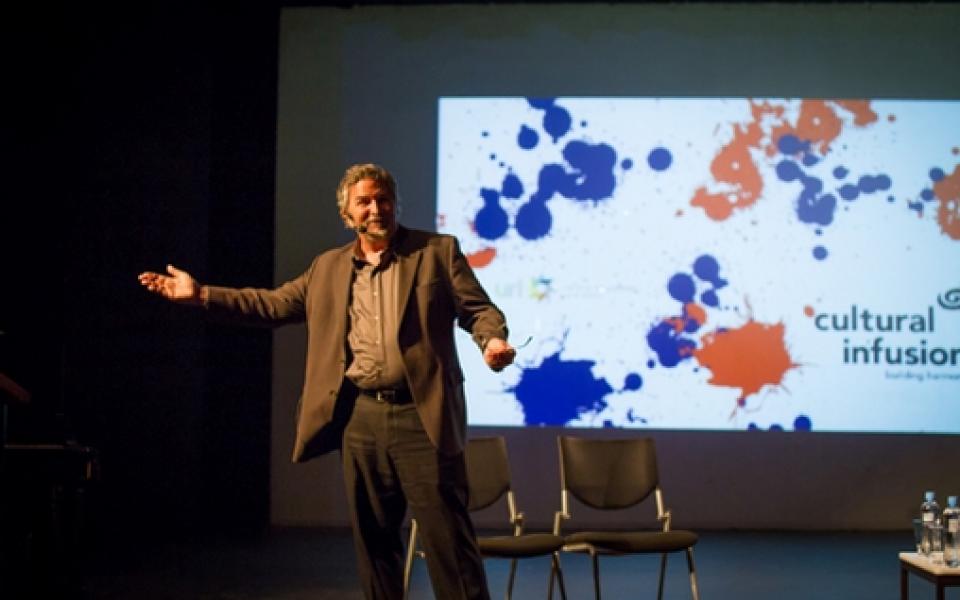 Melbourne, Victoria – In an era of international religious conflicts, leading interfaith advocates the Rev. Victor H. Kazanjian, Jr. and Professor Gary D. Bouma took the stage on Saturday, February 20, to discuss potential techniques for creating positive social, political, and cultural change in multicultural environments.
The Rev. Victor H. Kazanjian, Jr. is the Executive Director of the United Religions Initiative (URI). His work at Wellesley College in the United States is widely recognized as the catalyst in the movement to include religion and spirituality as core issues in higher education. With decades of experience in community organising around the world, Victor specialises in interfaith dialogue, conflict transformation and peace building, and holds a Master of Divinity degree from the Episcopal Divinity School in Cambridge, Massachusetts and is a graduate of Harvard University.
Professor Bouma holds the UNESCO Chair in Intercultural and Interreligious Relations – Asia Pacific, and is Emeritus Professor of Sociology at Monash University.  He works to promote communication and respect between religious communities. His research in the sociology of religion examines religious diversity in multicultural societies as a content for religion and public policy.
"Given the activity that's happening in the interfaith and intercultural community in Melbourne right now, Victor and Gary will be able to give more context to the work that they do," Cultural Infusion CEO and founder Peter Mousaferiadis said.
Presented by Cultural Infusion in conjunction with URI, Culture Talk events present prominent speakers and ideas relevant to Australia's cultural life to the Melbourne community. Sometimes funny, sometimes controversial, but always thought-provoking, the ongoing series explores the importance of culture and its effect on the world.
The event was held on February 20, 5:30 p.m., at the Cultural Infusion Theatre, 49 Vere St., Collingwood, Victoria.
---
About Cultural Infusion: Cultural Infusion is a social enterprise that works with schools, youth, and the arts to promote cultural harmony for a more cohesive and richer society. Cultural Infusion believes that culture is an enabler and driver of sustainability and quality education, an eradicator of poverty and a key to social cohesion and inclusion. 
Cultural Infusion achieves its goals through the delivery of a range of sustainable arts and engagement programs including a range of innovative digital interactive media targeted to schools, youth and communities. Cultural Infusion has delivered a range of creative services, products and ongoing programs to Azerbaijan, Brazil, Cambodia, Egypt, India, US., South Africa, China, Pakistan, the UK, the Philippines, Portugal and throughout Australia.
Cultural Infusion has been a winner of more than 15 international awards including the United Nations Alliance of Civilization Intercultural Innovation Award (UNAoC) and developed the winning slogan "Diversified We Grow" for the UNAoC "Do One Thing for Diversity and Inclusiveness" campaign. Cultural Infusion has produced intercultural experiences at major events for organisations such as the United Nations, Commonwealth Games and the Parliament of the World's Religions.
Contact: Gracieuse Amah, Culture Talk Event Manager
 About United Religions Initiative: Headquartered in San Francisco, the United Religions Initiative (URI) is the world's largest grassroots interfaith peacebuilding network comprised of over 700 member organisations operating in 92 countries. URI brings people of different faiths and cultures together to promote enduring, daily interfaith cooperation, to end religiously motivated violence and to create cultures of peace, justice and healing. URI members work to transcend religious and cultural differences to create inclusive, on the ground solutions to critical issues facing their communities and in Australia work to foster cross cultural understanding through the arts, education, and interfaith dialogue.