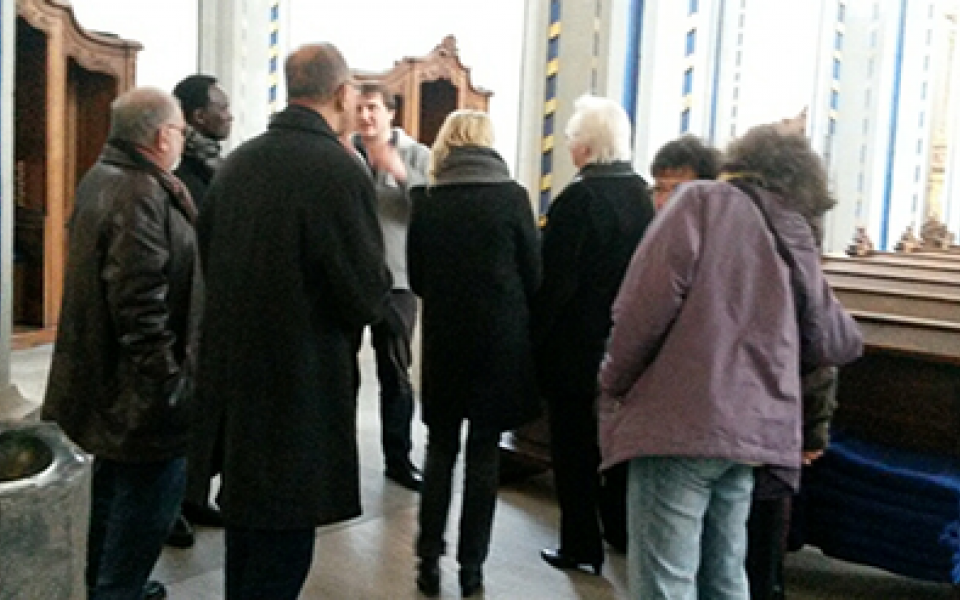 Eleven members of the Intercultural Circle Bonn visited on Sunday, March 13, the church "Name Jesu" in the center of Bonn. The church, erected in the end of the 17thCentury by the Jesuits, became in 1877, only four years after their founding, a parish of the Old Catholics until 1934. After this, it belonged to the University of Bonn and was used for the college students. That period ended in 2007. After a fundamental renovation, it was given back to the Old Catholics, who use her as their cathedral. It is now the seat of their Bishop.
Uwe Reckzeh, a young priest contender, led us through the church and explained all the interesting details. He told us why people were driven to found a new community. That happened after the 1st Vatican-Council, where the Council decided the infallibility of the Pope. Some of them wanted to go back to the status of hierarchy before the council, never thinking of a revolution. But the process of history lead to the result we have now:
In the Old Catholic Church, the Bishops are elected by the community. And the clergy is not forced to live celibate. They allow also women to be priests and bishops. So today they have more similarities with the Anglican Church and Episcopal Church, and indeed, they cooperate with them very well.
The Old Catholics see themselves in the long tradition of the Roman-Catholic Church, but give freedom to everybody to integrate it into their lives.
The members of our Cooperation Circle had a very interesting lecture and were very thankful for having come to know of a new point of view on the diversity of religion in our town. 
Marianne Horling
CC Intercultural Circle Bonn