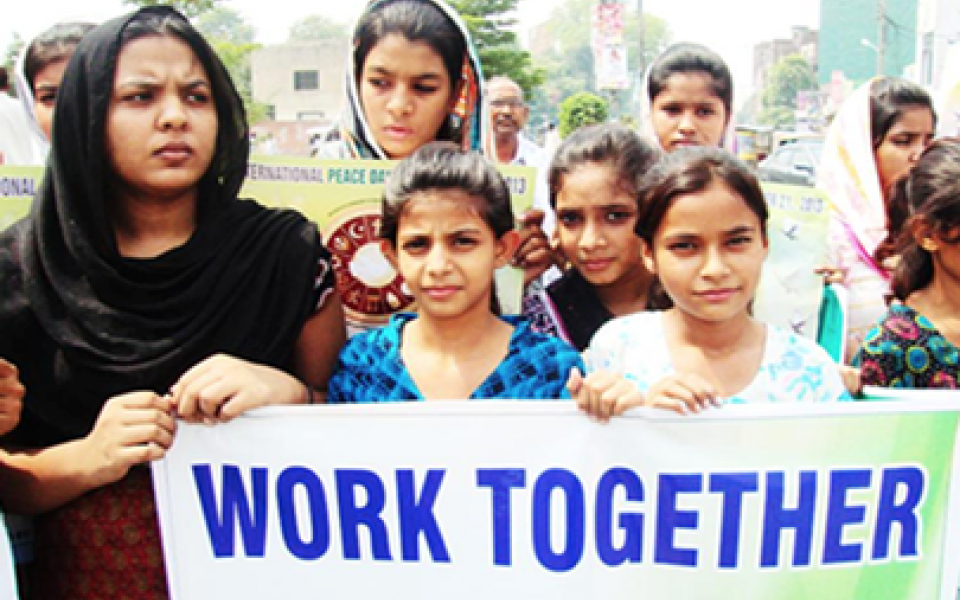 Interfaith Harmony & Peace program launched a set of activities as a campaign for interfaith harmony and peace with like-minded organizations, institutions, and diverse communities. These programs were implemented in the district of Okara.
COPE Pakistan conducted Eid Milan parties and Christmas get-togethers to bring them on one platform. This was to make known the existence of several other religions, to raise the sense of respect, and to give value to the traditions and customs of others as well. Thus, the environment of tolerance and acceptance for the other is taking place. The attitude of forbearance is beginning to flourish and in many cases, it has been observed that many peace committees and peace councils have come up to work for peace and harmony.
Peace Essays/Speech & Peace drawings competition for children have also been designed, planned and is being implemented. The spirit of children regarding this activity has been encouraged so that they may become the ambassadors of peace and harmony for friends in their schools.   
Another channel for the interfaith and peace building "Skill Training Education Centers" have also been established in the target area to promote peace and harmony at a grassroots level among people of diverse faiths. The women of diverse faiths are keen to take admission in the center in order to learn skills, and at the same time they are equipping themselves to work for interfaith harmony and peace in their villages, locality, families, and surroundings. 
German Journalist Friederike Boge visiting Kot Rada Kishan with Mr. Asher Nazir (Executive Secretary Dominican Peace Center Lahore) after two Christians were burnt alive by a Muslim mob
The ultimate purpose of taking these initiatives is to bring the people of different faiths closer to each other. So as a result, these efforts have begun to bring fruit and the communities are getting ready to stand with one another.  Various activities have given soul to this work. Peace rallies, seminars, Iftar parties, celebrations of religious events as Eid, Christmas get-togethers, and related activities have paved a way for communities to break the barriers of hate and indifference; rather they are giving a certain respect to the values and customs of one another. We are certainly hopeful to form and create a peaceful society.
Read the full COPE Pakistan Annual Report below.
Excerpt Story:
In order to provide a platform for social and religious harmony among people of different faiths and sects, an Eid Milan party, Iftar party, and Christmas party got together to celebrate. For the promotion of peace and interfaith harmony, COPE Pakistan organized different programs with the collaboration of different stakeholders. Leaders of religions and politics, as well as intellectuals and elected representatives, were brought together on one platform. They all expressed their views about how harmony and peace can flourish in society in order to reduce the element of societal unrest that is increasing with the passage of time.
Invitations in black and white were extended to the prominent and influential members of society. The main objective of celebrating different religious festivals was to provide an opportunity for people of different faiths to fill the gaps found among people on the basis of religion, cultural and social differences, and on the basis of minority and majority. These events were really a source of inspiration for the different people with different cultural backgrounds. From this platform, all the speakers, facilitators, and moderators conveyed messages of peace, justice, and love in accordance with their religious backgrounds.
COPE Pakistan members giving food packets to needy members of the Christian community during a Christmas get-together in Renala
The result of these programs was that the people who participated were motivated to promote the element of social and religious harmony; this includes peace. Most of the religious leaders made efforts to translate the concept, philosophy, and notion of harmony into their practical life. Similarly, Muslim friends shared their joy and happiness with Christians by presenting food packages for the needy and deserving Christians at the season of Christmas. They also sent meat packages as a token of love from their side for the groups who are really poor and can only feed their families nutrient-rich food like meat once in a blue moon. So these are immediate outcomes of the interfaith harmony program. It will leave a long-term impact on society; that is, people will live in a peaceful situation with an element of tolerance. People will not just fight for their religion, but will translate the golden teachings of their religions into practical lives. This will bring people onto one page in spite of their religious differences.
Holi celebration in Lahore, Pakistan, where Mr. Asher Nazir (CC Coordinator COPE Pakistan) and Mr. Yuel Bhatti (CC Coordinator ABC for All Pakistan) were also present and shared love and best wishes with the Hindu community
CC coordinators from Muslim, Hindu, and Christian communities with URI regional staff at the URI Pakistan office in Lahore - Pakistan
CC Coordinator for COPE Pakistan with Fr. James Channan OP (Regional Coordinator URI Pakistan) and leader of the Sikh community at a Peace Conference in Lahore - Pakistan
Christmas get-together with Muslim religious leaders and community in Renala Khurd
Mr. Asher Nazir (CC Coordinator COPE Pakistan) with Mr.Yuel Bhatti (Executive Secretary URI Pakistan) and Mr. Derek Bernard at a seminar in Lahore
Mr. Asher Nazir and Fr. James Channan OP at the International Day of Peace program at Peace Center Lahore - Pakistan
URI National Conference at URI Pakistan Regional office in Lahore – Pakistan