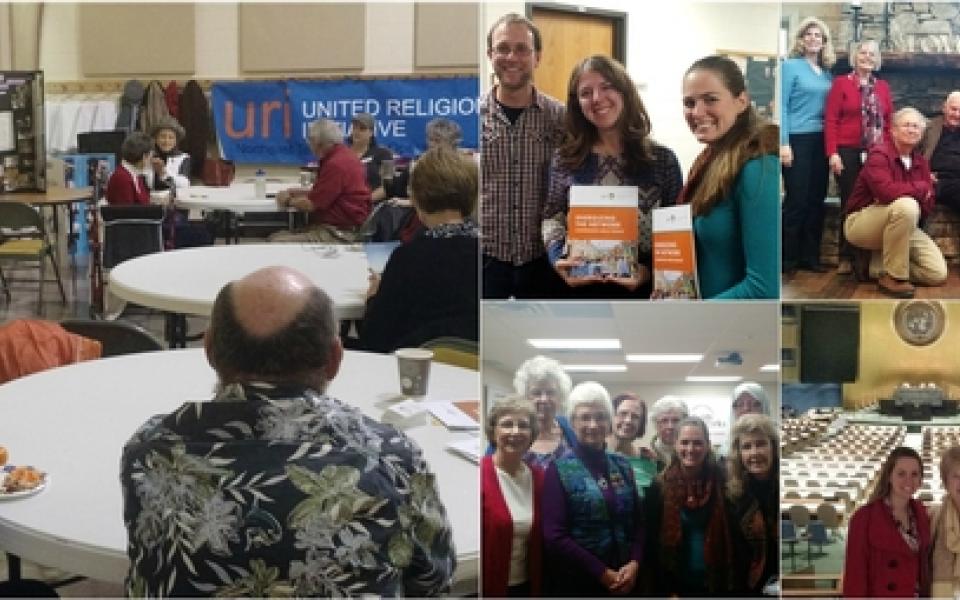 I spent several weeks this Spring traveling to and meeting with some of the URI Cooperation Circles on the East Coast of the United States. On my two week journey, I had countless hours of deep and meaningful conversation, attended dozens of public and private meetings, met with members of 8 Cooperation Circles and walked away in utter awe of the power of URI members to transform their communities. The trip was also a meaningful time for me, as a URI staff member, to ground my current and future work in the needs and desires of Cooperation Circles. Here are just a few stories of my journey:
Charlotte, North Carolina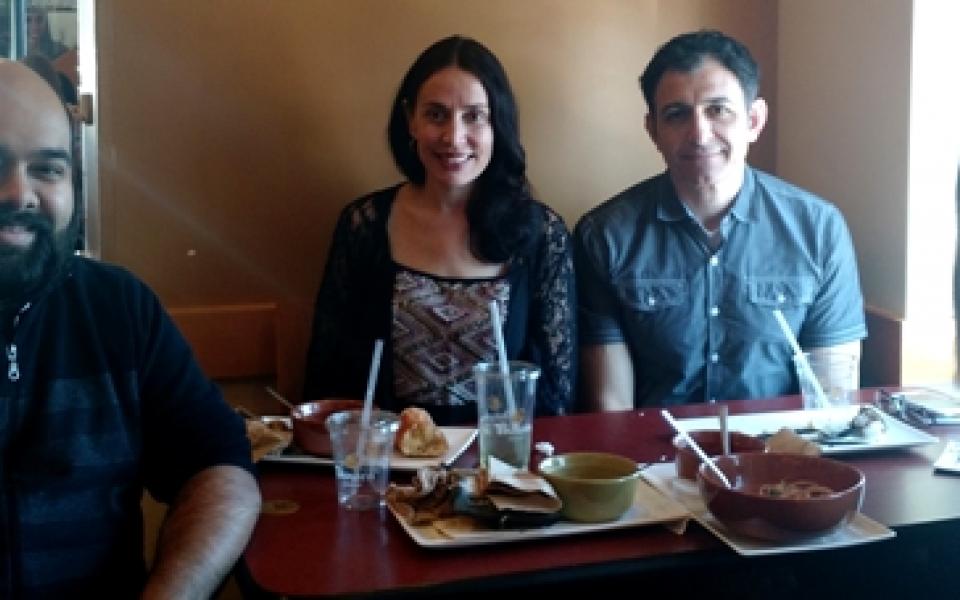 In addition to hosting me in his family's home, URI Global Council Member and leader of the URI of Charlotte CC, Sam Wazan accompanied me to many of my meetings in Charlotte. Here, myself (far right), Sam (second from right), CC member Janelle (second from left) and Being There Founder Saad Haq (far left) had lunch together and discussed the recent activities and new initiatives of both groups.
Saad is currently working on a Muslim Storytellers podcast and sometime in the future may start an Interfaith Storytellers podcast, compiling stories from across the URI global network! This idea of using radio and podcasts to build cultures of peace is one I am seeing pop up across the URI network (see Let's Talk About the Middle East) and I'm excited to see it grow.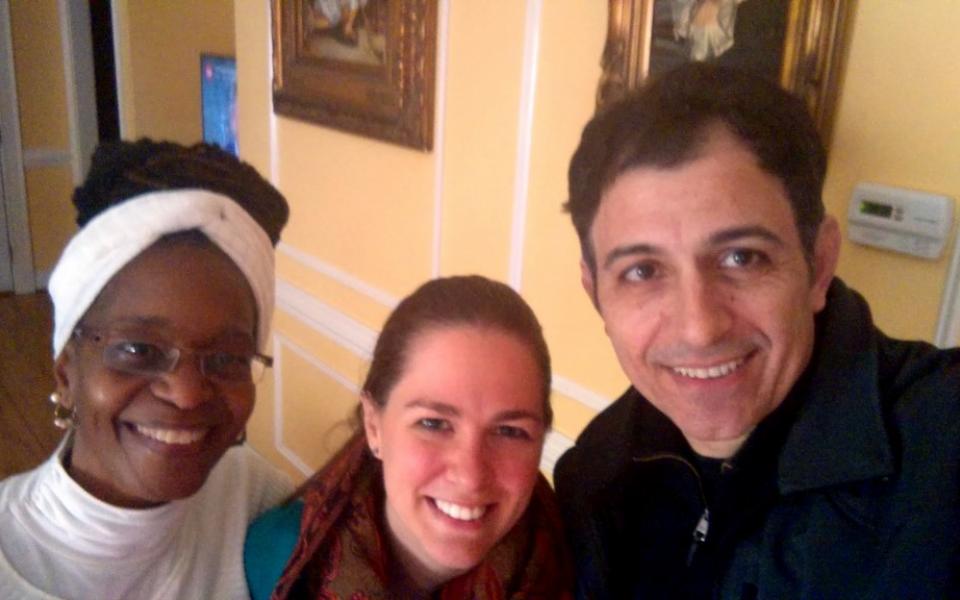 I met Adeola Fearon (far left), a member of the Charlotte Red Bench Garden Cooperation Circle and URI North America Leadership Council, for the first time. What am an absolute delight! She welcomed me into her move for a visit. I cannot explain to you my joy when the door to her home opened to the beaming face of her 8-year-old granddaughter. Behind her on a table was handmade card: "Welcome Sari!" it said. Adeola later told me that making this card was entirely the children's idea when they heard I was coming. Adeola and I talked for hours -- she shared her artwork, her passion, her history, and story. It was an incredibly precious time and one I will hold in my heart forever. After I left, she told her grandchildren, who had watched us talk for hours, that we had never met before. "No way!" they told her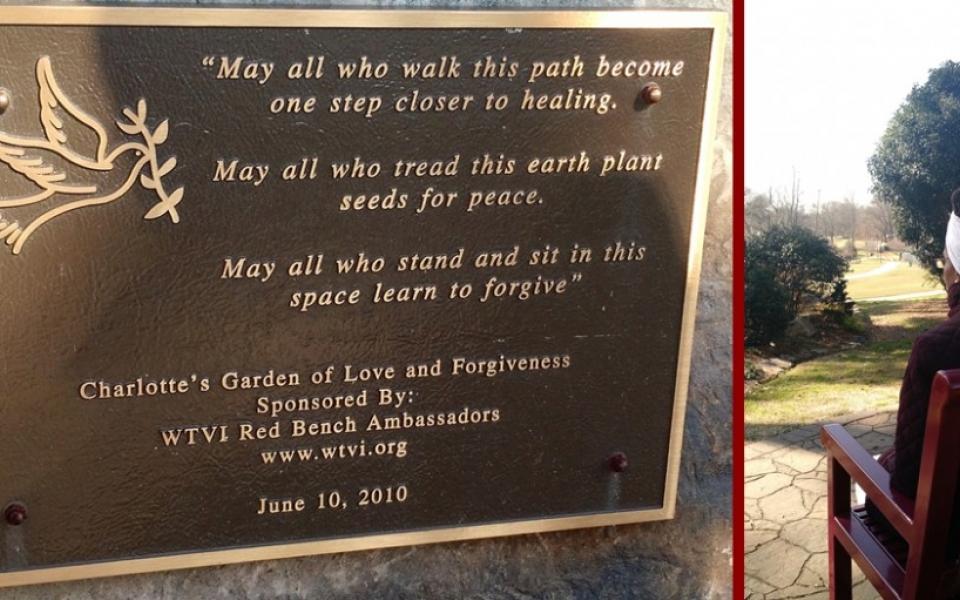 I also had the privilege of visiting the Charlotte Garden of Love and Forgiveness, which Adeola's Cooperation Circle helped to found and maintain. It is a beautiful and quaint space inside a popular city park. How beautiful to have this message and intention of peace and forgiveness in this place!
Hendersonville, North Carolina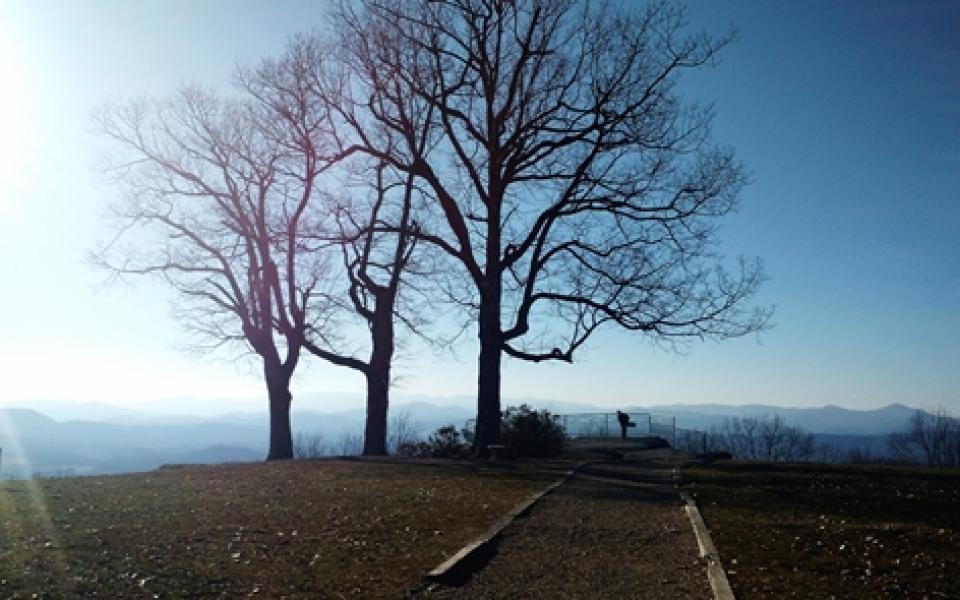 Everywhere I traveled on my journey, I was extended the most incredible  hospitality. One of the quintessential stories of this was my time with the URI of Henderson County North Carolina Cooperation Circle. Kitty (third from left, below) welcomed me into her home and gave me the grand tour of their beautiful town, which sits on the Blue Ridge Mountains. The photos do not do it justice, but these mountains are literally blue.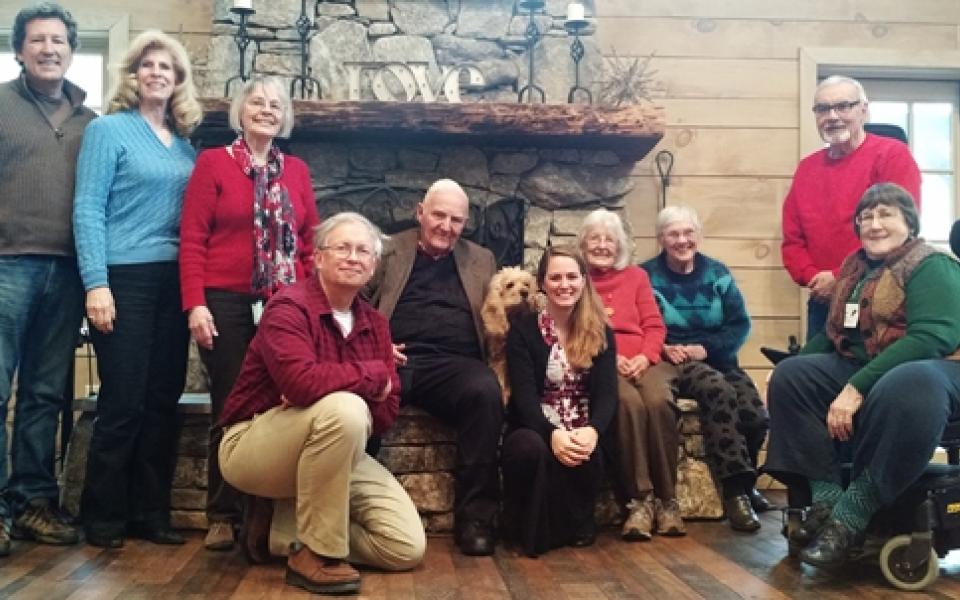 Kitty had planned every minute of my visit and I couldn't have been happier about it. For Friday lunch, we went to a restaurant owned by members of their Cooperation Circle and on Friday evening we had dinner with the CC's leadership. On Saturday morning, we met with the broader membership at a lovely retreat center called Tiggs Pond. During our meeting, we answered questions to complete a Cooperation Circle Profile and this lead us deep into conversation about the local community and the place of the Cooperation Circle as a bridge-builder in that community.
Johnson City, TN
The next day I drove to Tennessee where I sat in circle with the leadership of the Northeast Tennessee Chapter URI Cooperation Circle. After that, we met with the broader membership. This group (like the one in Hendersonville) has been a member of URI since even before the URI Charter was signed. Their leadership style and principles align so much with what I imagine the drafters of the Charter were envisioning when they signed the Charter. This group sits in circle and the titles of those in leadership (facilitator, instead of president, for example) are emblematic of the shared leadership that the URI community values so highly.
Who knew my visit would get a mention in the local newspaper? Not me, that's for sure! But I was honored to see that the Cooperation Circle had taken the initiative to advertise the afternoon event with the broader community. We gathered in several circles in a large room and each group read, amongst themselves, a Cooperation Circle profile from a different region. We then came back together and each group shared what they had learned that could possibly be applied to  local interfaith work. It was so clear to me: helping to facilitate this kind of global learning  is one of URI's key missions.
Rochester, NY
From Johnson City, I detoured to a conference in South Carolina, before flying up to Rochester. As an extra bonus, Matthew Youde, URI's Associate Director of Global Programs For Youth Leadership Development, joined me for this portion of the trip. Our first stop was to visit the University of Rochester Interfaith Chapel Cooperation Circle, which is lead by the Director or Religious and Spiritual Life, Rev. Dr. Denise Yarbrough. Rev. Denise works closely with the Students' Association for Interfaith Cooperation, a group of dedicated to making interfaith peace and cooperation a reality on their campus.
The Students' Association for Interfaith Cooperation hosted Matthew and me for a dinner dialogue, where we had the opportunity to learn about the work happening on campus (events like Hijabi Day stand out strongly in my memory) and also to share about URI work happening all over the world. This group was thirsty to forge partnerships and relationships with Cooperation Circles around the world, reminding me, again, that the work URI does to connect interfaith peacebuilders is invaluable.
After the dinner, Matthew and I presented the current student president, Leah, with two copies of the recently-released Cooperation Circle Toolkit. She was the first Cooperation Circle member in North America to receive a copy and it was an exciting moment!
Syracuse, NY
After being hosted in Rochester by oncoming URI Associate Director of Global Programs Alice Swett, Matt and I made our way to Syracuse. We met with staff members from InterfaithWorks an organization that has been present in that community for 40 years. Their work is a beautiful fusion of providing direct human services (such as refugee resettlement) and facilitating community dialogues -- all infused with the values and benefits of interfaith work. Peter (back, middle) directs the dialogue center and recently worked with a team to develop an Interfaith Dialogue Guide (you can access it by following the link). We also met with Executive Director Beth Broadway (far left)  Daryl Files (not pictured) who works as a donor and volunteer coordinator for Interfaith Works and has been a wonderful help anytime I need information about InterfaithWorks programs. It was beautiful to see an interfaith organization that has existed in its community for so long and continues to be an amazing force for positive change. 
Former URI North America Leadership Council Member, Danya Wellmon (second from right) was our wonderful host in Syracuse and setup both this meeting and our next one with the Spiritual Life Council at Syracuse University.
The group has existed for about a year and the joy and growth the students have found in knowing each other is palpable. In a beautiful display of intergenerational partnership, the group was originally convened by the Dean of Religious Life and is now advised by the campus' pagan chaplain, but the direction of the organization is student-lead. We look forward to (hopefully) welcoming the Spiritual Life Council as a Cooperation Circle sometime soon!
Immediately after 9/11, Danya co-founded the women's interfaith group Women Transcending Boundaries. In the last 15 years, this ever-evolving group of women has made a big impact on their community, organizing weekends of service and interfaith walks, among other things. It was privilege to be hosted by them for a homemade brunch on Saturday morning. Wisdom exudes from these women and they have incredible stories of how the groups have consistently evolved their leadership structures to ensure they truly are a member-driven organization. What a beautiful example to strive towards!
New York, NY
Matt and I parted ways in Syracuse and I headed to my final stop: New York City. And it wouldn't have been complete without a spotting of Pope Francis, would it?
Did you believe me? Unfortunately, that last picture is not the real Pope Francis: it is a wax figure of him outside of a museum. But now onto the real reason I was in New York: I came to see URI's United Nations Representative Monica Willard. She showed me around the UN and helped me grasp some new ideas for ways that Cooperation Circle can interact and integrated with the United Nations.
Later, at lunch, we met up with Swamini Florence, a member of the Lalitamba Cooperation Circle. Lalitamba has many projects, including running a small community for women experiencing homelessness, an animal shelter and the publishing of a yearly literary magazine. Lalitamba's vision of providing safe and loving places for all living beings is a tangible example of a community living lives into URI's mission.  
_________________________
These visits were beyond wonderful and what I have shared is just a taste. I learned much about many things --  from the fundamentals of interfaith to ideas for how URI can grow and become a more supportive and grassroots-driven organization. Many thanks to everyone who took time to meet with me along the way, especially those who hosted me in their homes.
In Peace,
Sari Heidenreich
Regional Coordinator, URI North America