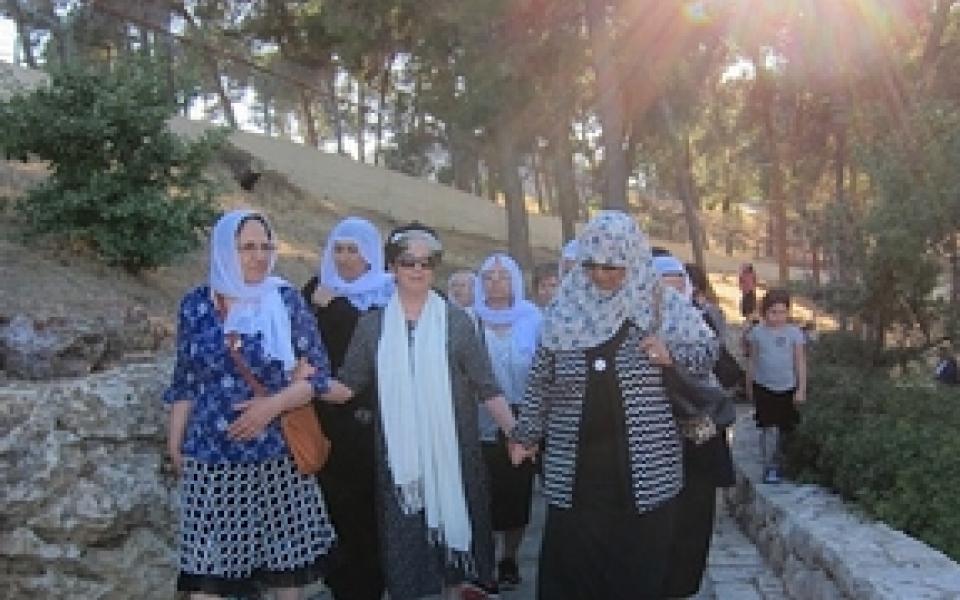 TRUST WIN has regular gatherings of Israeli and Palestinian women in the region, and we find that walking together in quiet peace, removing ourselves from busy daily life and continual violence, helps bring us together as women—mothers, daughters, grandmothers—and build interfaith sisterhood.
We held a walk earlier in May, attended by over fifty women, ranging from six months old to 75 years, along the Goldman Promenade in Jerusalem. Among us we had Christian, Druze, Jewish, Muslim - Israeli, and Palestinian women. This walk was to build harmony during a period commemorating many days of suffering—Holocaust Day, Israeli Memorial Day, Land Day, and Nakba Day. Because two women had been stabbed the week before where we were walking, we had a police escort.
We held our Opening Circle overlooking a panorama of East and West Jerusalem which included the Temple Mount/Haram al-Sherif.  Powerful shofar horn blasts were sounded by two beautiful women from Tiberias, awakening us all to the magnificence of our surroundings and the significance of the powerful event we were sharing. CC leaders Ibtisam Mahamid, Elana Rozenman, and Siham Halabi welcomed the group of women, expressing the need to deepen the bond of sisterhood to withstand the pressures of the conflict. As we started our meditation walk along the Goldman Promenade, children scampered ahead, throwing pine cones and laughing, and women carrying babies and talking as we looked out at the serene vistas stretching all the way to Jordan and the Hills of Moab. At the amphitheater, we had refreshments, got to know each other, and sang and danced together. Two young daughters sounded the final shofar blasts in the midst of our closing circle, and we distributed Hebrew and Arabic copies of Barbara Meislin's "No One Can Ever Steal Your Rainbow", a book about hope and healing in the midst of uncertainty. We invite everyone to come and walk with us here.
For more photos, please go here. 
To read an account by a first-time attendee of the walk, please go here.