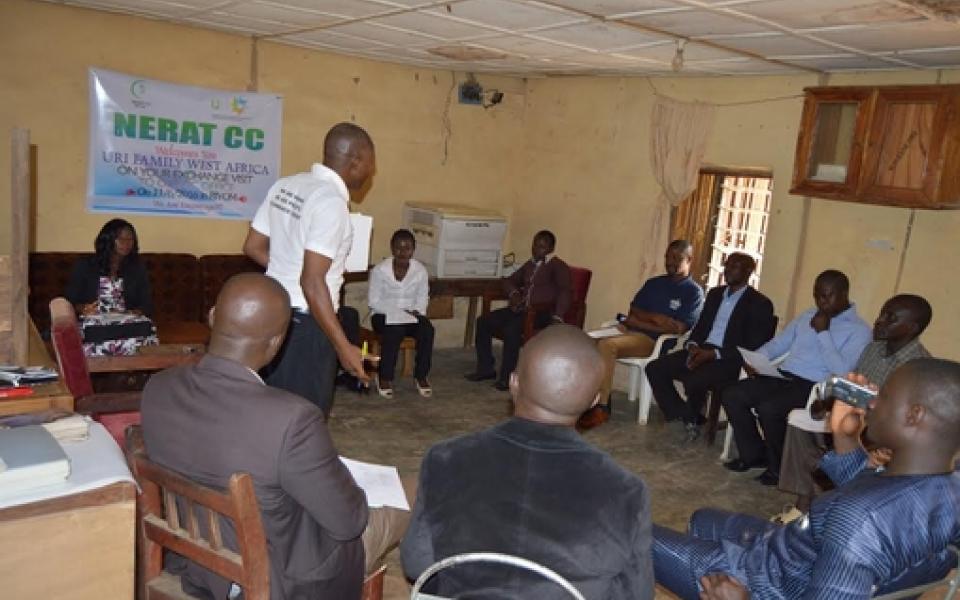 URI CCs often consult with each other on challenges, experiences, and lessons to enhance their peacebuilding activities. Here, Dr. Emmanuel Ivorgba, URI's West Africa Regional Coordinator, and Ms. Tina Abeku Hassan, URI's CC Liaison and Communications Officer in the region, share their report on a recent gathering of CCs in Nigeria. 
The URI West Africa cluster located within Plateau State in Nigeria recently attended a meeting hosted by one of its Cooperation Circles (CCs), Network for Empowerment in Rural Areas and Townships (NERAT) located in Riyom, in order to learn, share experiences, and encourage the team in its unifying work of peace. The meeting also served as a CC mentorship opportunity for the cluster, as an avenue for the assessment of progress made by the CCs and challenges they face, as well as updates on upcoming events and projects.
CCs present at the meeting included Mulapnen Capacity Building Initiative; Dialogue, Reconciliation and Peace Centre (DREP), Kazatsi Reconciliation Centre and Human Development; as well as the New Era Education and Charitable Support Foundation.
Regional Coordinator of URI West Africa, Dr. Emmanuel Ande Ivorgba, noted that CC exchange and mentoring programs are designed to create greater impact on the work of each CC individually and as a region as they share resources and experiences to do more in their various areas of peace work and the promotion of URI's vision, mission, and PPPs. Stressing the need to work as a team, he urged CCs to focus on exploring and activating assets and strengths rather than dwelling too much on our weaknesses and challenges. As CCs form plans for 2017, greater communication with each other and the CC liaison office will allow for better understanding of challenges and needs. As part of a family here in West Africa and the global URI one, Dr. Ivorgba reminded attendees that no individual is good enough to succeed alone, but rather in togetherness.
NERAT CC: Executive Director Mr. Jonah Vings expressed optimism that the meeting would cement and deepen relationships between the CCs and for progress on URI's purpose of promoting peace. According to him, "NERAT as a CC survived because it persevered despite the many challenges it has come across."
CC contact person for DREP, Mr. Chris Anthony Ogbonna, affirmed the CC's appreciation for periodic exchange visits "for us to share experiences and find solutions together and also because the URI leadership needs to know how we work as CCs". He said DREP will be willing to assist other CCs with programs halls, library materials, and other support at no cost.
Other issues that were discussed at the meeting include initiatives like the 'The Golden Rule", and more practical issues such as raising support within the network and externally. Dr. Ivorgba also called on the CCs to take advantage of all opportunities that come their way with regards to support and funding and to make good use of such opportunities, and keep good records. The meeting ended with the presentation of URI CC membership certificates to all the CCs present.
NERAT CC, Riyom: Assets identified are new trainees creating change in the community, land donated from Riyom and Luwa villages for office use, and team spirit. Needs include funds to complete office building projects, office equipment, and retention of human resources. The CC is participating in community development projects, including a collaboration with UNICEF CLTS projects on boreholes, and plans to launch a Plateau Peace Kitchen shortly.
Mulapnen CC, Jos: Assets include the skill to train young people on security and peace issues. Needs identified are better support in conducting needs assessments of target communities, more volunteers and office equipment, and project funding. The CC's projects focus on youth as changemakers, such as through ICT youth programs, community policing, and support in cases of rape, domestic violence, and kidnapping. They plan to launch a "Read A Book for Peace" campaign towards the end of the year in target communities.
DREP CC, Jos: The biggest challenge is that of personnel and resources of time and capacity. The CC holds regular interfaith peace dialogues and sports tournaments, offers support for conflict-associated trauma, works with USAID for reintegration of former Boko Haram members, and designs programs against illiteracy as a cause of violence. They are currently trying to get sponsorship of a bill prohibiting the production, sale, and consumption of illegal drugs in the Plateau State House of Assembly.
KAZATSI CC, Jos: The community is still recovering from conflict, and the CC works for economic empowerment initiatives. They are currently running a sensitization campaign on peaceful coexistence.
NEEDCSI CC, Jos: The greatest asset is the staff and volunteers, but human resources and program funding are always pressing needs. The CC organizes community-based programs, such as training workshops, annual interfaith youth dialogues, and peacebuilding seminars. The annual peacebuilding Academy is coming up in August, and the team is preparing for that.