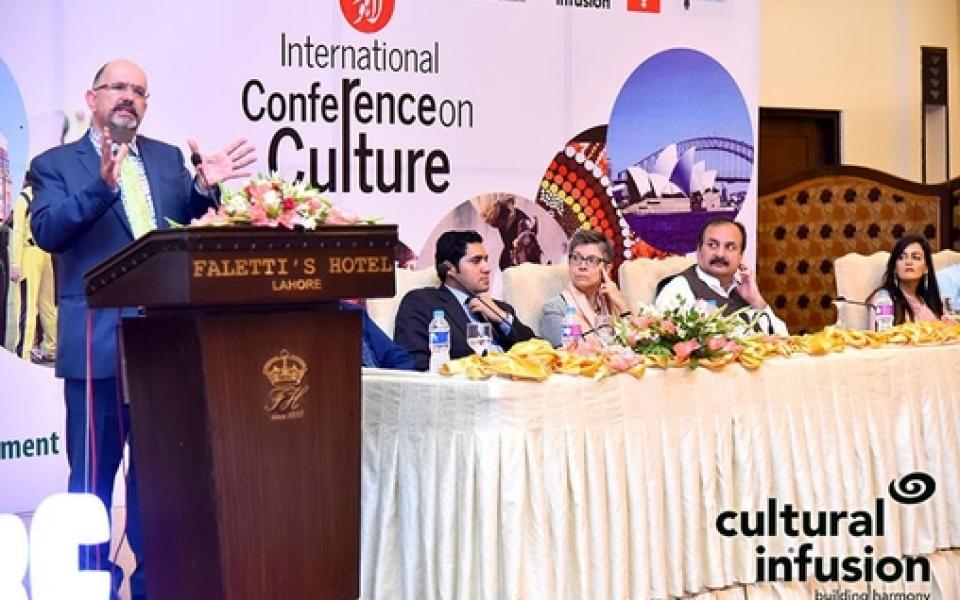 Peter Mousaferiadis, founder and CEO of Cultural Infusion, recently chaired the Lahore International Conference on Culture, which took place in Lahore, Pakistan from July 27-29. The conference was organized by Cultural Confusion and Youth Revolution Clan.
Culture is a set of rules and behavioral patterns we learn with socialization. However, in a globalized and multicultural world, the fluidity and diversity of culture has increasingly become a subject of discussion. In recent times, we have witnessed many attempts to foster cultural agendas using popular culture where identities were formed in a way to present one nation in favorable ways, and where audiences were confronted with various messages. 

Cultural relations, on the other hand, are centered on creating mutual recognition and understanding, though many scholars and practitioners express criticism over imposing cultural patterns over less advanced countries. Culture is also often a subject of discussion when minority groups are in stake because minorities find themselves surrounded by different cultures, and in a dilemma whether to assimilate or to preserve their culture while still trying to lead their lives.

Conference Theme and Discussion Topics: 
The Role of Culture in the Implementation of The 2030 Agenda For Sustainable Development.
Multicultural Cities: The Challenges of Urban Governance.
Culture and Nationalism: Accepting Cultural Diversity.
Religion and Culture for Interfaith Harmony 
Cultural Diplomacy for Sustainable Development 
Intangible Cultural Heritage.
Culture and Media.
Objectives of The Conference:
Share experiences and propose strategic recommendations to strengthen culture-based sustainable development initiatives at the international, national, regional and local levels; 
Present and discuss the draft Cultural Policy of Pakistan- for the Sustainable Development in the context of the implementation of the 2030 Agenda for Sustainable Development.
Creating Cultural Identity of Pakistan all over the world 
Portraying the positive, peaceful and soft image of Pakistan 

Expected Outcomes: 
The Lahore Outcomes: Recommendations on maximizing the role of culture to achieve sustainable development and effective ways of integrating culture in planning and regeneration of policies and creative economy and quality of life.
An international platform to share challenges, best practices and case studies on preservation and redevelopment of the Cultural Diplomacy of Pakistan. 
Strategic input to finalize Youth Exchange Program with partner countries to strengthen the culture, share the values and traditions at International levels. 

Peter was joined on the trip by Nivy Balachandran, Cultural Infusion CC's interfaith officer and URI's South East Asia and Pacific Regional Coordinator.
Over the course of the conference, Peter gave a series of speeches describing how crucial culture is as an enabler and driver of sustainability, an eradicator of poverty, and a builder of socially cohesive and peaceful communities. He also discussed culture as humanity's greatest asset and emphasized the importance of language in the promotion of culture, specifically languages on the brink of extinction.
The conference was organized by Pakistan's Youth Revolution Clan (YRC) in collaboration with Cultural Infusion. YRC is an organization created to help young people engage with and better serve their community through a focus on capacity-building and creating an environment conducive to improving community attitudes and behaviors. Based in Lahore, YRC's 30,000 members is an integral part of the community.
The event attracted a large audience including a number of distinguished guests including Australian High Commissioner to Pakistan the Honorable Margaret Adamson as well as Vibeke Jensen, Director of UNESCO in Pakistan.
The Conference on Culture was the first of its kind for Pakistan, and encouraged discussion of culture, interfaith understanding, and the development of cross-cultural harmony. 
In connection with the conference, Peter also appeared on the Star Asia News Network's program, "I speak Lahore". This one-hour panel discussion, where Peter spoke about the importance of drawing upon humanity's collective cultural heritage as a source of progress, innovation and means to building socially cohesive and peaceful communities of culture, was televised across South Asia. He also spoke at the Punjab Institute for Language, Art and Culture on the same topic.
Peter will be returning to Pakistan in October to commence planning for the 2017 Lahore International Conference on Culture.
To watch coverage and Peter's opening address at the conference, go here. 
Cooperation Circles Involved