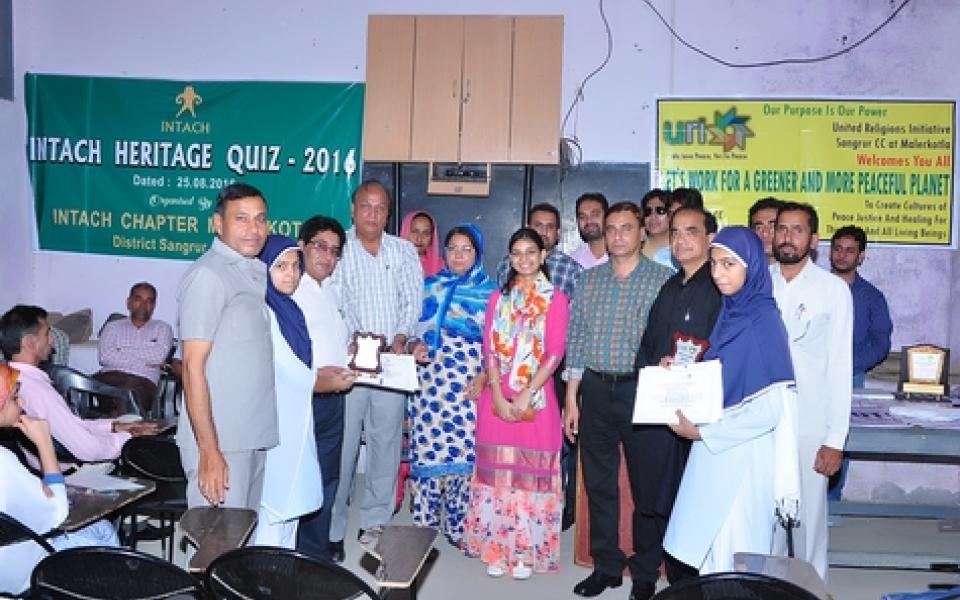 Knowledge is power, and when it comes to peace, it is an undisputable fact that the pen is mightier than the sword.
Dr. Salim Mohammad from Malerkotla, Punjab is a member of Sangrur CC and founder of the Malerkotla Chapter of the Indian National Trust for Art and Cultural Heritage (INTACH). He has devoted his life to spreading peace and harmony, and with the INTACH team organized the Indian Heritage Quiz 2016 on August 25 to emphasize the theme of unity in diversity.
As a predominantly Muslim city in an otherwise Sikh dominated state, this lesson is particularly important, and Malerkotla itself has a rich interfaith tradition. The Heritage Quiz was organized for students from all religious backgrounds to use history as a tool to celebrate the diverse cultural heritage of India, with more than 40 students participating.
This was also accompanied by a Youth Leadership and Community Engagement session with more than 50 students from higher secondary classes at one of the leading Islamic schools in Malerkotla, the Al- Falah School. This institution is the oldest school that provides national curriculum education along the lines of Islamic studies to all students indiscriminately. It seeks to set an example for an inclusive education pattern that is much needed in today's world.
The event was also followed by a visit to Kuldeep Singh of Swami Ganganand Ji Bhuriwale CC in the Talwandi district of Ludhiana which is committed to the cause of saving girl children. The CC is highly recognized and lauded for its valuable work in adopting and rehabilitating newborn children, particularly girls.  Like all CCs, its work embodies and reflects URI's PPPs by engaging in relentless and indiscriminate service to the society. The CC also hosted a blood donation camp and a three-day religious gathering for more than 1000 devotees from all classes, castes, sex, sects, and religions.
The event was also joined and supported by Mr. Ashwini Kumar from Patiala CC. His exuberance and commitment to work for the society stands exemplary. I would like to thank all of our above mentioned CC members, INTACH organizers, Al-Falah School, Swami Ganganand Ji Bhuriwale trust and others for making this event and day a memorable one and worth a life opportunity. 
For a previous narrative account of Malerkotla's unique history, please read on here.