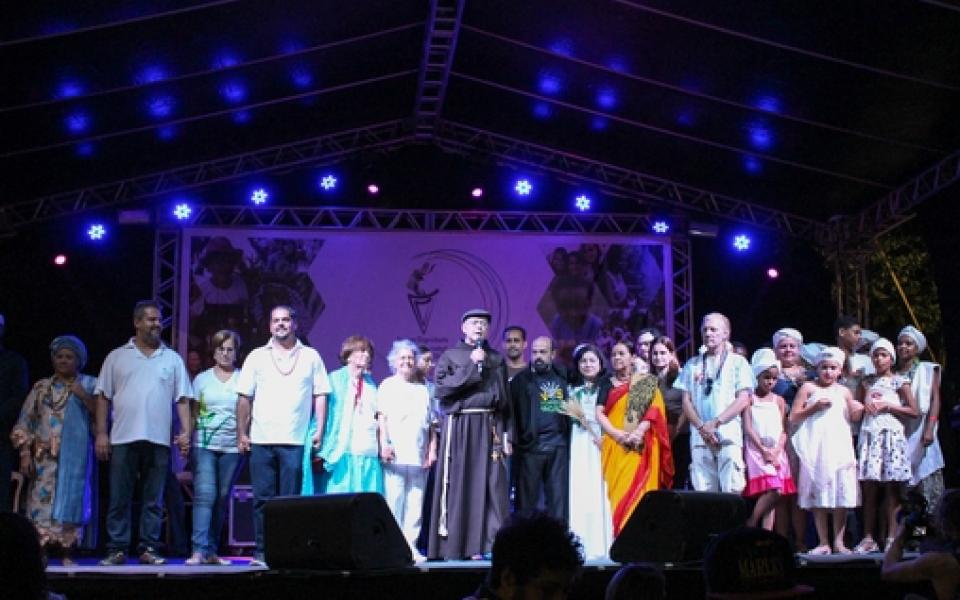 In response to the current scenario of deconstruction of the principle of equality among all people and nature - based on prejudice, xenophobia, discrimination, patriarchy and withdrawal of universal rights, and the use of the influence and force of the State for this purpose - the Brazilian and international civil society promoted, on August 1st, a great Dignity Vigil, in Rio de Janeiro, the city that welcomed the 2016 Olympic Games.
It was an initiative under construction, which was intended to be a symbolic milestone for the national and global civil society. With a common platform, it took the visibility of the Olympic Games to affirm the dignity of human beings and the planet Earth and the defense of human rights.
This initiative came from the dialogue between the World Council of Churches (WCC), UNICEF and the People's Movement for Human Rights Education (PDHRE). Today, we were many voices that attended this call.
Creativity was our floor; hope was our food; solidarity was our strength; so together we were visible in the Olympic Games, standing for dignity in 2016!
This was a global articulation of movements and organizations committed to affirm the dignity of human beings and the planet.
The Vigil "We are Dignity" took place in a harmonious, loving, and beautiful environment. We won against fear, and had moments of joy and happiness. Religious and non-religious people, from several political views, in silence, screaming, dancing, with poetry, performances, and speeches… there were many ways of expression of each Being. It was pure, general and unrestricted democracy.
We had certainty that we can be together and integrated in the purpose of being happy altogether, revealing that are worthy. We are grateful for the opportunity to serve.
Our partners included: 
World Council of Churches (WCC); UNICEF; People's Movement for Human Rights Education (PDHRE); Brazilian Association of NGOs (ABONG); Brazilian Association of Women (AMB); Brazilian Association of Indigenous People (APIB); Articulation for Monitoring Human Rights in Brazil; Association of Remnant Quilombo Communities of the State of Rio de Janeiro (Acquilerj); Brahma Kumaris; Commission Against Religious Intolerance (CCIR); Articulation of Marginalized Populations Center (CEAP); da Recreation Center of Rocinha Community; Catholic Commission for Rural Workers Rights; National Council of Christian Churches of Brazil (CONIC); Federation of Organizations for Social and Educational Assistance (FASE); Ecumenical Forum ACT Alliance Brazil (FEACT Brasil); Baha´'í Faith; World Social Forum (WSF); Brazilian Institute of Social and Economic Analyses (IBASE); Institute of Religious Studies (ISER); Equity Institute; Koinonia Ecumenical Presence and Service; Popular Youth Uprising; Brazilian Movement of Human Rights (MNDH); Right Humans Movement (MHuD); Brazilian Movement for Lands to Rural Workers (MST); Favela Observatory; Community Education and Training Program (PROFEC); Public Art Dialogue (PAD); Pastoral of Environment of the Archdiocese of Rio de Janeiro; Plenary of the Exclusion Games; Ecumenical Network of Youth (REJU); Via Campesina.