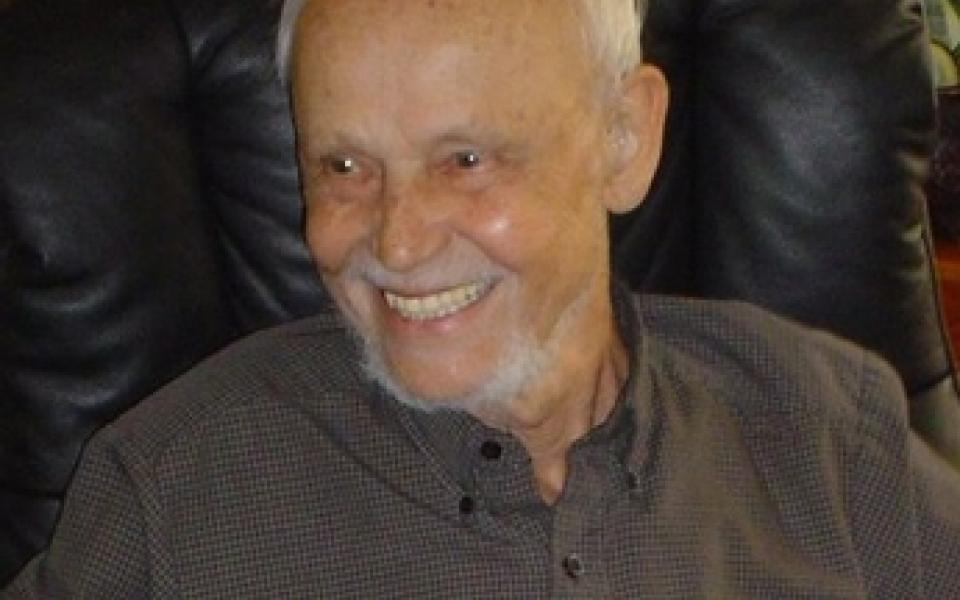 We are so pleased to offer these reflections by URI's Founding Executive Director Charles Gibbs remembering the life and work of interfaith pioneer Huston Smith, who passed away on December 30, 2016. Charles' reflections bring us close to this remarkable person. Thank you Charles for sharing a bit of your life with Huston Smith with us. As for me, I met Huston Smith in 1999 in Cape Town South Africa at the Parliament of the World's Religions. I remember Huston speaking about the ways in which, if we truly allow ourselves to encounter people of different religions, spiritualities and Indigenous traditions, we are changed by such encounters and their "interradiating impact." I took his words to mean that the very essence of our being is changed by knowing others from different traditions and by them knowing us. I believe this. In his remarks at the Parliament, Huston also dedicated much of his time to raising up the issue of how Indigenous people's were not adequately included in that gathering nor in most interfaith gatherings. He was passionate about the inclusion of Indigenous voices and to our listening to and learn from this profound wisdom. May the life and teachings of Huston Smith continue to lead us towards a world of mutual understanding and deep respect among all peoples. 
         - URI Executive Director Victor Kazanjian                                                                                               
Remembering Huston Smith
May 31, 1919 – December 30, 2016
by The Rev. Canon Charles P. Gibbs
Founding Executive Director Emeritus
United Religions Initiative
10 January 2017 
I knew of Huston Smith years before I met him. His pioneering work shining light on the world's wisdom traditions – from his groundbreaking book, The Illustrated World's Religions, first published under a different title in 1958, to his groundbreaking engagement with Indigenous peoples at the 1999 Parliament of the World's Religions in Cape Town, South Africa – was both an inspiration and an invitation to me. 
The inspiration came through the way Huston went about encountering diverse faiths. Though he was a scholar of the highest caliber, I always felt his attraction to the world's wisdom traditions came not from an academic place, but from the core of his being as one who was drawn to the cultivation of wisdom and enlightenment as surely as sunflowers in a field orient themselves toward the sun.
He didn't simply study the world's religions, he inhabited them, at least many of them, from the inside and let their mystery, wisdom and practice shape not just his understanding as a scholar but his development as a human being seeking to lead a good life in alignment with the highest truths and best values he could discover. The inspiration he offered me – Go and do likewise!
I met Huston in the early 1990s in, of all places, Corvallis, Oregon – the home of Oregon State University. I was there at the invitation of Marcus Borg, one of the preeminent Jesus scholars of his time and a dear friend, to participate in a conference exploring new, less dogmatic, more inclusive approaches to Christianity. Marcus introduced me to Huston and made sure I was included in the behind the scenes conversations and meals with the conference presenters.
The first thing that struck me about Huston was the electricity in his startlingly blue eyes that somehow simultaneously conveyed a profound depth of intellect, a warm heart and a delightful sense of whimsy. As I listened to him speak, I was impressed, very nearly intimidated, by the depth of his thought and his skilled, precise use of language. I was beguiled by his easy laughter. I was moved by his matter-of-fact acknowledgment that he was "nearly deaf" and needed you to speak very slowly and look directly at him if he was going to have any chance of understanding you 
Or, to put it another way, Huston seemed to me to be both deeply and wonderfully human, and to be transcending the limits most humans labor with. 
We struck up a friendship. Like many of the friendships of my URI years, our paths crossed from time to time, on different occasions, here and there – the Parliament of the World's Religions in Cape Town; an evening at a posh downtown San Francisco hotel where he was honored by the Graduate Theological Union; an evening at a hotel in San Rafael, California where he was honored by the International Association of Sufism; many lunches at his favorite Thai restaurant in Berkeley, California.
In his remarks the evening he was honored by the Graduate Theological Union, he used the phrase – "the backward pull of the outworn good." Afterwards, I commented on that turn of phrase and told him that I didn't think I would ever forget it. A year later at another event, Huston asked me, Do you remember when I said something at the GTU dinner and you told me you would never forget it?
In a flash of panic, I thought to myself, Yes, I remember saying that, but I don't have a clue what it was I said I would remember. I braced for what I knew was coming. Huston, like a master teacher grilling his student with a mischievous grin, would ask me to tell him what I had said I would never forget. Instead, and to my surprise and relief, he continued, You told me you would never forget the backward pull of the outworn good. I've thought about that a lot since then, he said.
And we dove into a conversation about the backward pull of the outworn good, a phrase that has remained vividly with me ever since and helped me understand in always deepening ways the resistance evolutionary change almost always meets. Our friendship was like that. Even if we hadn't seen each other for a year, we would often pick up a conversation as if one of us had just stepped out of the room for a few moments.
Our friendship blossomed in an era in which increasing numbers of people, especially younger people, characterized themselves as "spiritual but not religious." After hearing Huston several times criticize what many people called "cafeteria" spirituality – picking and choosing what appeals to you from different religions – I asked him why he thought that was a problem. After all, I said, in the introduction to The Illustrated World's Religions you advise the reader not to expect a book that talks about "bad" religion. In the same way you wouldn't go to an art gallery to look at bad art, you say your book wouldn't present bad religion, rather it would present the best you had discovered in each religion. It's easy for me, I said, to see the people you accuse of practicing cafeteria religion of following your model and seeking out and attempting to practice what they discovered to be the best in each tradition. He thanked me for that perspective and promised to reflect on it.
Always seeking out the best, always seeking out the light, always seeking out the joy, even in the midst of unfathomable heartbreak, that was Huston Smith as I knew him. Though he had cochlear implant surgery to help with his hearing, he continued to have trouble hearing until the end of his days. At his request, rather than phone him, I communicated with him by fax. In his last several years he was increasingly stooped over from spinal osteoporosis, with his mobility increasingly compromised. So, he had trouble hearing. He had trouble moving. But he had no trouble seeing the wonder and joy in life and in counting each moment of life as privilege to be experienced to its fullest, pursuing his passion, serving the divine with all his being and serving the world.
In one of his autobiographies, I believe Tales of Wonder, Huston offered his insight into what he believed would happen to him after he passed away. Some traditions, he reflected, believe that we simply merge into the ultimate and become part of everything when we die. Other traditions believe we stay around in some form of ourselves and are able to be in relationship with those we have left behind. I suppose when I die, he continued, I'll hang around for a while to see how everyone's doing, and then, when I'm ready, I'll merge with the infinite. Huston, if you're still hanging around, thank you for being such a rare and gifted teacher, dear friend and faithful servant of God and God's creation Thank you for being someone who showed us how to live rejoicing every day.