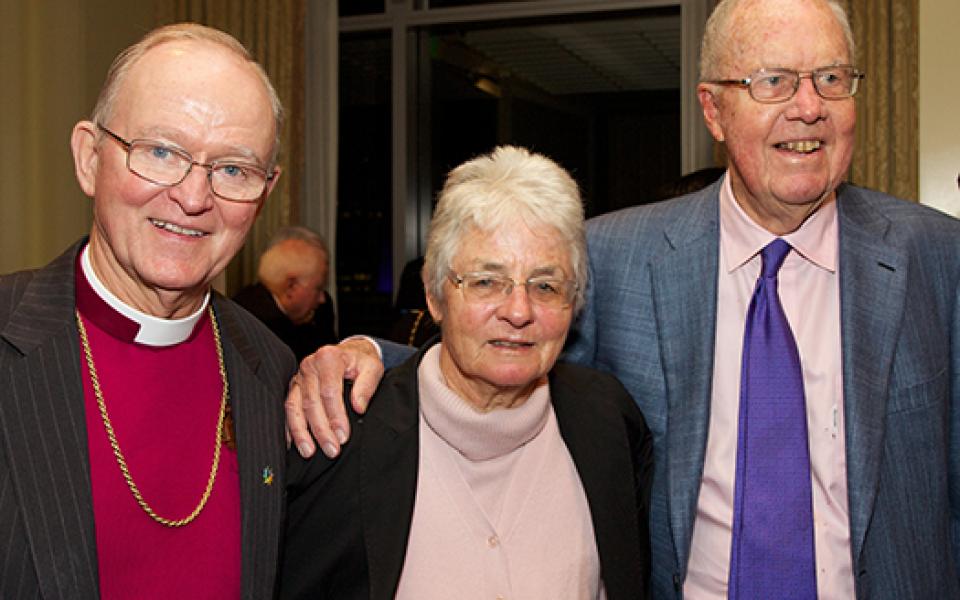 Epistle to the Philippians 4:8 "Finally beloved, whatever is true, whatever is honorable, whatever is  just, whatever is pure, whatever is commendable; if there is any excellence and if there is anything worthy of praise, think on these things. Keep on doing the(se) things…"
In 1992, I went to a business luncheon across the street at the Big 4 Restaurant. I was seated opposite someone I had never met, William K. Bowes, Jr. When the business was dispatched quickly, the others at the table left and I found myself sitting across from Bill.  Since he was quiet and I, being from West Virginia, talk slowly, it turned out to be a long table conversation… a table conversation that was to last, on and off, for twenty-four years. 
He didn't know about my ecclesiastical world, and I didn't know about his venture world.  Thus over so many meals in so many places, we explored a lot of new territory together. Bill learned about the mechanics of a cathedral, church politics, why the church has a bias about the poor and healing and holding out for justice. I, in turn, learned about the thorough research that comes before a venture capital investment, the risk factors, and what leadership qualities he did or did not trust.
It wasn't all talk. It was also action. I began to figure out how he operated and was inspired to present him with a proposal.  He turned it down quickly and emphatically.  So I presented him with a second proposal which he turned down quickly and emphatically.  I presented him with a third proposal which he turned down quickly and emphatically.  This was fun! We weren't doing any business together but we did enjoy digging deeper in the well, together.
I never worried about his soul or whether or not he was going to heaven.  My goodness, here was an honorable man who stayed engaged with the plight and possibilities of the human spirit.  Music of all sorts.  Medical breakthroughs. Fascination with science.  Lifting up disadvantaged high school students.  Showing corporations that they could save money with innovative environmental practices. Jesus said that heaven is filled with folks who housed the homeless, fed the poor, carried for the sick, enriched lives.  If that is the case, I figure that Bill might be going home.
Here was a tiny revelation for me.  Bill and I decided to go to the Ferry Building, one bright day, and eat lunch at Ute's wonderful restaurant.  A long line formed and Bill led me to the back of that line.  He could easily have pulled rank and gotten the next available table.  But his style was to wait in line and take his turn. I thought at the time, how many people of privilege would have taken that route?  Bill had an elite brain but he had an egalitarian heart and egalitarian manners.  He didn't go to war as an officer; he went as a foot soldier. In his obituary, it mentioned that any memorial gifts were to go for the homeless in San Francisco.  Down to earth to the end!
What passage in the Bible speaks best of the life of Bill Bowes?  What I keep coming back to is a passage from a letter from St. Paul. "Finally, beloved, whatever is true...honorable...just...pure...commendable, if there is any excellence and if there is anything worthy of praise, think about THESE things.  Keep on doing the(se) things." Even in his last days, Bill Bowes sat on his sofa surrounded by periodicals, books, opinion pieces, magazines searching for excellence trying to unearth breakthroughs for living.
Bill and I partnered on projects here at the Cathedral, first of all, and, later, around the world through the United Religions Initiative where we were founding colleagues.  Last month when the word of Bill's death went abroad, Muslims, Jews, Hindus, Buddhists, Christians and people of other religions and indigenous tribes immediately sent prayers for Bill and condolences for Ute from places like Afghanistan, Africa, the Middle East, Pakistan and India. Just one example of how far reaching is his legacy.
I planned to see Bill here at Grace this past Christmas morning, but he couldn't make it.  Nevertheless, we did have a final prayer and a final Christmas greeting before he died. Now Christmas, at Grace, is past, but Easter, on a far distant shore, lies ahead.  Bill Bowes changed this cathedral.  Bill Bowes changed this world.  Bill Bowes changed me. And now Bill Bowes will be changed. So I commend his soul to the mercies of God. And I entrust him to the power of resurrection that erupted in Jesus' empty tomb in Jerusalem on the first Easter. Amen.