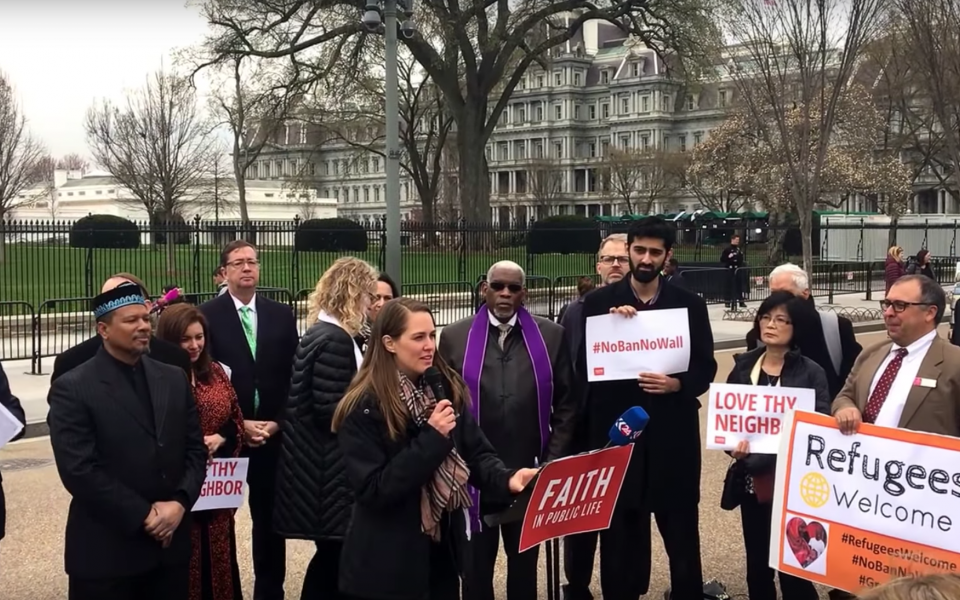 This afternoon I had the privilege of representing URI North America at a press conference in front of the White House responding to the recent executive order on refugees and immigrants. I was honored to share the words of one of our Cooperation Circle members from Interfaith Works -- bringing their voices to this level is truly something tangible we can do for our Cooperation Circles. You can watch a video of the press conference, organized by Faith in Public Life, here. You can also read a transcript of my statement below. 
This opportunity was possible because I was already in Washington, DC for a meeting of religious leaders hosted by Religions for Peace USA. This gathering, called Out of Many, One, is an opportunity for national religious and interfaith organizations to come together to publicly declare their commitment to protecting religious freedom and religious minorities, refugees/asylum seekers and refugees, and the environment. The statement, signed by 60 high-level national organizations (including URI and URI North America) will be released during a press conference tomorrow. You can read the statement here. 
In Peace,
Sari Heidenreich
Regional Coordinator for URI North America  
Transcript of my video statement:
Hi everyone, thank you, my name is Sari Heidenreich. I am representing the United Religions Initiative as the North American Regional Coordinator. We are the world's largest grassroots interfaith peacebuilding network with member organizations in 97 countries around the world with nearly 100 member organizations in the United States alone. These organizations work in grassroots communities to bring together diverse faith leaders like you see standing behind me toady to work together on social projects. Before I came here today, I got on the phone with one of them. This organization is called Interfaith Works. They operate in Syracuse, New York. They resettle refugees in that community, primarily to unite families that have been divided by this global crisis. And as I spoke to one of their staff members she began crying. She said, this is my message for the administration: "Get a heart. This is not who we are as a country. This is not who are as a people. Refugees are people, human beings, fleeing war and violence. We are ready to welcome them. It is the right thing to do. In her community, refugees are a vital part of society. In the past 4 years, 9 refugee students have graduated as valedictorian of the area's five high schools. Refugees are our nation's future doctor's, lawyers, teachers, moms and dads. In the United Religions Initiative, one of our founding principles is that we give and received hospitality. Welcoming the stranger is a value held dear by many, if not all, religions, spiritual expressions and Indigenous traditions. I'm in Washington, DC this week as part of a gathering of religious leaders from all over the country. We have come together to affirm our committment to protecting refugees, assylum seekers, immigrants, religious minorities and religious freedom. Together, over 60 high level national organizations have declared, that "our faiths teach us that each and every person is endowed with dignity and value, regardless of their country of origin, faith, race or any other marker of identity." This includes immigrants and refugees targeted by this executive order. We stand here today in solidarity the communities targeted by this order, particularly the American Muslim community and othe religious minorities that have been victims in recent days of increased discrimination and hate crimes. We stand here together to build bridges, not walls.