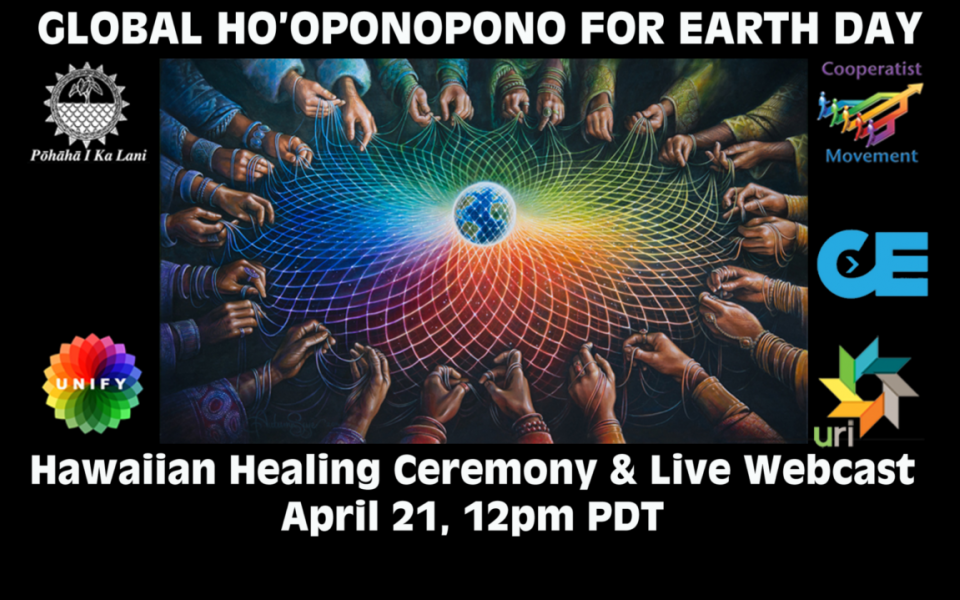 Apr 11, 2017. 
Unify CC has designed a Global Campaign for the coming year and invites URI to collaborate on sharing the message of the program, encouraging participation and broadening outreach of this healing meditation set to center ourselves spiritually for the up-coming Earth Day April 22nd, 2017.  
Ho'oponopono is a Hawaiian healing ceremony that invites practitioners to clear blocked energy, trauma, and wounds thus converting negative energy into positive energy, love and deepened connection. The problems we face on Mother Earth are the result of humans being out of balance with themselves, each other, and our natural environment. To bring healing to the earth we must first look within and bring resolution to the history which brought us to the present moment. Hawaiians, living on islands with finite land resources, have a powerful cultural practice that is valuable to all of humanity at this time. Mālama Pono means "to take care of one's self". Since the health of our planet and the individual is intertwined we are inviting all to join us for Earth Day by starting within using this simple and profound healing practice. 
 Please visit our Facebook Event Page and be sure to invite your friends! 
 See also the Huffington Post article announcing the program to the wider world, which mentions URI's CC as a welcome partner.   
 Website here: http://www.malamapono.life/ 
Cooperation Circles Involved