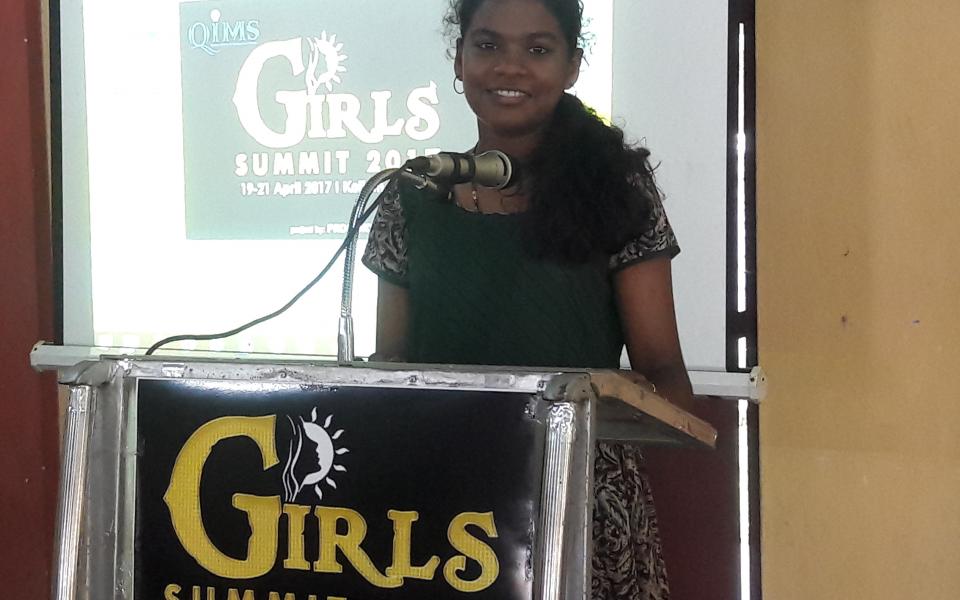 Zero Limits Cooperation Circle, with the URI South India Region, hosted the Girls Summit 2017 in Kerala, India, to educate teenage girls about safety, empowerment, and other essential issues. Attendance was very successful at 64 girls. Girls Summit Ambassadors spoke to inspire the crowd:
"Girls are the most important people in the world. Without woman, there is no man and also with­out man these is no woman. In our world nowadays, woman are becoming slaves meaning they are subjected to so many forces by the men. We all should know that girls are not animals; they are also human beings. Girls are very valuable gifts from nature. All the girls in this world have their own wishes. If any girl raises their voice to a man, he will get afraid. We girls should not be afraid of anything. All the girls will become mothers and sisters. We should be proud that we are girls. In this world, girls have the high position in every level. Everyone should respect a woman. Girls are the most important, valuable people in the world. There are fam­ous women in this world like Indira Gandhi, the first prime minister of India, Mother Theresa, Kalpana Chawla, Helen Keller, etc. We all should try and work to become like them. Sometimes we also become famous, and at that time everyone in this world will know us girls are the proudest persons in the world."
-       Allin Victoria Samson, Std: VIII, Girls Summit Kerala 2017 Ambassador
See more statements from Girls Summit participants on our Facebook page.
The topics covered in the summit were completely relevant to the current scenario of the society where we are living. Through our activity-oriented sessions, the participants got an idea about the most important things one should know as a part of womanhood.
 
The Girls Summit 2017 module includes:
Know Thyself: Proud to be the part of women-hood
Unleash the Potential in You (Feel the power of women-hood)
Get Set Go (Goal Setting)
Be the Super GIRLS of Your Super MOMS (Feel the warmth and safety of your mother's LOVE)
Be aware.... (Know the pitfalls from society)
Good Touch and Bad Touch (All about sexual abuses)
Whats App in Social Media? (Safe use of social media)
It's Not You... It's Your Hormones (Tame your teenage)
Can You Defend? (Self-defense techniques)
Are You Hygienic? (Personal health and hygiene… only a mother can say)

Give Wings to Your Dreams...