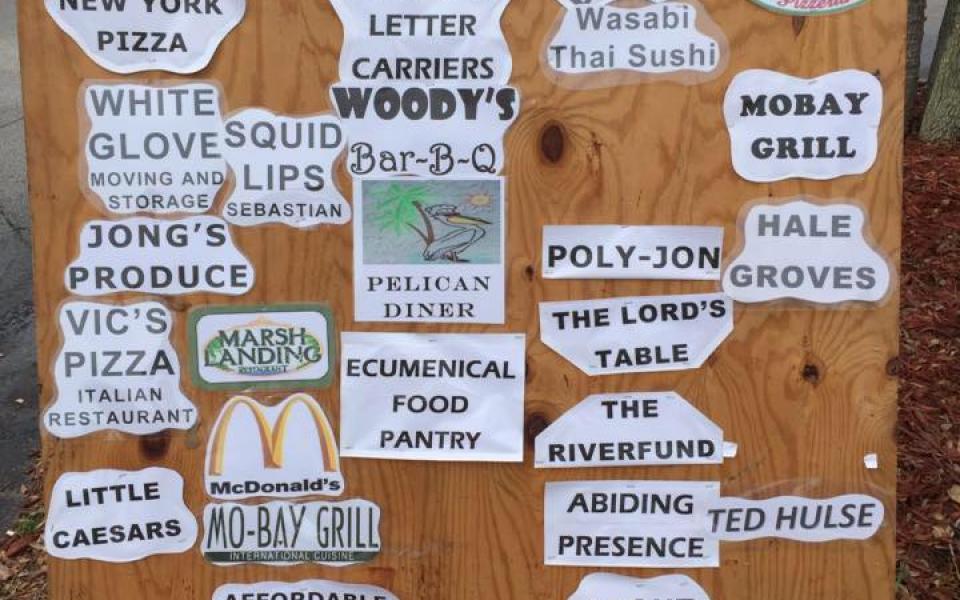 Namaste,
Thank you to everyone who helped us to make Stamp Out Hunger an important and powerful community event.
We had an incredible day at Sebastian Main St. Post Office! We collected more than 45,000 lbs of food for charity! Thank you to all who donated and to the volunteers who made this a really great day. 
Many thanks to our steadfast River Fund volunteers who started the day in Gifford giving away groceries and ended the day unloading over 11,000 lbs of groceries!
Thank you to Hari Das and About Storage for donating the truck! We could not do this without you.
Thanks to Yoga Fox and Kelly and Keith (Parvati and Shambo) and the amazing yogi's they brought with them. 
Thank you Shakti Durgaya and The Kashi School of Yoga. Thank you Durgaya and Sebastian Yoga Studio. You all make this such a fun day.
Thanks to Kashi Ashram for sending volunteers and supporting this event for many many years! Thank you to all the drivers and runners. We depend on you! 
Thank you Krishna Radha for taking such good care of us again this year as our event nurse and Maha Ma for filling in at the end of the day.
Many thanks to the organizing committee. River Fund members beside myself are Gangaji Ma and Margaret Laxmi. And Durga is a member emeritus who always helps. They were instrumental in all that delicious donated food and for the Sebastian Sharks football team and their great new coach and his wife. 
Thanks to Swami Rudra Das and the ashram staff for letting us have the bulk of our meetings in the dining room and feeding us dinner! The other members are from The Lord's Kitchen, Ecumenical Council Food Pantry and Abiding Presence International 
Thank you to Terry Hanuman and Sustainable Kashi for turning out to help us unload! Honestly this makes the world of difference after a very long day.
Here are some of the people who were there to unload. We had a crowd which means it was done in less than an hour at two locations!
Ganesh Jaya, Brooklyn Anjani, Ramprasad and Hanuman and Inti, Bob and Kathy, Andy Hanuman, Sri Ram, Cristos, Mukunda Jaya, Terry Hanuman and crew: David, Michelle, Andy,
I am adding Quincy Jaya and Amrit (Atlanta) because they helped The Lord's Table unload and at the very end of the day our final pick up truck of groceries. They saved my life!
Thank you all so much for your hard work at "Stamp Out Hunger."
With much love and gratitude,
Ma's Jaya
Cooperation Circles Involved