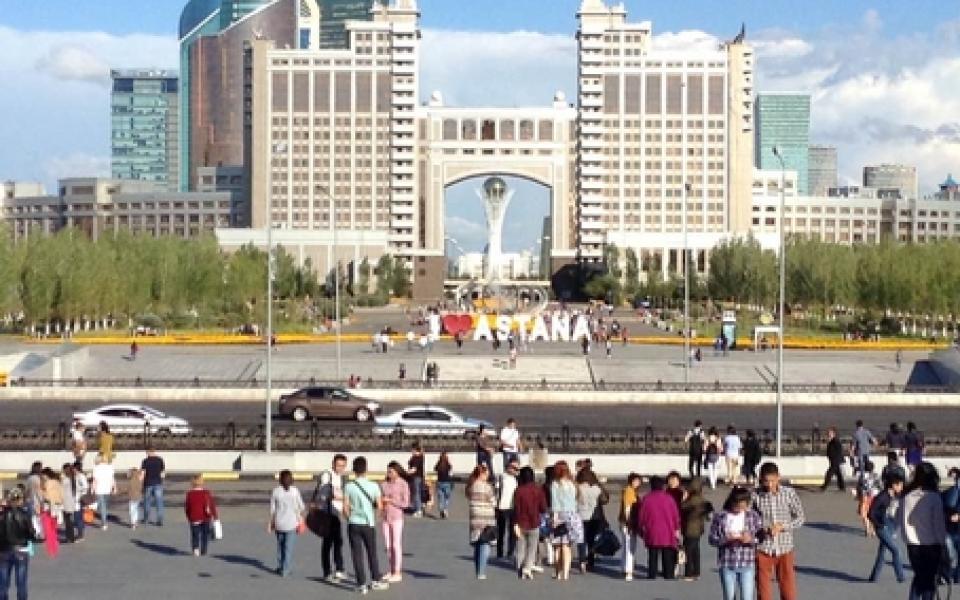 Monica Willard, URI's Representative at the United Nations, attended an international conference in Astana, Kazakhstan organized by Parliamentarians for Nuclear Nonproliferation and Disarmament (PNND) and the Kazakh Government in honor of the International Day Against Nuclear Tests on August 29. The Building a Nuclear Weapon Free World conference to discuss and plan concrete actions to abolish nuclear weapons was made possible largely because Kazakhstan has rejected nuclear weapons in accordance with citizens' wishes. Jonathan Granoff, a member of URI's Voices for a World Free of Nuclear Weapons CC, was a presenter and also part of the organizing team.  
Nearly 200 legislators, religious leaders, government officials, diplomats, veterans, representatives of international organizations, academics, scientists, medical professionals, lawyers, and nuclear disarmament campaigners from around the world joined local participants to commemorate the day – which was also the 25th anniversary of the closing of the Soviet nuclear test site in Kazakhstan. From 1959, the Semipalatinsk region in the Soviet republic of Kazakhstan was used as the site of hundreds of test detonations of nuclear weapons. The impact on human health on the steppe of northeast Kazakhstan has been devastating, with over 1.5 million people suffering cancers, birth deformities, and other serious illness or death from the resulting radiation.
These effects are far from an event of the past. Despite the fact that testing ceased 25 years ago, the catastrophic impact on human health continues for generation after generation. In 1991, a civil society movement in the Soviet Republic of Kazakhstan supported by the Republic's President Nazarbayev, successfully moved the Soviet government to close down the nuclear test site. Since then, Nazarbayev has led Kazakhstan as a leader in nuclear disarmament and an active member in the international community working for global disarmament.
On August 31st, our delegation gathered at Ground Zero to bear witness to this iconic site representing the human capacity to destroy civilizations; but also our shared goals and capacity for peace and disarmament. We visited museums which chronicled the devastating health problems faced by the population – and which will continue to impact on them for generations to come. We were also given the opportunity to travel to Ground Zero – the center of the nuclear test sites – where radioactivity is still dangerously high. Those of us who chose to proceed further than 300 meters away were given facemasks to prevent us from inhaling the toxic dust, and foot-coverings to protect from the radiation in the soil. 
Ela Gandhi, granddaughter of Mohandas Gandhi, ex-parliamentarian, and high profile activist, led a prayer circle, where she read the Prayer for a Nuclear Free World. URI's Monica Willard also led a group in the prayer at the Peace Park in Semey at the "Stronger than Death" statue. This prayer, written by URI's Voices for a World Free of Nuclear Weapons CC to strengthen interfaith movements against nuclear weapons, brought us together to help share a sobering moment on the threat of nuclear destruction. We felt our common compassion for humanity and our shared belief and faith that a nuclear-weapon-free world is possible in our lifetime.
As we walked away from the test site, we felt a renewal of hope for humankind and a strengthened resolve to work together for a nuclear-free world.  Together, we had created a small circle that had great significance and power. In order to achieve our common goal, we are expanding this circle globally until world leaders can no longer turn a blind eye to the crimes against humanity being committed by the possession and readiness to use these weapons.
If you want to use this prayer for the International Day of Peace or to observe the International Day for the Total Elimination of Nuclear Weapons on Sept 26, you can find the video and text on our URI website by going directly to www.nuclearprayer.org. The Nuclear Prayer can be used and translated into other languages.  I hope anyone who translates it will send a copy of the translation for the URI website. 
For more information on the Astana conference, read Alyn Ware of PNND's article.