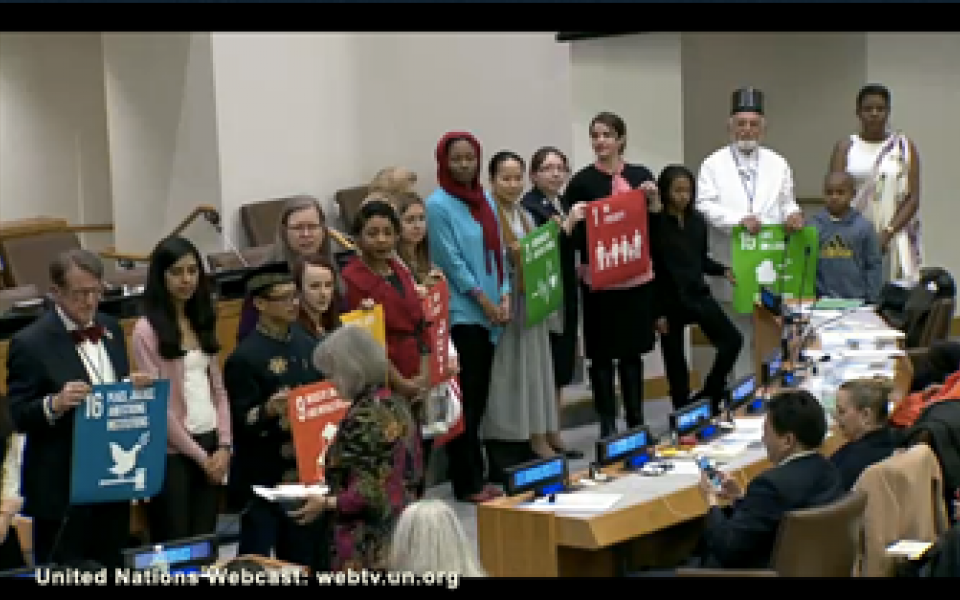 By Jaya Reinhalter
I had been in New York City for four days before the celebration of Interfaith Harmony Week took place at the United Nations (UN), and I was already exhausted. How do people live in this city?! It took me an hour just to get from one place to the other and I felt as though more time was spent in transit than it was actually doing anything. On the upside, I was obsessed with the diversity of people I witnessed in one stint on the New York subway system and found myself musing that they should give the city a formal wing at the UN; "New York City: the gritty underground of the United Nations".
The night before the event I was introduced to Monica Willard (a URI representative to the UN and our host), Shayda Sales of Silicon Valley Interreligious Council (SiVIC) CC, Aspyn Adams and Johhny Martin of Sun Devils Are Better Together CC at Arizona State University. We were all there as a result of the United Religions Initiative and their efforts to include the youth and young leaders in conversations occurring between interfaith movement leaders, religious leaders, and the United Nations. I quickly felt at home with this crew and discovered a natural connectedness that is likely related to our implicit agreements to be curious and open with one another as collaborators in the interfaith movement. When we talk about "harmony" across faiths, I understand that we are building bridges not only between faiths but between individual human lives. The common ground established by this setting allowed much deeper conversations to evolve quickly and I found myself feeling a closeness and familiarity with their spiritual practices and lifestyles that I previously knew little about.
Within my own Cooperation Circle, Kashi Foundation – an interfaith intentional community – interfaith looks less like an explicit movement, and a lot more like the simple interactions that connect and intertwine human lives on a daily basis. For most intentional communities, there is a moment where the transition from a deeply "place-based" and insular living community, into an outward reaching movement, is an archetypal stepping stone in evolution. With this precise transition present in my own community/Cooperation Circle, I found myself feeling anxious to see how the lives of those living the daily aspirations and practices of interfaith cooperation would translate in a policy-oriented global institution such as the United Nations. How would real human lives and grassroots movements meet an institution such as the U.N., what bridge building could happen, how, and what were the results?
Our day at the U.N. was exciting on many levels, but the most substantive aspect was the people we met. As youth, we also participated in the opening portion of the ceremony in which we symbolically stood side-by-side with religious leaders who held signs that read out the 17 Sustainable Development Goals (SDG's) established by the United Nations in 2015.The next couple of hours were spent listening to panelists speak about partnerships between faith-based organizations and the UN in their work towards the fulfillment of these SDG's. Some spoke from the insider perspective of the United Nations and others spoke on behalf of collaborating organizations and faith-based or interfaith organizations. My interest in the capacity of this forum to bridge the seemingly distant discourses of grassroots social change and high level institutional or policy-oriented social change was fulfilled even within the makeup of the panelists.
You can watch an archive of the program at this link.
At the conclusion of the event, we were invited to join other UN reps and URI leaders for a group dinner in which we could further discuss the events of the day and get to know one another. During dinner we shared in a number of intriguing and eye-opening conversations. In particular, we as the youth representatives were probed to share how we, through our respective work with our Cooperation Circles, would implement the Sustainable Development Goals of the U.N. I found myself contemplating this question with a great struggle. Unable to answer, I wondered what it was that made this question so difficult for me?
It was not until a trip I took to Oakland right after the UN that I realized that the direction from which the question flowed - "How are you going to implement the SDG's?" – was in conflict with how I conceive of these goals. My experience at the UN had solidified a perception of a set of goals that are an incredibly powerful mechanism for encouraging and supporting social change at the international scale, but not necessarily the fundamental impulse from which radical social change would come. Rather, to me, they seem more like devices of connection which give universal language to the good work of a multitude of global organizations and individuals on the ground doing the work of changing their societies on a daily basis. The question I was contemplating is not "how will I implement the SDG's", but rather "how will the SDG's help us to articulate the universal importance of our missions, make alliances and connections to other movements with whom we would not otherwise collaborate, leverage the international power and discourse that emanates from the UN, and support us in speaking to larger audiences that may not otherwise recognize our work as important?" In this way, the SDG's become less of the 'goals' towards which movements are working, but more like the internationally legitimized language through which we can now talk about our work.
Still in Oakland as I write this today, I am thinking about the past couple of very special days I have spent with a group of international grassroots community organizers and activists – many of them facing physical threats, struggling to find funding for their ambitious missions, and desperately seeking alliances with other movements. In discussions on strategy, the idea of gaining a foothold within the UN was attractive and somewhat controversial among their membership. Based on my recent experience at the UN, I contemplated the skillfulness it takes to create a successful movement and the role the UN may be playing in these movements. For myself, I am so grateful to have had the opportunity to witness the powerful alliance that can be threaded between the UN and grassroots reformists. The possibilities latent in that alliance seem greater than either strategy standing alone. I am hopeful and increasingly curious to explore this relationship and how the incredible network of URI Cooperation Circles will leverage this institution and institutions like it in our collective efforts towards cultures of peace.
Cooperation Circles Involved