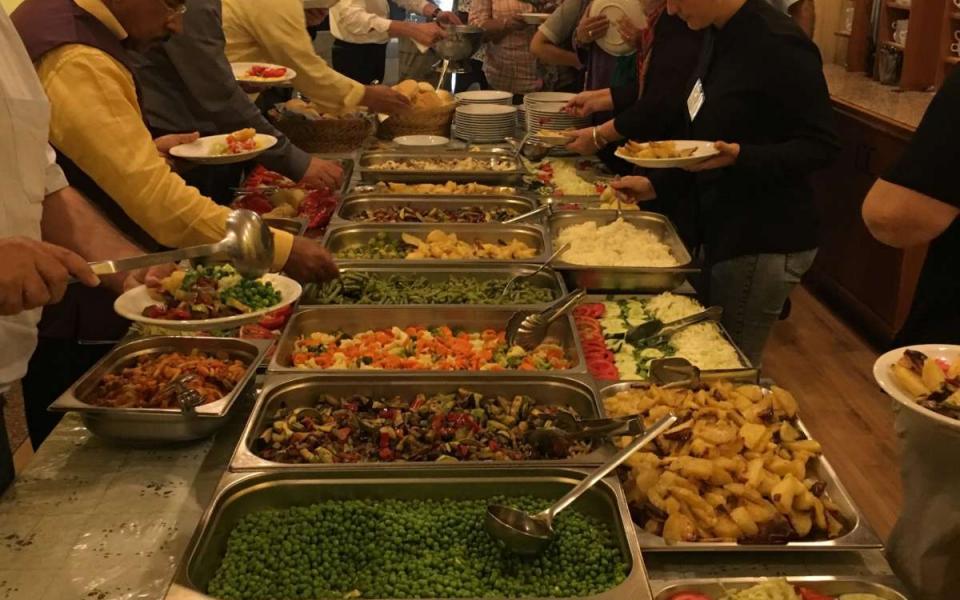 Sep 14, 2017. 
The Compassion for All Living Beings CC had its "coming out" at the recent URI Global Leadership Gathering in Sarajevo. We debuted our brochure at the vegan dinner, and CC members who were present shared thoughts about their own commitment to extending respect, safety and dignity to all living beings. One member described the importance of compassion for animals in her religion. Another expressed gratitude to the CC for including people at various stages in personal food choices. Another highlighted the idea in the brochure of how all major faiths teach compassion toward animals. A mother contrasted her deep connection with her child with the millions of animal mothers deprived of that bond for the sake of human consumption of animal flesh. She also made the case for prosecution against cruelty to animals. A gentleman appealed to those gathered to evaluate their own practices and extend their compassion to all living beings.  
On the International Day of Peace itself, we launched our C4ALB website with an announcement to the Global listserv from CC leader Cynthia Sampson: 
"I am so very pleased to announce that our Compassion for All Living Beings CC (C4ALB) officially launches its new website today, in honor of this special United Nations observance.  
  
As many of you know, the IDP theme for this year is "Together for Peace: Respect, Safety and Dignity for All". Our C4ALB CC is dedicated to "creating cultures of peace, justice and healing ... for all living beings". And therefore, our new website is titled: "Together for Peace and Compassion: Respect, Safety and Dignity for All Living Beings" 
  
Truly this is an exciting day for us.  Although the website has been "public" for several days, and some of you may have visited it already, as far as our CC is concerned, today is its "official" launch! 
  
Even so, it is far from complete. If you visit you will see that a couple of the pages have only summary content so far. We will be adding material continually for some time to come, if not always! 
  
That said, we are pleased with how far the website has come and are eager for you to visit it here.

  
And while you are there, be sure to click on the link for our two-page brochure that had its debut last week during the gathering of the URI leadership and global staff in Sarajevo, Bosnia. 
  
We would love to hear from you if you are interested in joining our Multiregion CC or for feedback on the website. You may reach us through the Contact page, or our email address: [email protected] .
  
On behalf of my other "animal compassionista" colleagues on the C4ALB CC, we send best IDP greetings to all.