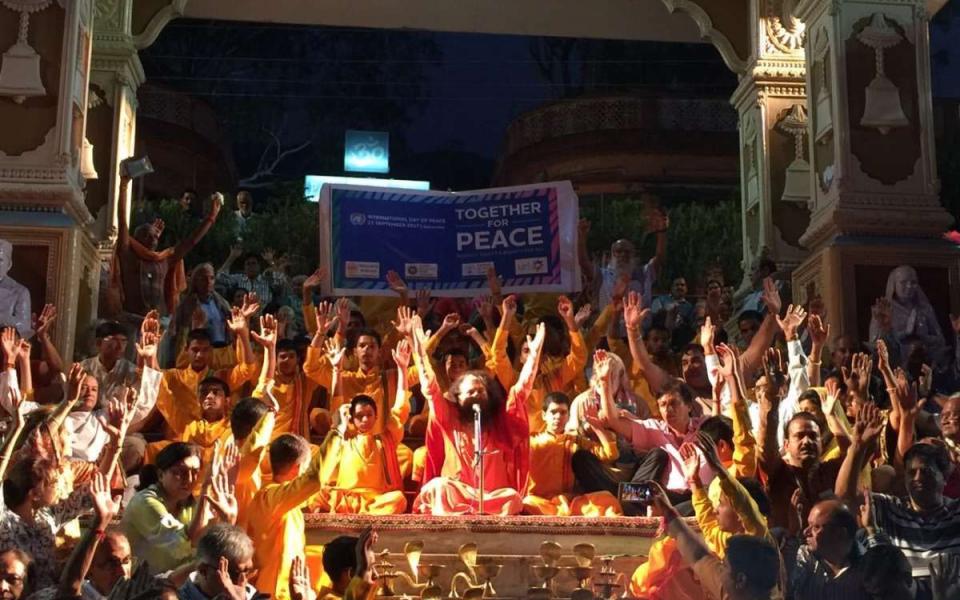 Sep 23, 2017.
HH Pujya Swami Chidanand Saraswatiji - Muniji led a pledge to be #TogetherforPeace and to work together for the #SDGs! 
Some 500 saints and citizens joined together on the banks of the River Ganga (Ganges) at the foothills of the Himalayas to honour the International Day of Peace with a special Water Blessing Ceremony and prayers that everyone, everywhere may lead happy, peaceful lives, with universal access to life-sustaining, plentiful and clean water, sanitation and hygiene (WASH). The ceremony was followed by a collective pledge for peace and a glorious lighting of peace lamps as the sun descends on India's holiest river: the source of life for 500 million people. 
Report from Facebook: https://www.facebook.com/washa... 
Today countless people came together from Laxman Jhula to Ram Jhula, in Rishikesh, along the banks of Mother Ganga, in solidarity of our Hon'ble Prime Minister Shri Narendra Modiji's Swachhata Hi Seva (cleaniness is our selfless service) theme of the fortnight leading upto the third anniversary of Swachh Bharat Mission, India on the 2nd October. 
The event was inspired by discussions between The Global Interfaith WASH Alliance (GIWA) Co-Founder, HH Pujya Swami Chidanand Saraswatiji - Muniji, Swamini Adityananda Saraswatiji, the Minister of Rural Development & Panchayati Raj, Shri Narendra Singh Tomarji and the Ministry of Drinking Water and Sanitation (MoDWS) Secretary, Shri Parameswaran Iyerji about supporting this mission in the state of Uttarakhand, along the banks of Mother Ganga, illustrating the power of faith to bring everyone together - as one family- to serve together. 
Shri Parameswaran Iyerji shared that the Swachhata Hi Seva campaign is seeing large scale mobilization of people from all walks of life to undertake shramdaan for cleaniness and construction of toilets, and cleaning public and major iconic tourist places. He particularly appreciated the tremendous efforts being made by faith based organisations, school children, central police services and defence personnel. 
With great enthusiasm and energy the MoDWS, Government of Uttarakhand's Namami Gange and Swachh Bharat Mission, Global Interfaith WASH Alliance's (GIWA), and many other local faith organisations, ashrams, schools, women sanitation ambassadors, residents, tourists visiting from more then ten countries joined hands and hearts to clean both sides of the bridge, climbing down steep waterfalls and rocky landscape to pick up tons of plastic and waste. Hon'ble Chief Minister of Uttarakhand, Shri Trivendra Singh Rawatji who could not physically be present sent his warmest wishes for the success of this event and instructed his entire administration, headed by Dr Raghav Langerji, District Magistrates of Pauri-Garhwal and Tehri as well as local administration to provide their full support to these efforts. 
The massive clean up efforts started from 9am, concentrated on the Laxman Jhula but spread across Ram Jhula, ending in a massive pledge for a Clean India at the Parmarth Niketan Ashram with water blessing ceremony, symbolising our solidarity to protect our sacred water bodies. 
Co-Founder of GIWA Pujya Swami Chidanand Saraswatiji shared, "Today coincidentally is Pandit Deen Dayal Updhayayji's Birth Centenary and to me there could not be a better way to celebrate then to pledge and work to clean our communities. A clean India starts with each one of us! When we change then the world also changes. Panditji's concept of Integral Humanism is reflected in our clean up today where all of us are joined together across faiths, across borders and boundaries bringing together our mind, body, intellect and spirit to build a cleaner and greener India. Hence let us pledge Swachhata Hi Seva. Swachhata Hi Dharma. Swachhata Hi Karma. Swachhata Se Hi Shakti Hai." 
Director of Namami Gange and Swachh Bharat Mission State Dr Raghav Langerji shard that Uttarakhand is the fourth state to become ODF and that the state is committed to becoming a ODF+ and ODF ++ state in which all liquid and solid waste is effectively managed. He shared that this could be done not only with machinery and infrastructure alone, it needed to be a people's movement and that the mega clean up programme illustrated just that. He added that he hopes these efforts continue across the state with a greater awareness and enthusiasm to make the state a clean and green leader. 
Pujya Swamiji reminded everyone, "Today this is only one step towards a Clean India, let us take every step towards a Clean and Green India. Let us live our lives more conscious of our footprint on this planet, ensuring that our waste is disposed responsibly."