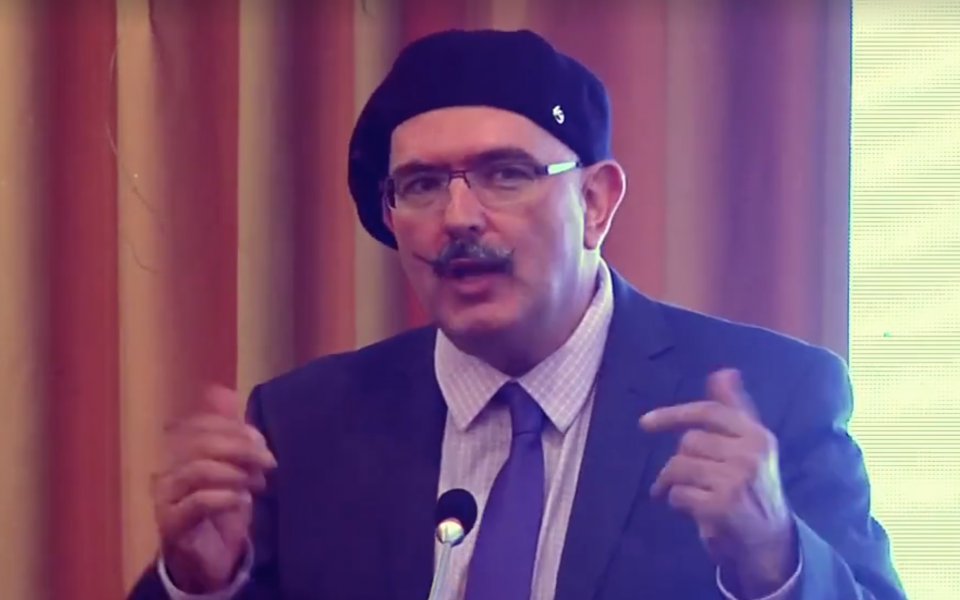 Peter Mousaferiadis is the CEO of Cultural Infusion, a URI Cooperation Circle based in Australia. His recent travels have taken him to In Sri Lanka, where he was invited by the National Peace Council director Jehan Perera to meet with 30 NGOs at the American Embassy, and heard many stories about continuing conflict divide. He also received the Ambassador Peace Prize from the Center for Peace Studies.
---
See a video of Peter Mousaferiadis's opening address to the 2nd Lahore International Conference on Culture in Pakistan.
SPEECH IN SRI LANKA
I pay my respects to the organising committee, the speakers before and after me but more importantly the past, present and future communities and leaders of Sri Lanka. I'd also like to pay my respects to all those who are tirelessly and actively engaging in building cultures of peace and reconciliation here in Sri Lanka. Lastly, I pay my respect to those who are working to ensure the entire community of Sri Lanka will benefit from the economic prosperity it will experience in the coming years.
Today, I stand before you not as a son of Greek migrants who travelled to Australia for a better life in the 1950's but rather as a human being who stands in the shadow of a Greek philosopher who lived 2400 years ago. Diogenes.
Diogenes was the first human being to proclaim "I am a citizen of the world".
The notion of a 'citizen of the world' resonates with all of us and postulates that all human beings belong to a global community based on shared morality.
The advent of the WORLD WIDE WEB (WWW) in 1989 has created a global super-connected and super diverse age. An age where time is compressed.
Consequently, the ability to navigate our way through how we see the world and how we relate to each other has become central to global citizenship and a peaceful world.
GOODAY EVERYONE, my name is Peter Mousaferiadis. I have spent 29 years working as a creative director, music conductor, composer and producer. In 2002, I founded Cultural Infusion as a response to the impact of globalisation on society and as a means to addressing issues of lack of understanding of the other and a way of reducing ethnic- and race-based discrimination.
Over three decades, I have come to realise the power of the arts, the power of culture and that as a people we don't do enough to draw upon humanity's greatest asset - cultural diversity. Our most recognised brand, yet our most under-utilised brand.
It dawned on me several years ago, that since the beginning of my working career, I realised everything I did was not because of the actions I was involved with but what drove me. The purpose behind what I did. The WHY. Everything I was involved with, always used arts and culture as a meaningful driver to building intercultural understanding as a core value and key competency of global citizenship.
Culture is a mighty force. So much, that UNESCO has officially recognised culture as an enabler and driver of sustainable development and that culture is key to quality education, poverty eradication, a way of building socially cohesive and peaceful communities and last but not least of all, a driver of innovation.
According to the 2017 Global Peace Index, the cost of violence equates to more than 12.6% of the world's GDP. A mind-blowing and staggering figure of 14.3 trillion dollars.
According to the 2017 Global Peace Index, the cost of violence equates to more than 12.6% of the world's GDP. A mind-blowing and staggering figure of 14.3 trillion dollars. A figure I can't comprehend.
Now, according to UNESCO, 75% of all conflict has a cultural dimension.
In lieu of these sobering statistics doesn't it make sense then that we need to invest in programs that are building cultures of peace?
The work we've been doing at Cultural Infusion through the arts, music, education programs and digital platforms including gamification is targeted to schools, communities across Australia and developing communities across the globe. We recognise that discrimination comes about because of lack of understanding of other cultures and that through the discovery of others we not only reinforce the self but build bridges of mutual understanding, tolerance, acceptance and respect.
Cultural Diversity has been integral to Sri Lanka for thousands of years. So many cultures have converged here including Roman, Persian, Egyptian, Indian, South East Asian, Chinese and even my own heritage the Greek culture contributed to what Sri Lanka is today.
I speak to the last point about my Greek heritage and how one aspect of it has influenced Theravada Buddhism . The 2nd most important book after the tripitaka is the Melindapanha which is based on the Questions of the Greek-Bactrian, King Menandros in conversation with the sage, Nagasena. I wonder how many of you knew this in the audience today.
For cultures to remain alive they need to be reinventing themselves. They need to be exposed to other ideas, other cultures so they can continue to flourish.
History tells us again and again that the lifeblood of culture has and always will be confluence. Intercultural understanding and ongoing initiatives which strive to bring people together and create intercultural as opposed multicultural settings is vital in discovering our common and shared humanity and what connects us to each other rather than what separates us.
Yes, we have more in common than we have different.
I now leave you with one last thought which summarizes my speech today.
I exist because of you,

you exist because of me,

we exist because of each other.

It's never been different.

This is the story we need to tell.
May PEACE Prevail.
Thank you.