Please join us for the extraordinary Virtual Event February 3rd.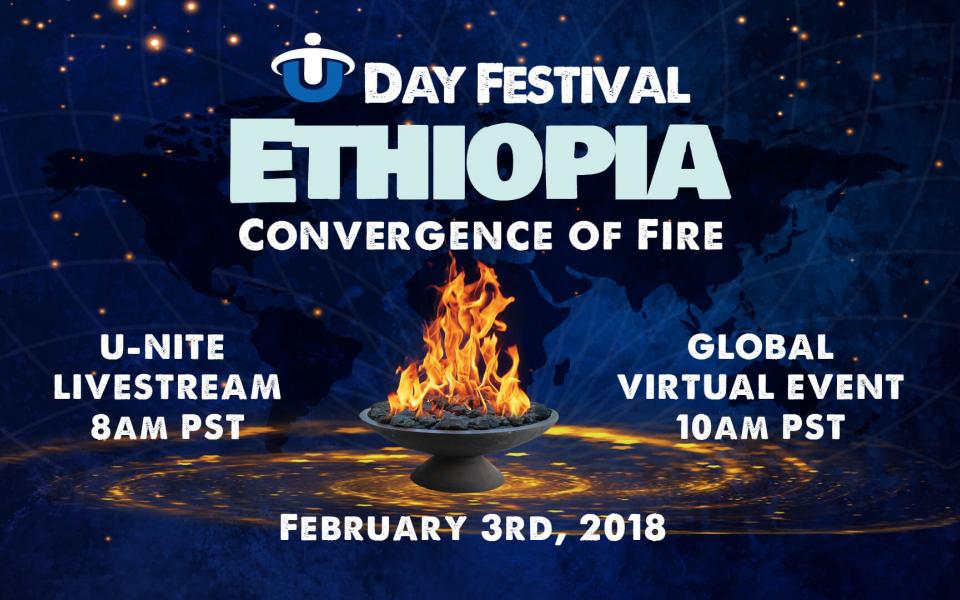 As part of World Interfaith Harmony Week, the United Religions Initiative is proud to present, along with UNITY EARTH and We, The World: the U Day Festival.
The U-DAY Festival in Ethiopia is bringing together traditional and global spiritual leaders with international change-makers, musicians, and artists to celebrate and advance global unity. All are gathering to celebrate the diverse spirituality of our human family while also advancing universal values of Peace, Compassion, and Unity.

For complete festival details, see the Press Release below. (Please forward to your media contacts)

You are invited to participate from wherever you are in the world, on February 3rd. Just click the links below:
Thank you for helping to create more Unity, Peace, and Compassion in the world.
---
FOR IMMEDIATE RELEASE 

U DAY 2018: A Convergence of Fire in the Land of Origins

Global Spiritual Leaders and Musicians Converge in Ethiopia for World Interfaith Harmony Week 

As part of the growing global importance of World Interfaith Harmony Week, (February 1–7) U DAY Festival brings spiritual, traditional, and religious leaders together with international change-makers and inspirational musicians to celebrate and advance global unity.

An initiate of the growing global network of UNITY EARTH, in close association with the United Religions Initiative (URI), U DAY 2018, Ethiopia: Land of Origins includes events at sacred sites, musical performances and a special gathering at the African Union in Addis Ababa. This special gathering at the African Union will be attended by the Ethiopian President, Dr. Mulatu Teshome, as well as continental delegates from the African Union Summit, and the 70 international delegates that have come from 10 countries around the world to take part in this historic world event. Executive Director of the URI, Victor Kazanjian, said, "This is such an important event and movement. It is the hope that we need and the change we seek."

Representatives are attending from Aboriginal Australia sponsored by the Australian Embassy, Indigenous leaders from Asia, as well as North and Central America, Buddhists Monks from Thailand, Sikhs, Bahá'í, Sufis, Tibetan Buddhists and Hindus from India, along with Jews, Christians, and Muslims. All are gathering in Ethiopia in a grand dance of music and spirituality to celebrate as one colorful and diverse human family, while advancing universal values of Peace, Compassion and Unity.

U DAY Festival gets an early start on January 31 when the delegates converge at the UNESCO sacred site of Lalibela for two days of retreat and ceremony. The Torch of Peace from the famous First Earth Run in 1986, the Torch of Compassion from the Compassion Games, and the Lamp of Unity from the Thai Buddhist Monks will be lit and their fires converged into a Global Fire of One Love. This is fitting as later during the Festival there will be an important musical celebration of Bob Marley's birthday on February 6—he would have been 73 years old.

The event at the African Union takes place on February 2, followed by the big U-Nite Concert on February 3 with Grammy nominated Artists Pato Banton and Rocky Dawuni heading a stellar line-up of inspirational spiritual musicians. Ben Bowler CEO of UNITY EARTH said, "the world is coming together, we are so fortunate to live at this moment in history when we get to witness it, even to participate in the process."

For those that cannot be physically present in Ethiopia there are three great ways to participate globally:
A Special on VoiceAmerica internet radio, on 

UNITY EARTH's show The Convergence 

will be available 24/7 beginning on January 26 featuring eight key leaders describing the Ethiopia events in detail
The time has come for Unity, for Peace, for Compassion. We invite you to join us. 
#UDay2018
About UNITY EARTH
http://unity.earth
There is a Unity revolution underway. The times are calling for a spiritual enterprise that connects people and organizations, produces uplifting events, and distributes messages of hope that all inspire the emergence of a co-creative global civilization founded on Unity. That enterprise is UNITY EARTH. Our calling is to weave threads of unity within the colourful diversity of the Human Family and with the ecosystems that sustain us. Honoring all traditions and lineages, we are inspired by the collective wisdom of humanity to foster community, connect cultures and cultivate peace. Our events and offerings are designed to enhance personal transformation and facilitate planetary consciousness. There are so many inspiring individuals and organisations doing the hard work and taking strides towards greater unity on our planet, our aim is to strengthen and connect this grassroots movement.
Contact: 
Yanni Maniates 
[email protected]