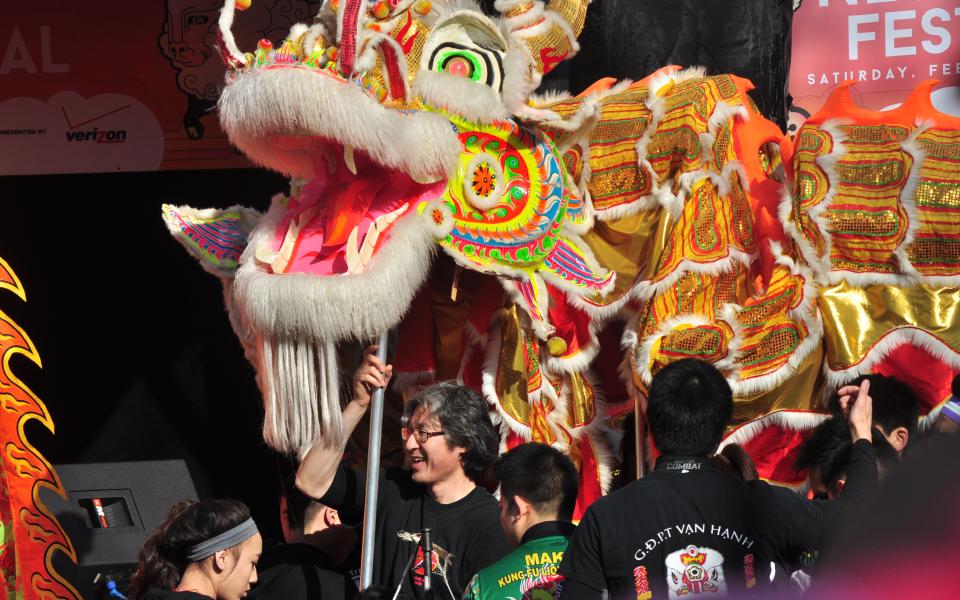 The Chinese New Year begins on Friday, February 16 this year. It will be the year of the Earth Dog, taking over from the previous year of the Fire Rooster. In the Chinese zodiac, each year is assigned an animal in a repeating, 12-year cycle. Additionally, the years are assigned an element (Fire, Earth, Metal, Water, and Wood) every two years, with the first year emphasizing "yang," (more active) energy and the second year emphasizing "yin" (more passive) energy.
The New Year celebrations are held around the world, and often joined by members of neighboring cultures. In this photo, dancers parade through Seattle, Washington, USA, in a celebration involving people of many cultures and backgrounds who are all attracted to the Chinese New Year festivities. Traditional celebrations often include ringing bells, lighting firecrackers, and watching traditional lion dances, such as the one pictured above.
Families often celebrate by enjoying festive meals together, cleaning their houses to "sweep away bad luck," and giving children gifts of "lucky money" in traditional red envelopes.
Learn more about URI Cooperation Circles, many of whom are celebrating the Chinese New Year throughout the world.