Rico traveled to the United Nations as part of a URI program to help connect young adult interfaith leaders to the UN and each other. Ocampo is the Program Director of Camp Anytown, a Cooperation Circle member of the United Religions Initiative.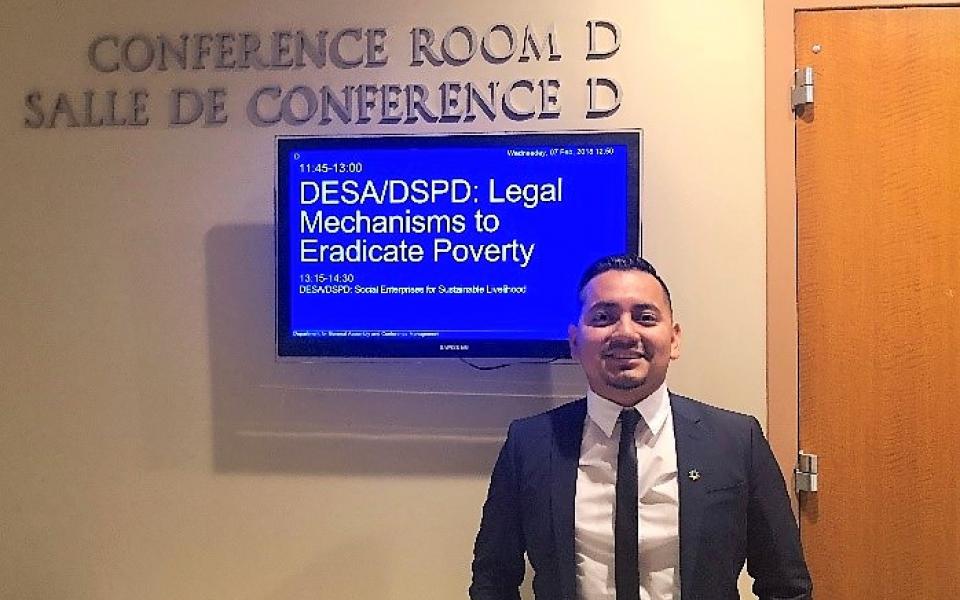 "Diversity is a source of inspiration."
Those are the words that were uttered from the Hungarian Ambassador to the United Nations, Katalin Bogyay. Those exact words were ingrained in my soul during an interfaith service that was part of my trip to New York City where I had the utmost privilege of attending the 56th Commission for Social Development at the United Nations.
This trip took place as part of a celebration for World Interfaith Harmony Week (WIHW) and was put on by the United Religions Initiative (URI), an organization that has allowed me to look at interfaith through a worldwide lens. The trip is one that I will never forget and an experience that I will invariably hold close to my heart. My views on youth development and the world have fiercely risen and it is all due to the efforts of URI and their commitment to creating wider bridges between people of all beliefs.
My trip to New York City was one that was filled with excitement, curiosity, and an extensive amount of nerves. As my plane landed at JFK, my heart was beating profusely as I walked out of the airport and into a city that I had only see in movies but, there I was, walking into the melting pot of diversity. My shuttle driver guided us through Queens and into the heart of Manhattan. As I spoke to the Spanish tourist that were in the same shuttle, I realized that, in a way, we were the same but, so different.
As I arrived at my hotel, I couldn't help but notice all the individuals who were walking to their destination – they were all dressed differently, had different skin pigmentations, and some spoke languages that I've never heard, but they all shared one common trait, they were walking at the same pace as if they were all walking to the beat of one drum.
My day got better as I met up with Sari Heidenreich who is the North American Regional Coordinator for URI. We both ate lunch at a small Chinese restaurant, however, this restaurant was different than the ones in Las Vegas. All the signs were in Chinese and there was a constant flow of people coming in and out as if they knew exactly what they wanted. It was then that I told my self to trust the process.
After lunch, Sari and I had the wonderful opportunity of visiting The Statue of Liberty and Ellis Island, two places that meant so much to me because of their rich history. As an immigrant, I glazed at lady liberty with a sense of pride and joy. "The New Colossus" poem which sits on the pedestal's lower level of the Statue of Liberty had several lines that resonated with me, one read, "Give me your tired, your poor, your huddled masses yearning to breath free." This was a moving moment as I thought about the immigrants who arrived in this country with nothing on their back yet, through resilience and hard work, they were able to obtain the American Dream.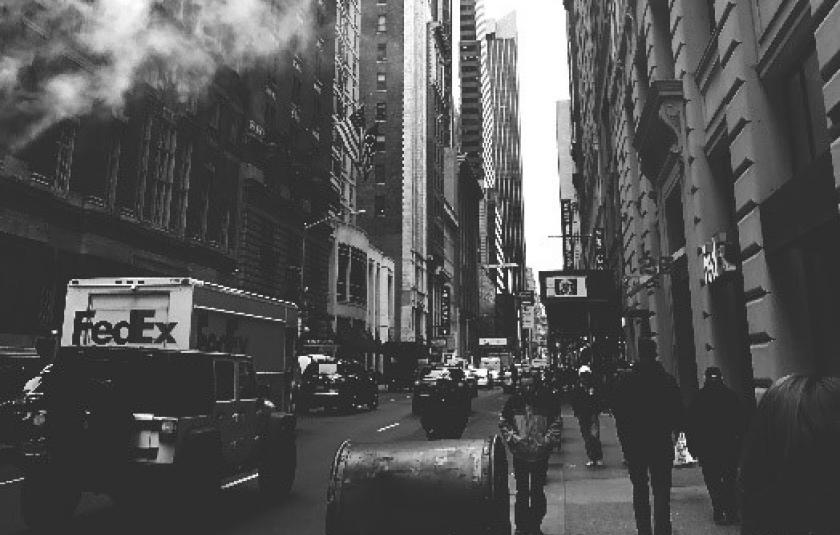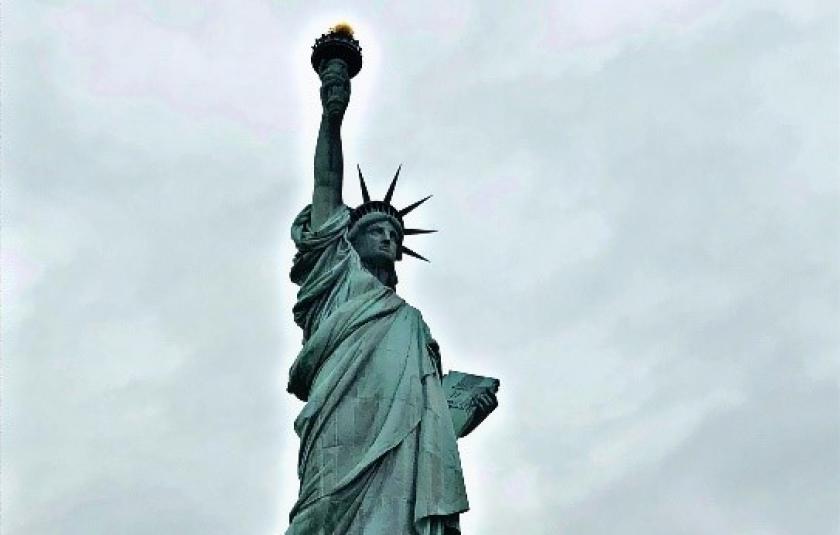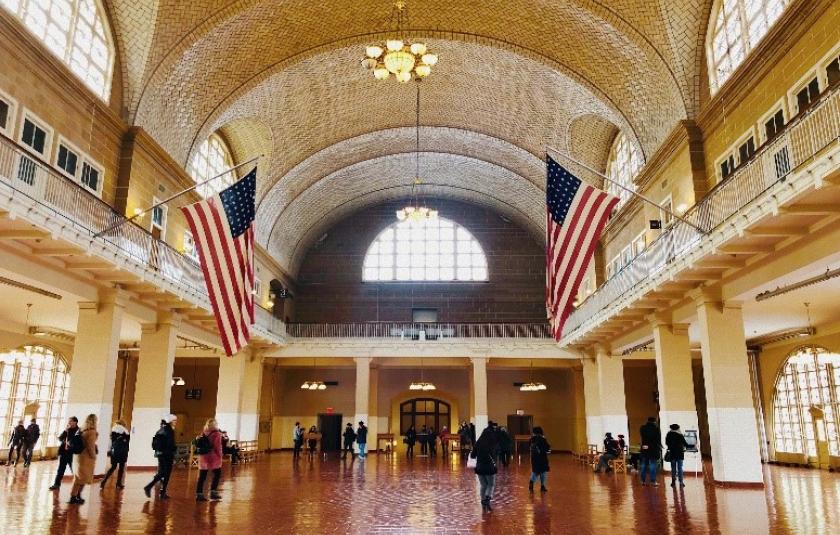 After arriving at the hotel, we both got some much-needed rest and met up with the rest of the group who were a part of the trip (all member of URI from different parts of the country). My roommate, Hassan, from Tri City Interfaith Council, was an incredible young man that demonstrated a selflessness that I've never seen before. Everywhere we went and anytime we spoke, he was mentioned his family because to him, it didn't matter where he was, just as long as his family was with him – that is one powerful trait to have, selflessness. Our entire group decided to eat at an Indian restaurant. My taste buds were going out of control as I tasted dishes that I had never eaten before, it was an experience that I will never forget and a process that I was still willing to trust.
The next morning, we all got up early to head to get our UN identification badges. To no avail, it was snowing, a natural occurrence that I had only seen 5 times in my lifetime but to my roommate Hassan, it was his first time ever seeing snow. This was a reminder of the geographical diversity that surrounded our group. After arriving at the United Nations, I was amazed at the monuments that stood outside the main building: one monument demonstrated a knotted gun sculpture which captured the beauty of being pro-peace.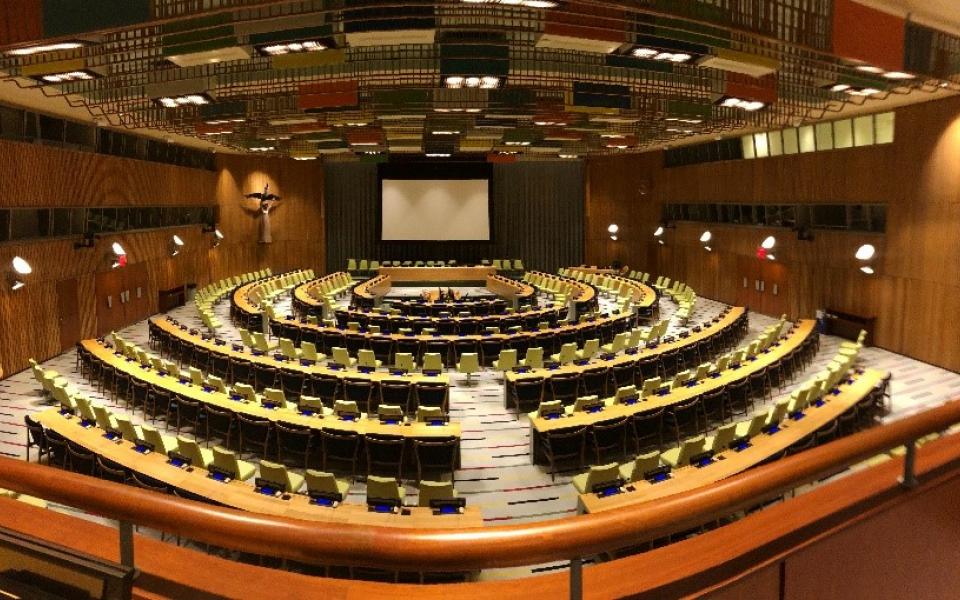 Entering the United Nations building was quite intimidating but learning about the work that other countries were doing to increase their focus on socioeconomic development was exhilarating. There was a session that stood out to me that was called "Legal Mechanisms to Eradicate Poverty." This session allowed me to listen to a panel of brilliant women and challenged me to look at the issues regarding poverty and homelessness within my own community. After asking a question, "What can youth do today to ensure we are able to put to an end and eradicate poverty?" My question was answered by one of the women on the pane who simply said, "Keep swimming against the tide." That was such a simple answer yet an answer that I will never forget.
My interactions with other URI Cooperation Circle members lit a fire inside of me because they reminded me of the work that is left to be done.
I left feeling inspired by every URI member I met because they were using their platform not to better themselves but to create wider and longer bridges for individuals from different beliefs and build a sense of community. I was ready to go back to the drawing board and create wider bridges for my Cooperation Circle, Camp Anytown Las Vegas, a program that focuses on eliminating prejudice, bias, and bigotry. This trip allowed me to look at my program in a different light, which is why, upon returning home, I decided to revamp our curriculum and add an interfaith celebration to our 3-day camp and ensure that interfaith becomes a part of the conversation. Our youth are the true leaders of today and when they are able to tell their own narrative, their stories become more even more powerful.
The time is now to create a better understanding of each other and organizations like URI and the United Nations that are leading the charge to ensure that we can solve local and global challenges. I find myself being more intrigued by interfaith work and developing youth to have a deeper knowledge of other faiths and traditions because the fundamental goal is not to tolerate each other, but rather celebrate each one another. As I left New York City, I left humbled and noticed I was in sync with the crowd, walking to the pace of one drum.